How does one begin to honor the legacy of James Baldwin but also forge one of their own? This is the question Barry Jenkins, the director of the Academy Award-winning film "Moonlight," grappled with as he sat down to adapt Baldwin's 1974 novel "If Beale Street Could Talk." Jenkins did not have the budget, or the rights, but he had a vision of a pastel-colored Harlem in the summertime and, thus, his writing began.
It was the summer of 2013. "Moonlight" was an unpublished manuscript collecting dust on a shelf and besides a San Francisco Film Critics Circle award, Jenkins was virtually unknown. The 34-year-old had traveled to Europe to adapt "If Beale Street Could Talk" into a feature-length film. Despite enduring poverty in the Liberty City neighborhood of Miami and previously making a film for less than $15,000, Jenkins called adapting the "Beale Street" script the hardest thing he had ever been through in his life.
"They say never meet your heroes," Jenkins told WSN in an interview. "But I say, never adapt your heroes."
While "If Beale Street Could Talk" is not the first book of Baldwin's that Jenkins read, and it's definitely not his favorite either, the Harlem romance had a lasting effect on the Floridian since he first finished the 200-page novel back in 2010. For him, it combined these two distinct spheres of the gay and outspoken civil rights activist: Baldwin's passion for love and for social justice.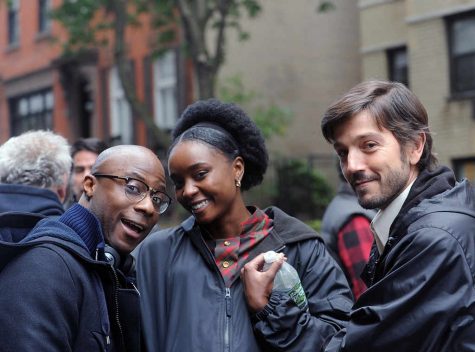 Set in early 1970s Harlem, the story follows the relationship between Fonny Hunt (Stephan James) and Tish Rivers (Kiki Layne). Friends since birth, Tish soon becomes pregnant with Fonny's child and the young couple dreams of a future together in white-picket-fence America. Their plan is derailed when a racist cop arrests Fonny on false rape accusations. Tish, with the unwavering support of her mom Sharon (Regina King) and dad Joe (Colman Domingo), must race against the clock to prove Fonny's innocence before the birth of her child and the sentencing of its father.
The story is complex, juggling themes of agency, race and the lengths to which a family will go to protect its kin. Bearing in mind the social and cultural zeitgeist of Time's Up and #MeToo today, directing "Beale Street" was a slippery slope for Jenkins. In a moment when female empowerment and rape culture are so important to mainstream discourse, it didn't seem appropriate to tell a story about a man who is wrongfully accused of rape. Jenkins had to go straight to the book for answers and in doing so, found a way for audiences to empathize with Fonny without demonizing another victim, Victoria (Emily Rios).
"It would be easy to make Victoria the antagonist," Jenkins said, "but what's really happening is that every character is being manipulated in a way. Fonny is not falsely accused of anything. He was chosen out of a police lineup by a woman who was indeed raped. He was unfairly placed in that lineup because of a racist cop… but it is too damn difficult for Victoria to go back to that place and change her mind."
Steadfast in his decision to not dehumanize Victoria's experience to benefit another's, Jenkins crafted a harrowing scene at the film's climax where Sharon travels to Puerto Rico — where Victoria has fled — to convince her to change her mind. In the exchange, Sharon pleads with her to clear her future son-in-law's name, to which Victoria responds, "Let me ask you something. Have you ever been raped?" While Sharon's attempt to save Fonny proves unfruitful, the audience is given a painful look into Victoria's trauma post-assault as she breaks down in front of the grieving mother.
It is choices like these that elevate the source material from the perspective of a male outsider to the perspective of two women in limbo. To do that, Jenkins had to check his directorial ego and allow the women of "Beale Street" to choose their own actions and motivations for their characters in the film.
"This was a really interesting experience for me because I am not a woman," Jenkins said. "I had to allow the women to explain to me how they felt and how the characters felt. I trusted them and let them show me what to do. Just about every damn time, they were correct."
With "Moonlight," Jenkins found the male-centric, semi-autobiographical narrative to be much easier to write and direct. With "Beale Street," he had the pressure of two women's testimonies and Baldwin's legacy and estate weighing down on him, but he found a way to prevail. In the film, set to be released in theaters in late December, Jenkins takes ownership of the heartbreaking story and creates another distinctive entry in his personal repertoire of films about black life, black love and the American dream.
"It was tough," Jenkins said, "but once I could feel myself step out of the shadow of Mr. Baldwin, all these ideas that had been latent were activated to make a film that is, for me, fluid, organic and fruitful and I could not be more proud."
A version of this article appeared in the Monday, Dec. 3 print edition. Email Ryan Mikel at [email protected].