In the heart of SoHo, in the cluster of designer clothes, bags and accessories, NYU students are fighting to provide aid for refugees in an altruistic spin on a pop-up store. While Choose Love has the aesthetic of a high-end retail store, the pop-up is stocked with sleeping bags, life jackets and winter coats for refugees in need. Customers buy something for refugees and leave with a card that commemorates their donation.
Choose Love opened its doors in New York City on Wednesday and will remain open through the month of December, donating products to refugees in all stages of their journey. The store, which started out in London in 2017, aims to 'take back shopping' in the wake of the busiest shopping season of the year — and NYU student volunteers are helping to run the store.
The creative collective that started the store, Glimpse, was founded on the dream of a better world — and now it fights to make this a reality. Steinhardt senior Jessica Francis joined Glimpse while abroad in London and now does community management for New York's Choose Love store.
"Glimpse is a way for creative people to use their skills for good," Francis said. "People help out because of the joy it brings them rather than as a way to make money. They've taken a unique, innovative approach that could only be done by a smaller, more agile organization like Glimpse."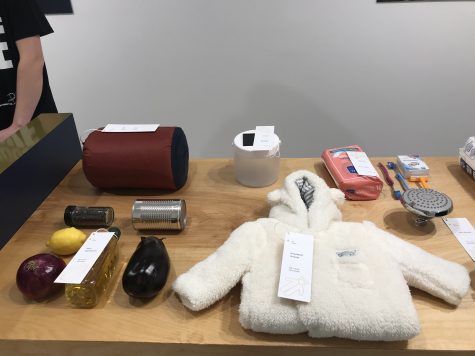 The store has sleek decor with bright lights that illuminate poignant statistics about refugees and the success of the store's concept, which are printed on the walls. The products are carefully displayed on three long tables. Each of the tables symbolizes a stage within the journey of an immigrant arriving in the US: Arrival, Shelter, and Future.
"A lot of the time, people come in thinking it is a high-end boutique, and then, we hit them with, 'This can of soup will go to someone in a refugee camp, or this emergency blanket will keep someone warm this winter,'" Francis said.

The store acts as a physical location for people to donate as well as a place for education. The volunteers are knowledgeable about the topic and are happy to have a conversation with their customers about the work they do, something that Francis wanted to make an explicit aspect of the store.

Francis sees this experience not only as an opportunity to volunteer for a good cause but also as one which gives her the chance to take advantage of living in New York City.
"I joined Glimpse because I wanted to do something that was very New York," Francis said.
"I feel like a lot of people get wrapped up in the NYU bubble and forget that they're part of the city. So this was a great way to bridge the two and take advantage of the things you can do in the outside world, especially living in New York."

Choose Love has many volunteers from NYU's chapter of the International Rescue Committee, including its president, GLS senior Michael Leonetti. He has encouraged many members of IRC to get involved with the cause. Leonetti has experience with a few different humanitarian groups in Turkey and believes that Choose Love offers a higher quality of products, which makes what they're doing so critical.
"I've seen how important the items that Choose Love has put up for first response work are," Leonetti said. "Many life jackets sold to asylum seekers in Turkey are cheap fakes which actually absorb water and make drowning more likely. The shop is an opportunity to stock the warehouses with life-saving goods and provide essential services for those who require them, so I wanted to help out in any way I could."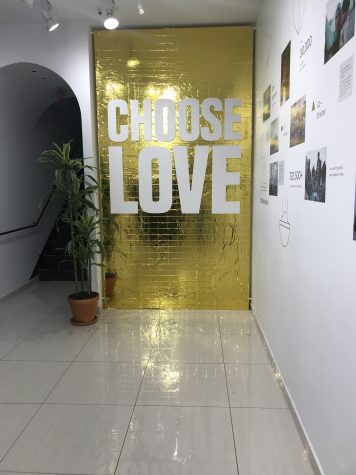 Leonetti believes that the store, unlike many other refugee programs, is influential due to its attention to details that are often ignored.
"Some of the items for 'sale' in the shop will be surprising to people who think that the crisis begins and ends on the frontlines; they may be expecting only life jackets and emergency blankets but will also find legal services, backpacks and cell phones," Leonetti said.

The store has already seen success in its opening days and will be running for the month of December with the aim of challenging people to think about materialistic needs, perfectly characterized in their tagline: "Shop your heart out, leave with nothing, feel the love."
Email Hanna McNeila at [email protected]