NYU Alumna's Non-Profit Aims to Help Survivors of Conversion Therapy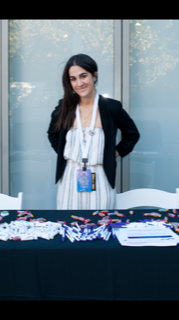 Silver School of Social Work alumna Samantha Gerson is a survivor of institutional abuse, including conversion therapy.
"I was kind of rebellious," Gerson said. "I would run away from home, and I didn't really listen to my mom. So she sent me to an institution where I was at for nine months, where I was physically, sexually and emotionally abused."
Gerson's mom removed her from high school and sent her to a "residential treatment center" in Utah when she was 14. At this institution, young adults were groomed to convert to Mormonism and experienced varying levels of abuse. During her time here, Gerson went through conversion therapy — the process of trying to change one's sexual orientation — because she identified as gay.
For most of her adolescence, Gerson could only describe how she felt as broken — especially after she left the institution. When she returned home, nobody was there to help her piece her life back together. She watched friends from the institution commit suicide or go to jail.
Now, with a degree in social work under her belt, Gerson wants to help ease the helplessness — and the feeling of being broken — that survivors of institutional abuse feel. In September, she launched her nonprofit UnBroken.
"When I was thinking of what to name the non-profit, I just kept remembering that back when I was a teenager and I left my institution that I always felt broken," Gerson said.
UnBroken aims to provide free legal, therapeutic and vocational support to adolescent survivors of institutional abuses such as conversion therapy. With its help, Gerson hopes that young survivors can find the support they need to lead healthy and fully-functioning lives. The organization is currently accepting donations and looking for investors to help fund consultants and to develop an app and website, which will be fully encrypted.
While creating UnBroken, Gerson used her personal experience to not only motivate her work but also develop ideas for what will be useful to young survivors because her story resembles that of many others.
There are over 3,000 American institutions named abusive every year. Gerson's institution was a Mormon one that aimed to convert all students to Mormonism. According to Gerson, students were groomed and sexually abused.
"For me what that looked like was part of the grooming that happened with my sexual abuse, trying to convince me to convert to Mormonism, convincing me I was evil," Gerson said. "I did not experience touch. I wasn't allowed to physically touch, even high five, anyone for the whole time I was there. It's a psychological breakdown." Not being able to touch was a form of conversion therapy.
Students at the institution were treated harshly and experienced abusive discipline. Gerson is still haunted by the punishments the facility would inflict. One example was a room called DEVO, short for development, that the students would get sent to if they got in trouble.  
"Basically the room is 10 desks and four beds in each corner," Gerson said. "You have to sit at the desk, perfectly straight, feet flat, hands on the table, and look forward. And you cannot move, speak, sneeze, itch for hours and hours."
After experiencing institutional abuse such as this, these students are challenged with finding healthy lifestyles. One of her best friends from the institution fall into becoming a heroin addict, a single mom and a stripper. Gerson quickly realized after leaving the institution that resources and support systems for survivors like her do not exist.
"We are a population that nobody really cares about," Gerson said. "We are not low-income. We are not super rich. We are not minorities. We are just average teenagers, so why should anybody care?"
Gerson has been working for the past three years with this population. She has worked pro bono with over 50 survivors and spoken at six conferences.
"I love doing this work, and I love seeing the change where they recognize, 'I can be okay. I'm going to be okay. Everything is going to be okay,'" Gerson said.
Launching UnBroken was just the next step in helping bring support to survivors. "A survivor can come up to our website and fill out a form about what school they went to, what happened to them, what they want, if they want a therapist, if they want help," Gerson said. "And the form will get sent to me, and it's encrypted and it's private."
After receiving the form, UnBroken will set up meetings between a nearby therapist and the survivor and pay for the cost of treatment. Gerson plans to hire consultants and therapists throughout the country. In addition to therapeutic support, UnBroken also intends to provide vocational support to help these teenagers find their place in society.
"In my experience, going to school, going to college and pursuing career really helped me recover from this terrible experience I had at the institution," Emily, who asked for her last name not to be published, said. Emily is an UnBroken board member and has experienced institutional abuse. "It really helped me move forward with my life and accomplish something. So that is a really big goal of mine — to give individuals that same type of help that I received later on in my life, that really had a lasting effect on improving the overall quality of my life."
Gerson also emphasized that providing free legal services is a huge part of their organization. With the correct funding, UnBroken will be able to hire lawyers to represent survivors. The organization hopes to hire lawyers in different regions like the northwest, southwest, midwest and northeast. Gerson said the long-term goal for UnBroken is to make the support more accessible to survivors across the country.
"The goal today, right now this year, is to get the funding so that we can expand, and also to have finalized the software development because once that is up, once that is accessible, teenagers can find us super easily," Gerson said. "From there, my goal is to keep expanding, go from California and New York to D.C. to Iowa to hit every state so that by the time that we are at full capacity, no matter where you live or where you are coming from, we can help you."
At the same time, raising awareness is also on the agenda. Gerson and her team realize how few people are aware of the fact that young people are suffering from institutional abuse and conversion therapy.
"When I go to conferences and I hear [Gerson] speak, people come up to her after and blown away, like shocked this is happening," Elizabeth Russo, UnBroken's chief operating officer and Gerson's fiancé, said. "I think education is really key for this project. It's just making people understand, making people aware, getting government agencies involved, politicians involved, and not just helping people after but creating some sort of policy changes now so that this can't happen anymore."
Still at its initial stage, Unbroken is working hard to get funding, hire staff and build from the ground up. Once the team accomplishes this, they can start changing lives for the better, Gerson said.
"Yes, my experience was terrible — I would love to just forget about it — but I can't forget about it because it's still happening," Gerson said. "It's still happening to other people, and so that has led me to want to be a resource that I never had and that my friends never had, and maybe change the trajectory of some people's lives."
Correction, Nov. 27: A previous version of this article misconstrued institutional abuse and conversion therapy. It also did not differentiate enough between the various forms of punishments different people received.
Email Jiachen Xu at [email protected]