A man threatening to jump from his apartment on East Ninth Street was successfully removed from the building by New York City police officers late Monday afternoon.
The apartment, located at 210 E. Ninth St., is only steps away from Alumni Residence Hall and adjacent to the Barney Building, which overlooks where Ninth Street splits into Stuyvesant Street. Students gathered outside the barriers set by police to witness the event.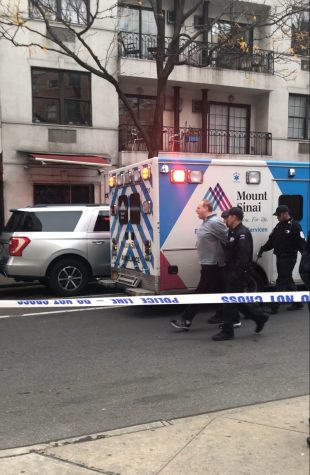 The 50-year-old man, who lives with his 70-year-old mother, first began causing a disturbance when he screamed that he was being attacked by a T.V. camera and throwing items out of his second-floor window, according to friends of his mother who were at the scene. Police responded soon after, sectioning off East Ninth Street and parts of Stuyvesant Street. At some point, the man threatened to jump from his apartment on the second floor, resulting in the police setting up a landing pad below. Emergency service vehicles were deployed and an hour later NYPD officers in bulletproof vests removed him from the premises and loaded him into an emergency service vehicle, with his mother safely seated in a police car.
Restrained by two officers, he yelled, "I'm gonna fight you until kingdom come. I'm gonna fight you all the way 'til the International Criminal Court. You're all f-cking criminals."
CAS senior Natalie Ritz saw the scene outside her classroom window in the Barney Building. After class, she rushed outside to see why there was a crowd of police and ambulances barricading the street.
"I just talked to the cop and he was like 'yeah he's just having a bad day' and I guess they deflated the landing pads so I guess — I'm guessing — that they're just trying to get in there."
The man has a history of mental illness, according to his mother's friends.
WSN will update this story if we learn more.
Email Victor Porcelli at [email protected].