Gallatin Student Keeps Mystery Alive With His Pseudo-Restaurant, Clandesdine
Sophomore Nino Asaro ran a fine dining restaurant out of his apartment with bookings made for months in advance.
Nino Asaro has been drawn to fire since he was six. The fire that blazed from his grandmother's kitchen in the southernmost tip of Italy became his vice as she taught him to cook. The energy of the kitchen became his life-long fixation.
"It's like an orchestra playing the best show you've ever [heard]," Asaro said. "Especially when you work in a restaurant, the atmosphere becomes like an inferno."
Now, at 19-years-old, Asaro maintains his love for cooking by running a speakeasy-like restaurant out of his Manhattan apartment. His love of cooking is derived from his family's business: olive oil. He's part of a century-old family of olive farmers in Partanna, Italy but was never expected to follow suit.  
"No one in my family pushed me to be in the [food] industry," he said. "It's just that I was really born with such a passion I feel the need to continue."
After a taxing divorce between his parents, a 14-year-old Asaro packed up his bags, Italian accent in tow and headed to New Jersey to live with a family his dad had found on Craigslist. Studying in the United States had become a dream for Asaro, and now he had his chance. A year passed by, and New York City called his name. He began applying for schools there until he was accepted. There, he moved into a Manhattan apartment and started attending Xavier High School in the West Village. Out of the whole year, his father would live with him for two months; otherwise, Asaro was on his own.
Being alone, Asaro began to experiment more in the kitchen — his own and others. The kitchen became his place of comfort. He would host weekly dinners at his apartment. Asaro insisted on making fresh pasta instead of huddling around a pizza box drinking Bud Light.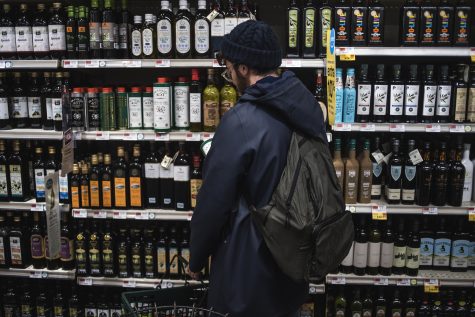 Simultaneously, he worked for over a year in New York City restaurants without asking for a penny. He started as a dishwasher, then graduated to a prep cook, where handling meat and cooking of any sort was off limits.
At 16, Asaro landed his first paid chef job at Peasant, a restaurant in Nolita, where he's continued to work on and off ever since. In that same year, his cooking chops got him on season two of "Chopped Teen Tournament," a spin-off the Food Network's ever-popular "Chopped." After the entree round, Asaro flamed out of the competition when his knife broke, which producers didn't include in the final cut. Asaro values the short-lived experience and looks back with a shrug. "They are looking more for people who entertain in the kitchen rather than people that cook well."
After high school, Asaro moved into a new apartment with a friend. He cooked for her every day, the pair hosted dinner parties together and the idea to monetize materialized before Thanksgiving.
Every other Monday, he would host a paladar — a Spanish term that translates to palate, but the idea comes from Cuba where the word is used exclusively to describe a restaurant run by self-employers and family businesses. The purpose of a paladar is to fight the mundanity of restaurants meant to target tourists and to offer an authentic, insider experience. For the experience, Asaro initially charged $15 for the three-course tasting menu and an additional $10 for a wine pairing, which eventually escalated to $30 for food and $20 for wine.
The operation was called Clandesdine, a play on the word clandestine.
"The fun thing about Clandesdine was that it was secret," he said. "No one knew the location or the menu until the day of."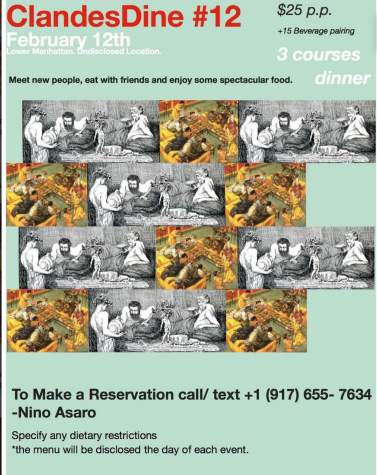 Beyond his culinary passion and budding entrepreneurial spirit, Asaro was equally interested in upending the traditions of fine dining. At Clandesdine, there was no dress code, rather, wearing pajamas was encouraged. To him, fine dining should be more democratic. Asaro has many qualms with the social aspects of going out to eat. He advises not to base your meals around fashion bloggers and how many restaurant attendees are slinging a Chanel bag.
"Fuck Instagrammable food," Asaro scoffed. "Food might be ugly and still taste amazing."
Clandesdine became the talk of the town, booked from November through February accompanied by an eclectic guest list he could only dream. Attendees included four architecture professors from Pratt who had heard about his parties from students, as well as French filmmakers and a couple of producers from VICE Munchies.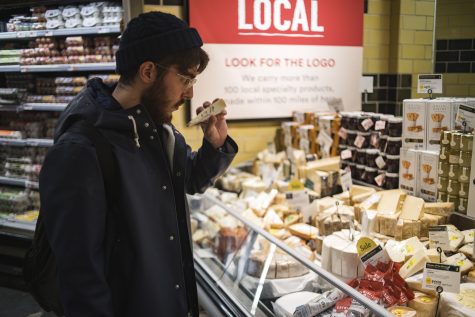 Although it may sound tempting, he didn't join the party. While his roommate poured wine and checked on their customers, Asaro remained in the kitchen until the end of the party. After dessert, he would come out for a drink, mostly in search of feedback on how he can improve.
Sixteen seatings later, Asaro's Venmo balance was at an all-time high. Asaro didn't divulge how much he's made, but he was happy to tell me how he spent it. He took the summer off and traveled through many different cities in Europe and stayed in Airbnbs. All expenses paid by his Clandesdine venture. His summer adventures ended the Clandesdine era as Asaro moved onto to redefining the concept.
"The fine dining concept of Clandesdine is over," he said. Asaro still views food as an art form, and hopes to extend the art to more people, to transform Clandestine into something larger and even more accessible.
"Burn the kitchen down," Asaro said. "Make all of the mistakes possible, so you start understanding what cooking is all about."