Antonio DiMeglio was walking back to Founders after a cannoli-filled trip to Little Italy. As the setting shifted from classic Italian restaurants with checkered tablecloths to hip SoHo cafes, something caught his eye that brought him to a halt on Mulberry Street. Under the red neon sign of popular brunch spot Ruby's Cafe, he peered in, avoiding the gaze of those staring back at him as they sipped on their drinks. Little did they know that the red-and-white-striped paper straws poking out of their sodas were distributed by Seastraws — the company DiMeglio started just five months ago.
"We started before this whole thing blew [up]," DiMeglio said of the recent push toward using sustainable straws. "I don't want to say we got lucky, but we kind of got lucky. We knew that this was going to be a major issue and decided to build on it from there."
Seastraws is a bootstrap company. Other than a Social Impact Stipend from Stern,  all efforts in growing the company and producing straws have come from personal investments. However, as they start shipping out larger orders, they started their seed investment funding round. They are currently working with large distributors that they did not want to disclose and recently made a deal with NYU to have their straws in dining halls, because NYU went plastic-straw-free this past October. The team contacted the Office of Student Affairs to start communications with Dining Services. Less than one month after their first meeting, Seastraws got their first order confirmation.
"I feel like a collaboration between NYU's many offices was essential for our success," DiMeglio said. "It required us to engage multiple key stakeholders with our mission, and we are thankful for their support."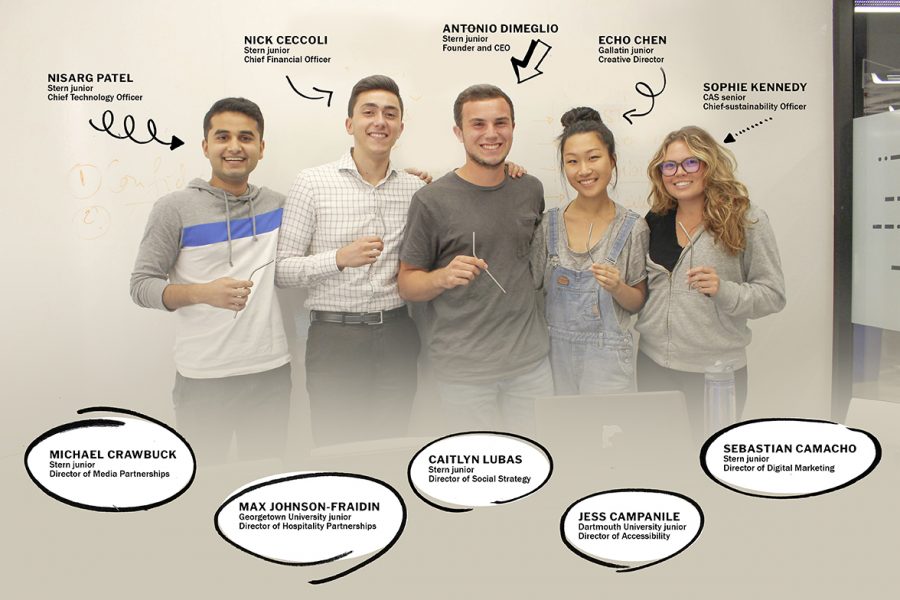 DiMeglio — along with nine other students — started Seastraws in May with the goal of cutting the amount of plastic going into oceans by distributing compostable paper, reusable stainless steel and silicone straws. Hundreds of millions plastic straws are used in the United States every day. Plastic pollution in oceans, especially caused by straws, has become an issue that needs to be addressed, and Stern junior DiMeglio decided to give the oceans the attention they need.
"We are trying to eradicate every single straw," he said. "The thing about the straw is that it does not result in the majority of plastic getting away from the ocean, but it allows people with an opportunity of awareness."
Growing up in New Jersey, DiMeglio experienced first-hand the effects of plastic pollution in the oceans during his weekend visits to the Jersey Shore during the summer. Last year, when he visited home, the idea of Seastraws randomly popped up in his head while sitting on a couch in his basement. When he came to NYU, he decided to study sustainable business, computing and data science at the Stern School of Business and over the past two-plus years at the university, his passion for sustainability became stronger and more active, especially since he started Seastraws.
"I knew that 2018 would be the year that corporations, governments and nonprofits would band together to stop plastic pollution," he said, as he noted the Seastraws' rapid progress in distributing to larger companies, such as Ruby's, WeWork and the United Nations.
One of the main goals of Seastraws is to focus on the environmental mission rather than making a profit, so much so that it is in its formation documents. The products are certified B-Corp Pending meaning that if it comes to picking between purpose or profit  they have to choose purpose. The straws are also FSC-100 certified — meaning that 100 percent of the paper used in making their straws is from renewable forests and as soon as a tree gets cut, another one is planted. Seastraws also a member of the American Sustainable Business Council.
"We are getting sustainable paper sources rather than causing huge deforestation issues," CAS senior and Chief Sustainability Officer Sophie Kennedy said. "We are able to push the movement forward rather than halt it."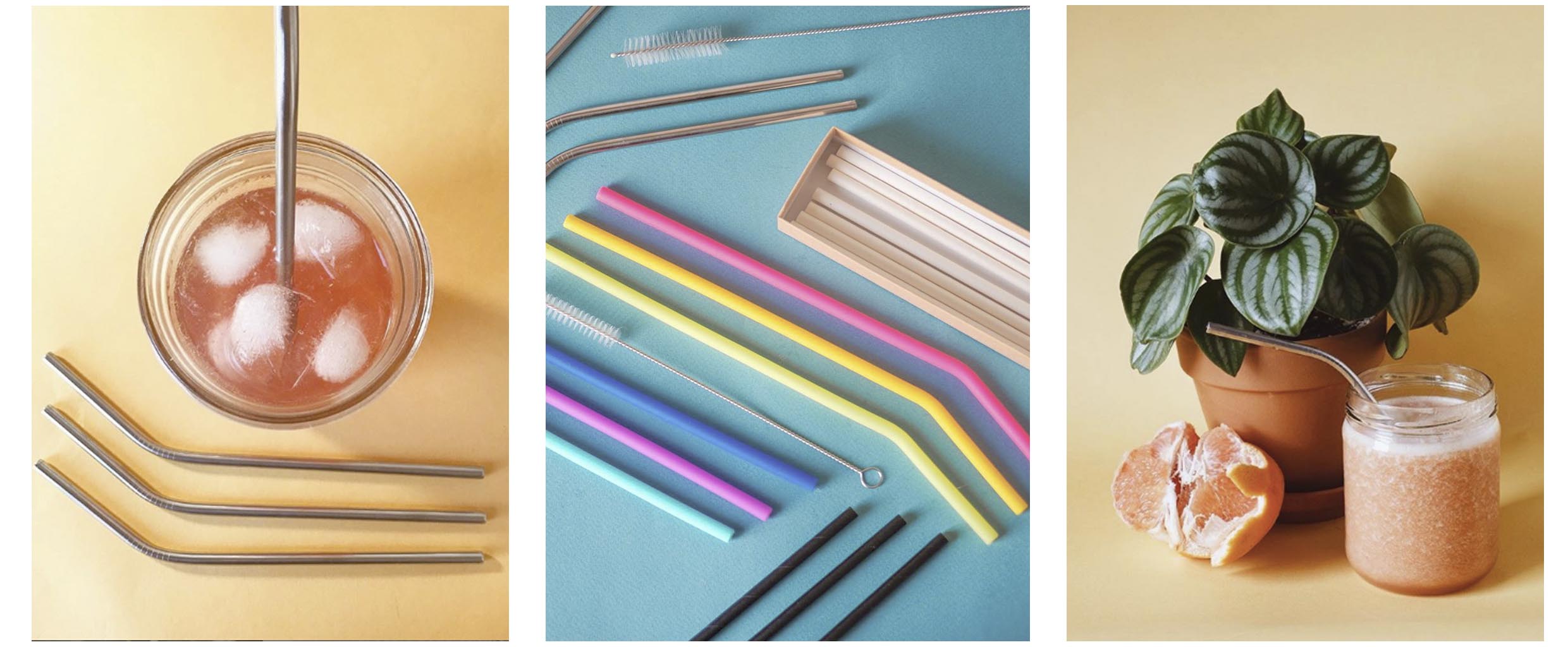 The journey of Seastraws started in New York and developed in Florence, the study abroad site where the startup's team members originally met each other in the fall of 2017. Before leaving to study abroad in Florence, Dimeglio worked at Luxbeverage, a New York-based coffee startup, as the chief revenue officer. He jetted off to Italy and still worked remotely for the startup. When DiMeglio came back to the states, he continued working at Luxbeverage and met Gallatin junior Echo Chen, who is now the Seastraws creative director and was the social media director at Luxbeverage. Taking his knowledge of startup building, DiMeglio left Luxbeverage and took Chen with him. Together they got their first set of sample straws and built the company with fellow students DiMeglio met during his time in Florence and that he knows outside of Florence.
"We wanted to build a brand where being sustainable and being environmentally friendly was cool and [a] beautiful lifestyle that people would want to buy into," Chen said. ''Straws are straws you can't really sell them by being like 'here take this;' you have to have people see what their lives could be like with the straws."
After setting up the Instagram and posting three photos of its sample straws sourced by its manufacturers in Florida, Seastraws got their first inquiry from Surfrider foundation's Australia chapter which became one of their non-profit partners — the first in a long line of partnerships with other nonprofits. DiMeglio began selling the straws by going door to door, visiting local coffee shops and stores.
"Going to coffee shops is great. It builds up local community but overall there's a time limit that we face right now," Stern junior and chief technology officer Nisarg Patel said. "We don't want to lose the word of mouth going on and distributors are really our long-term game because if we don't get it at the scale we are not going to be able to make the impact that we actually want to."
Seastraws' partnered with To Rise — the local distributor Seastraws is working with to get its straws out into the city — which signed on to sell during its founder's visit to the Uncommons, a board game cafe in the West Village. For DiMeglio, it was important to work with a distributor that understood the company's social mission. To Rise became one of Seastraws's most important allies.
"I found out that the best thing I can do as a CEO is to do the work in terms of extending this company outside [our group]," DiMeglio said. "I am in constant contact with our customers and our distributors making sure that everything is right operationally as well as technically."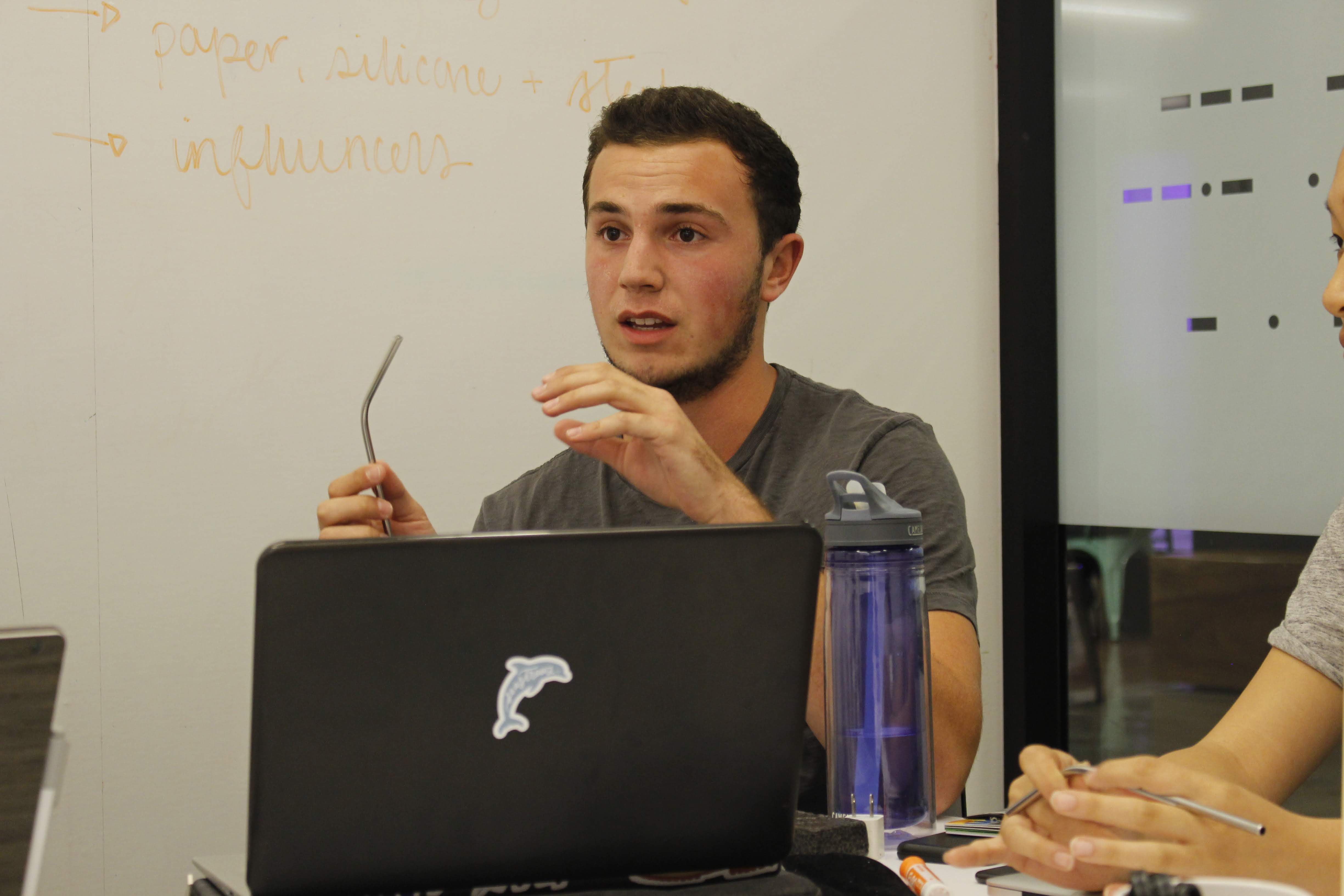 The newest addition to their collection is the silicone straw. Kennedy and DiMeglio were at a straw ban hearing in City Hall this past July where they learned more about the problems of accessibility concerning straws. DiMeglio and Kennedy spent three hours at the Disability Pride Parade, tabling alongside Lonely Whale, a non-governmental organization that is pushing to make the straw movement for everyone, testing out various silicone and metal straws to find the best option. The silicone straw is the most accessible for people with disabilities because it is bendable and biteable.
"We wanted to have an accessible option and not leave anyone out from this movement knowing its importance," DiMeglio said.
After fundraising, Seastraws hopes to move production in-house to New York from Florida. Already starting to work with manufacturers in the Bronx, they want the community to be invested in their company not only monetarily but emotionally.
"We will purchase our own straw-making machine, and we will do it ourselves — that way we can control the quality and be in control of the process," Stern Junior and Chief Financial Officer Nick Ceccoli said. "We can make adjustments to the straws and hopefully secure some intellectual property rights."
With two major distributors in California and New York and straws being shipped anywhere in the U.S., the main goal right now is to acquire more customers.
"The goal is to take ourselves outside of what it is as a college startup and kind of turn it into something that can actually change the world on a national, and furthermore, global stage," DiMeglio said.
Note: Echo Chen was WSN's Multimedia editor in spring 2018.
A version of this article appeared in the Monday, Nov. 5 print edition. Email Yasmin Gulec at [email protected].