Part the crowd of jokers, skeletons and other spooky creatures flocking to the annual New York City Village Halloween Parade and you'll find Mile Gomez, a young Colombian woman who came to the city to celebrate the holiday that coincides with her birthday on Oct. 29. Standing atop a brick half-column outside of an apartment on 11th Street, Gomez wears a red-gemmed golden crown.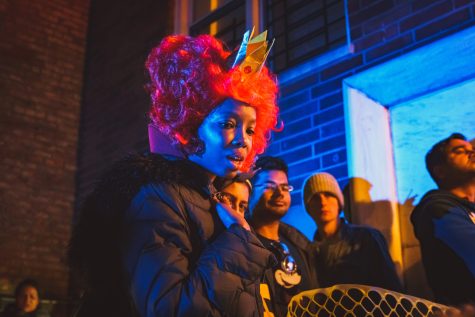 "I'm the Queen of Hearts," Gomez says. "I like to be a queen for a day."
Gomez is one of many who flocked to Sixth Avenue to follow the parade, which stretched from Canal Street to 16th Street. Featuring floats, music, light shows and the pervasive stench of weed, the 45th annual parade came out in full force at 7 p.m. on Wednesday.
Chloe Strickland and Mikayla Phillips enjoyed their first time at the parade, dressed as characters from a popular cartoon show.
"We are Bob and Linda Belcher from Bob's Burgers," Strickland said. "But we didn't just want to be them — we wanted to be their halloween costumes. They were a two-headed monster [for Halloween] so we decided to be that."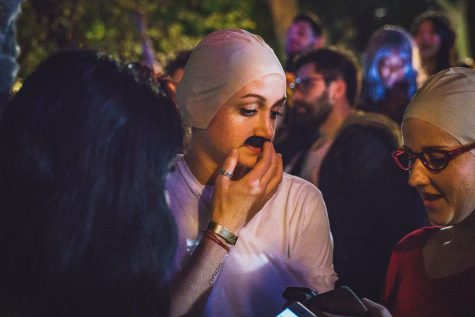 Attended by over two million people, according to the parade's website, space was lacking in the city streets. Giant floats rolled down Sixth Avenue, one of them being Human Connection Arts' Freedom Van. Men and women with only paint covering their upper bodies displayed colorful and creative designs meant to encapsulate their theme: "Crazy Love."
A dinosaur head peeked out of the crowd of spectators, bobbing up and down as the prehistoric creature made a beeline for the parade. Making less progress is Stacey Palker, who has been making her own costumes for the past nine years. This year, she was cotton candy, with fluffy pink puffs protecting her from the harsh shoves of those flooding into the parade.
Palker said she dresses as some sort of food item every year and that she's a "foodie, but also a crafter, so [my costume] kind of works with both ways."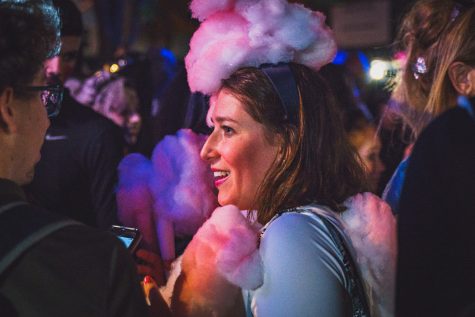 Surrounded by more sinister goblins and witches, Palker's costume added a more comical and fun air to the dark and scary night.
After making its way down Sixth Avenue for one mile, the parade dispersed at 16th Street, with a payment-only after-party that followed.
Email Meghna Maharishi and Victor Porcelli at [email protected].