Behind Bars, Three Men Graduate With Their NYU Degrees
Jermaine Haywood, Rakeem Golson and Isaac Ray graduated from NYU's Prison Education Program on Monday.
Jermaine Haywood, wearing a violet graduation gown over his state-issued dark green uniform, held back tears as he worked through his commencement speech.
"Never stop learning," Haywood told the auditorium. "No matter how old you are. Always continue to learn."
It's a speech that many graduates give, but this wasn't an average graduation. Haywood, part of the class of 2018, is an inmate at Wallkill Correctional Facility in upstate New York, and part of the second graduating class of NYU's Prison Education Program.
After two years in the program, Haywood received his associate's in Liberal Studies alongside two other classmates, Rakeem Golson and Isaac Ray, in a ceremony at the prison's gymnasium on Monday.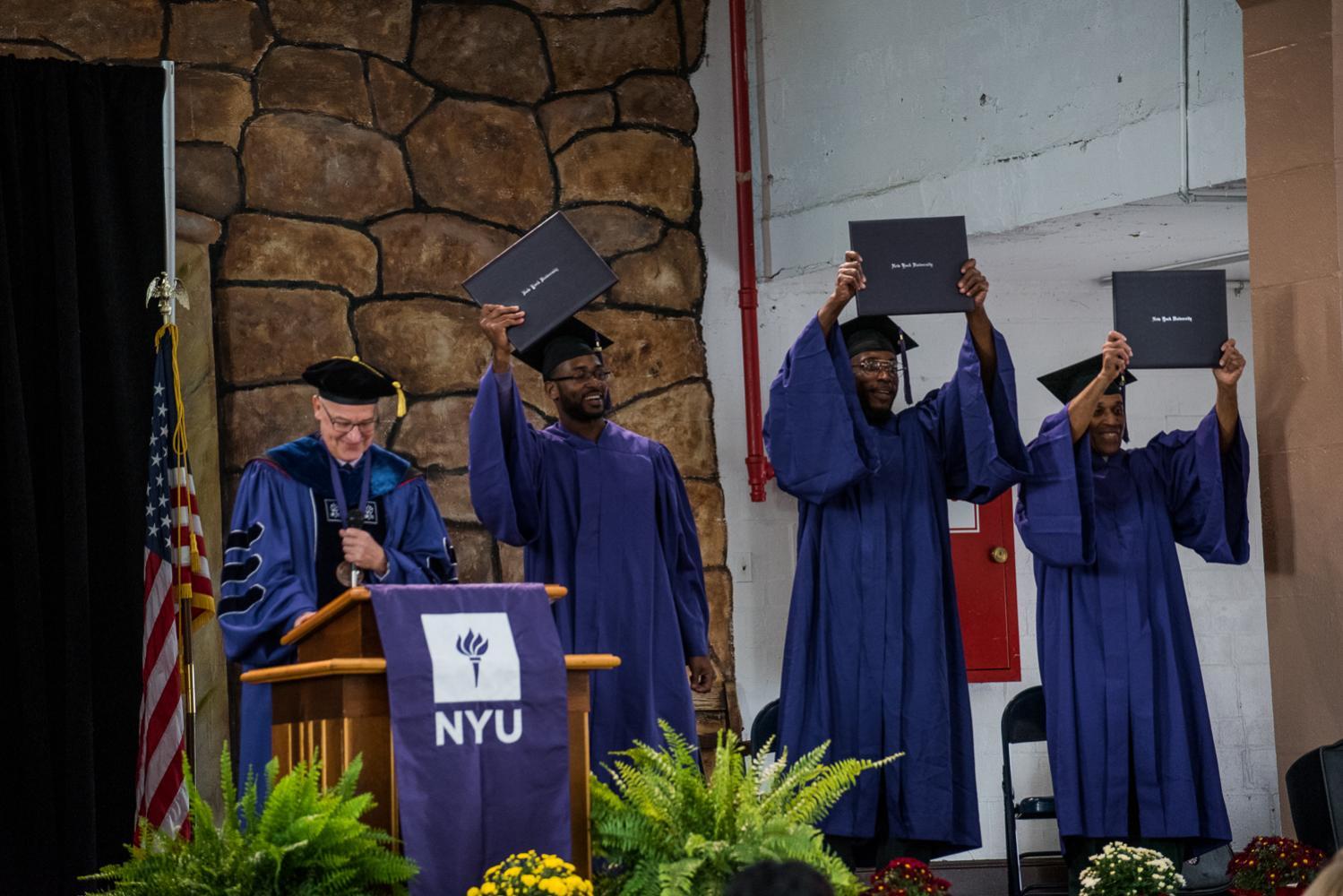 Attendees included current PEP students at Wallkill, professors involved in the program and school administrators, including NYU President Andrew Hamilton. About 150 people sat on chairs in the gym-turned-auditorium. A basketball hoop just above the stage made it clear that this type of ceremony is rare at Wallkill.
"This day for me, it's a blessing," Haywood said. "Because I get to see my family and friends, and also achieve something that can never be taken away from me."
Before being convicted, Haywood tried to go to college but could not afford to finish his degree. Despite a 3.6 GPA, Haywood is concerned that pursuing more education will be difficult upon his release – once again for financial reasons. He said he is applying for Pell Grants in the hope to fund higher education.
Though proud of his accomplishment, Haywood also made sure to thank many people for helping him along the way, particularly his teachers at Wallkill.
"They encouraged me, inspired me, even when there were times I felt like giving up, they pushed me to keep going," Haywood said. "They saw something in me that I hadn't seen in myself, and now I've started to see."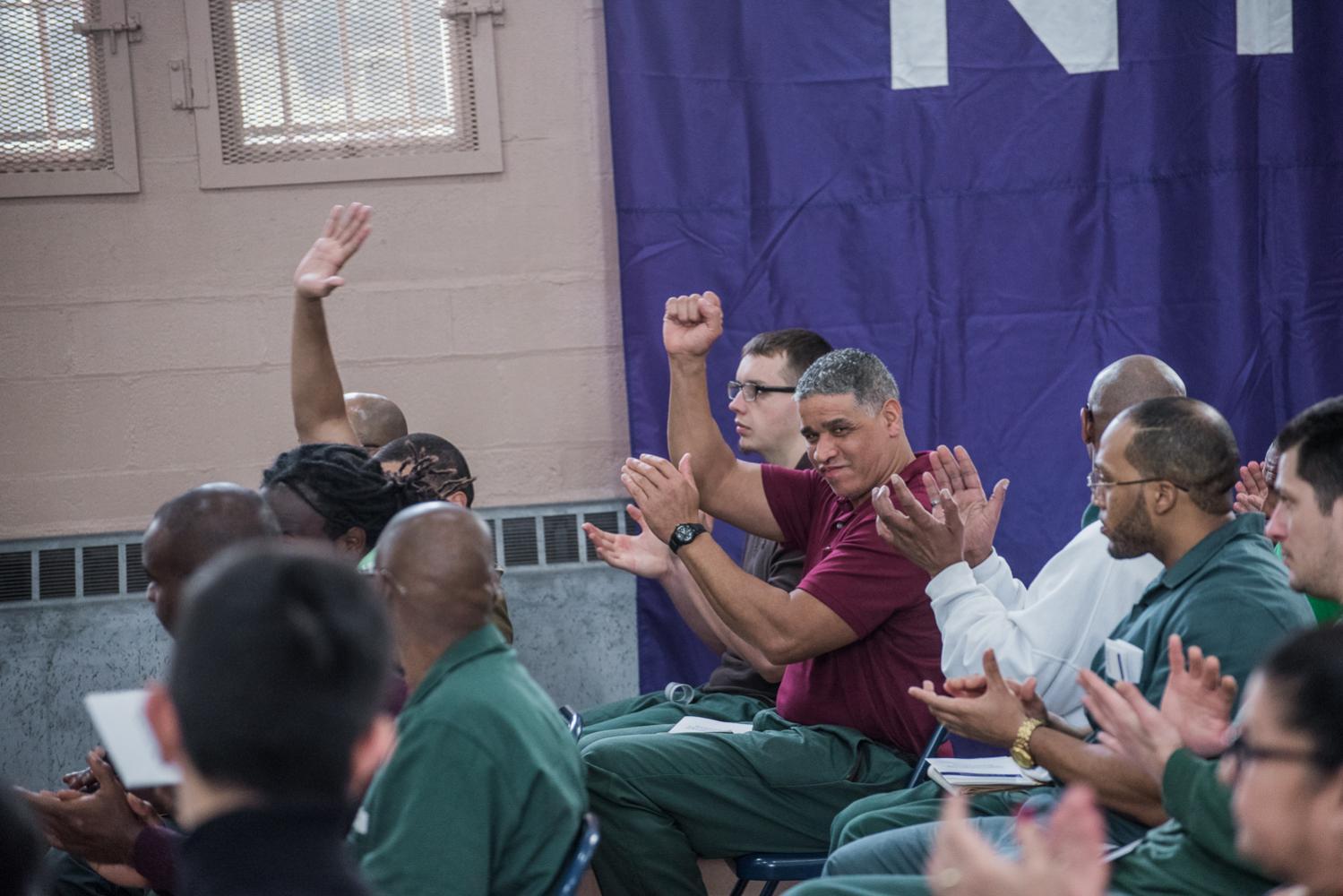 Golson, like Haywood, was excited to be graduating. After spending a decade in prison, Golson has a number of aspirations. He hopes to further his education, start a company as an optician and support children's education.
He has also written for the Wallkill Journal.
Golson's wife, Christina Vann-Golson and their son came to the ceremony to see him.
"I'm really proud of him," Vann-Golson said. "I feel like the world gets to see how smart he is, how intellectual he is, and it's a new beginning for him. Because the past was dark, and it was rough, and now society gets to see a different side of him."
Credit for that new beginning, Golson said, belongs to the persistence of the teachers that he had along the way.
"They're actually genuinely great people," Golson said. "They love their job, they have patience with us. I learned so much, I loved the experience, I love my teachers. It was amazing. They were all amazing. Every single one of them."
Zhandarka Kurti is an NYU postdoctoral fellow who teaches a weekly PEP class called Sociology of New York City. Though this is Kurti's first semester with PEP and she taught none of the graduates, she attended the graduation to see her current students.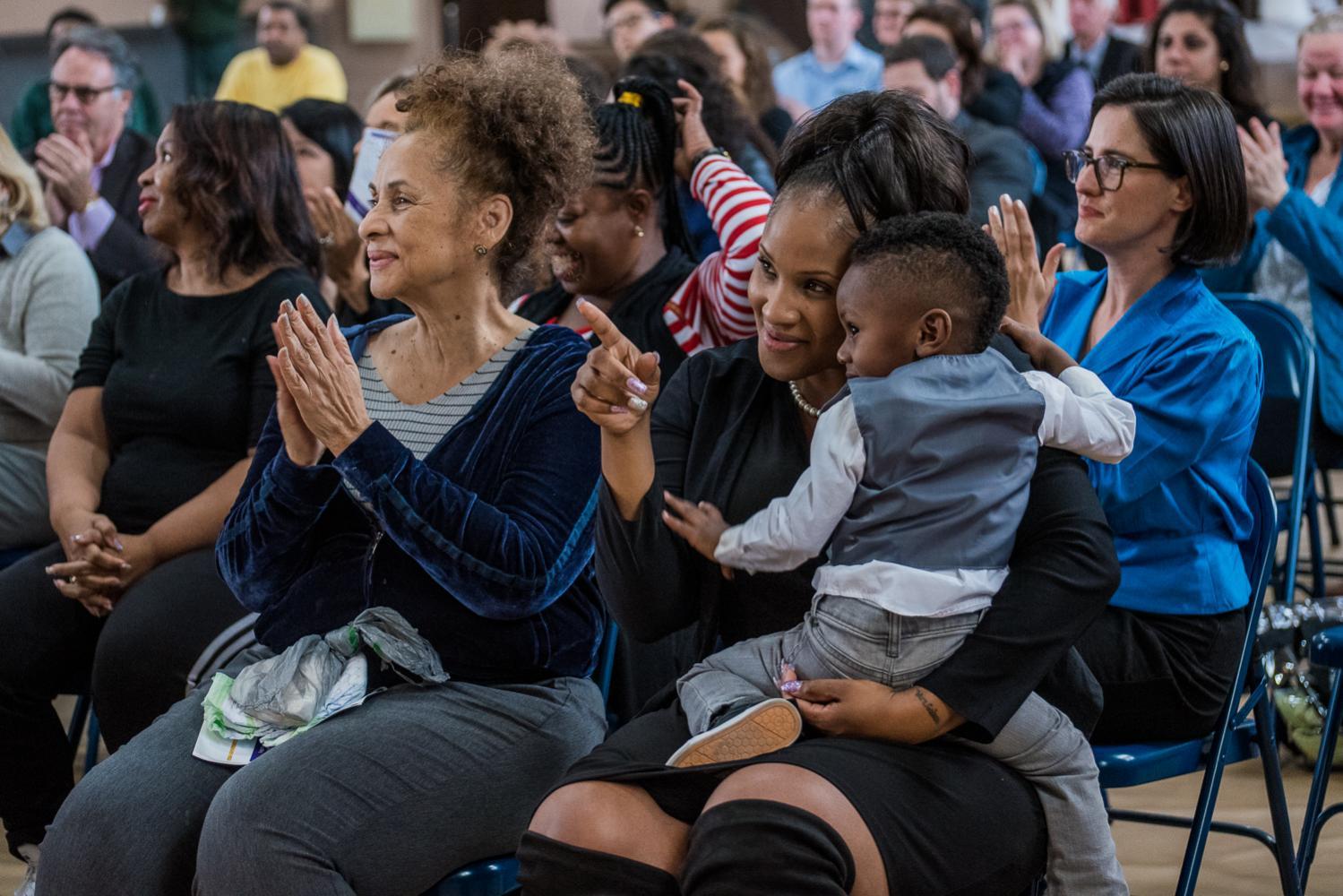 While Kurti has taught at multiple other schools, she said teaching at Wallkill is more meaningful and powerful to her.
"Prisons are really individualizing institutions where you're made to feel like you're the problem and you're on your own," Kurti said. "But I think being in a classroom, it helps you understand that while your struggles may be unique to you, they're connected to all these other people — and they're connected to society."
Hamilton told WSN that the graduation is important to him, and he applauded the faculty who are involved in PEP.
"I just come once a year to preside at the graduation ceremony," Hamilton said. "But NYU faculty and staff come up twice a week; it's a long journey, and they do it because they're dedicated to this program. They're dedicated to making sure that the incarcerated individuals will be able to keep moving once they are released, to continue their education and to take a productive place in society."
The other PEP students in attendance were eager to applaud every time that a speaker praised the graduates — and they were never louder than when Hamilton personally handed each of the three their diplomas.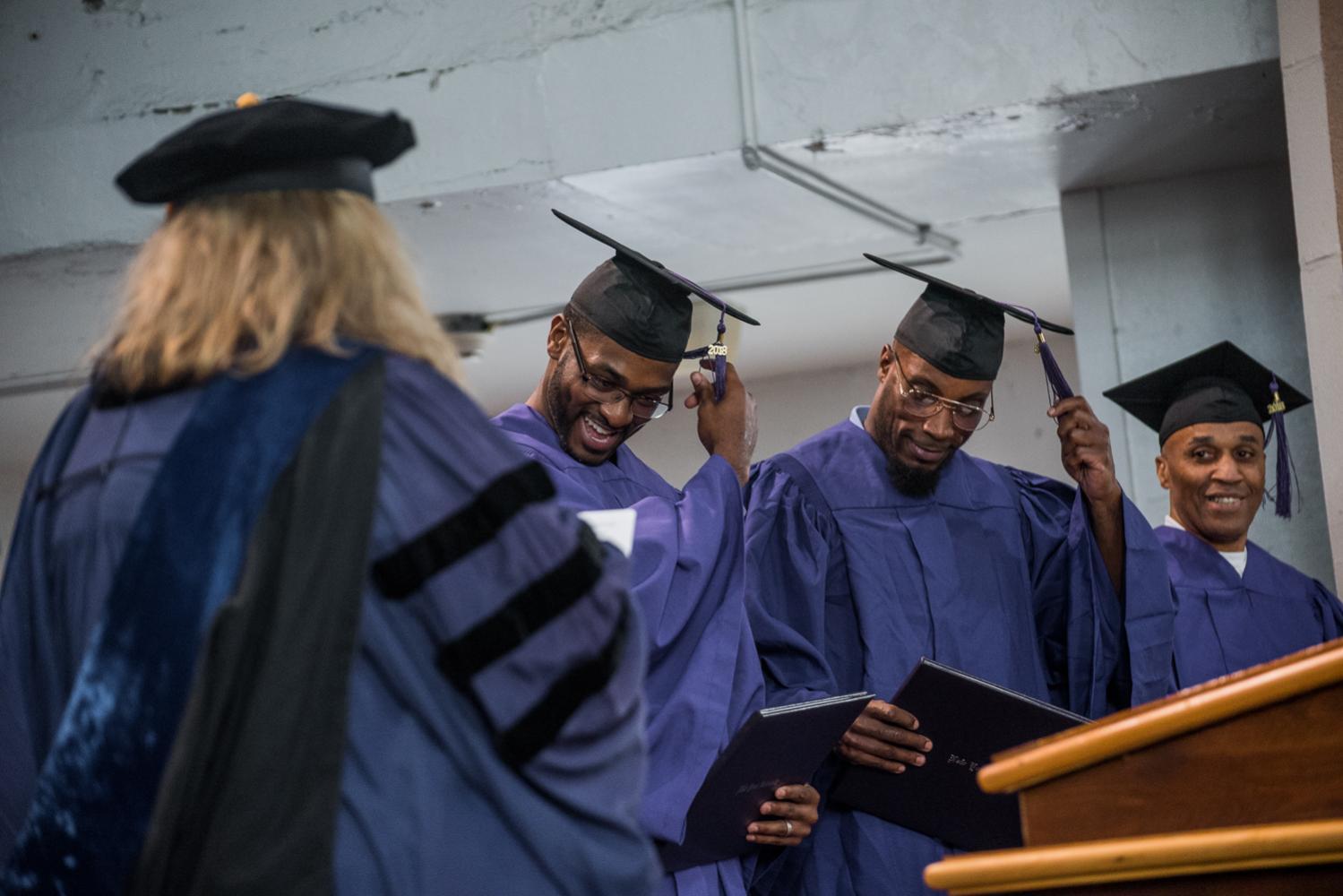 Kurti said that moments like that during the graduation reminded her why she loves teaching.
"That's what I enjoy the most, seeing students support each other," Kurti said. "It was so nice to see everyone making a speech, and teachers watching them and other students cheering them on, and really to have the support."
As the reception after the graduation wound down, Haywood said that he was trying to enjoy the day with his family.
"Who knows what the world holds when I get out?" Haywood said. "Right now, I'm just basking in the moment."
Email Sam Klein at [email protected]