In only 40 minutes, Lady Lola Lightning had accumulated over 6,000 total viewers on her Periscope livestream and collected 10 down payments of $10 for her private group session to take place later that night. The smoke of lit incense gracefully filled the room as "Deep Purple and the Royal Philharmonic Orchestra" played on the caramel record player. Lola's Brooklyn bedroom became centerstage for her performance.
Lola, a 23-year-old SPS sophomore and Salem, Massachusetts native started playing with Periscope just five months ago. Through Periscope, a live video-streaming platform, she's gathered a loyal following as a webcam model. "Camming" refers to those who perform erotic acts on live streams for money or goods. In Lola's case, she doesn't use toys or do too many tricks; she just strips down and has a raw chat with viewers. Though she enjoys the work, the main motivation is financial. Lola initially didn't make money through camming, but along with her new job as a stripper in Brooklyn, she is able to pay for her entire tuition and living expenses without support from her family.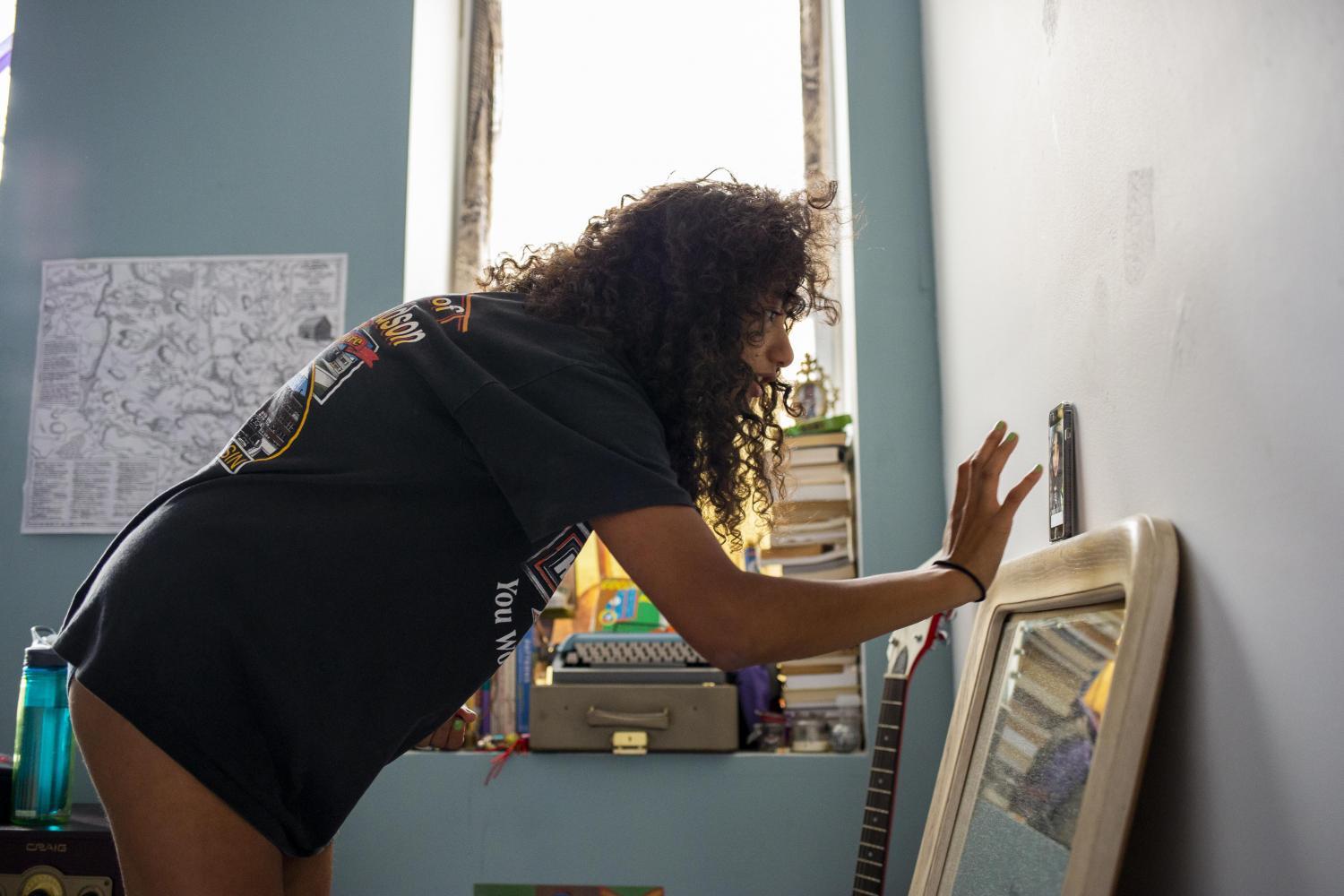 It was Sunday afternoon when she decided to start her public live stream for the day. She swayed in the camera frame wearing a vintage Harley Davidson T-shirt and black cotton underwear.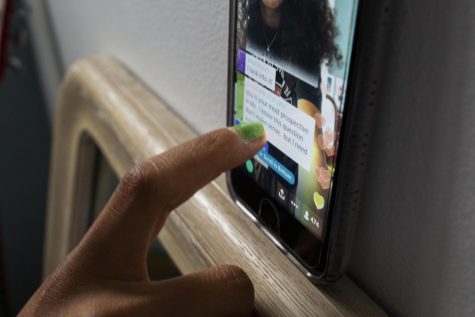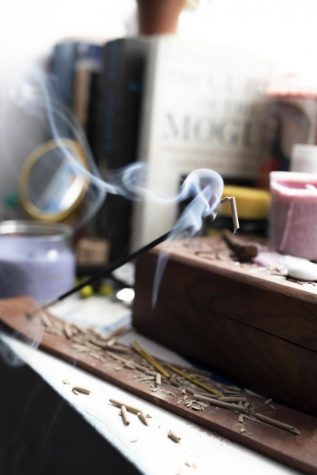 Lola leaned over toward her phone camera, put her hands on her knees and responded to the incoming comments, "My tattoos? How many times do you guys want to see my tattoos?" For Lola, this was just an ordinary session of sifting through comments about her age and body.
No one can deny the calm, witchy energy Lola exudes. When she turns on the camera, there is no alter ego—she stands nonchalantly, leaning to one side, unabashed to be watched and unafraid to demand what she wants. Her charisma enchants viewers.
Out of high school, Lola enrolled herself at North Shore Community College near Salem, as a Liberal Arts major, to earn an associate's degree after three years. After leaving North Shore, she had her sights set on NYU and was accepted to the School of Professional Studies as a Digital Communications major. After her first semester, she accrued debt from NYU that she had put off on paying. She took a two-year hiatus from NYU to pay off her student loans by babysitting and working at a creperie in the city. Then this past June, she moved to Chicago just for the summer to experience a new urban culture. Still strapped for cash, Lola discovered the camming world, unaware of the financial payouts it would bring. Camming allowed her to work on her own schedule with only digital gazes.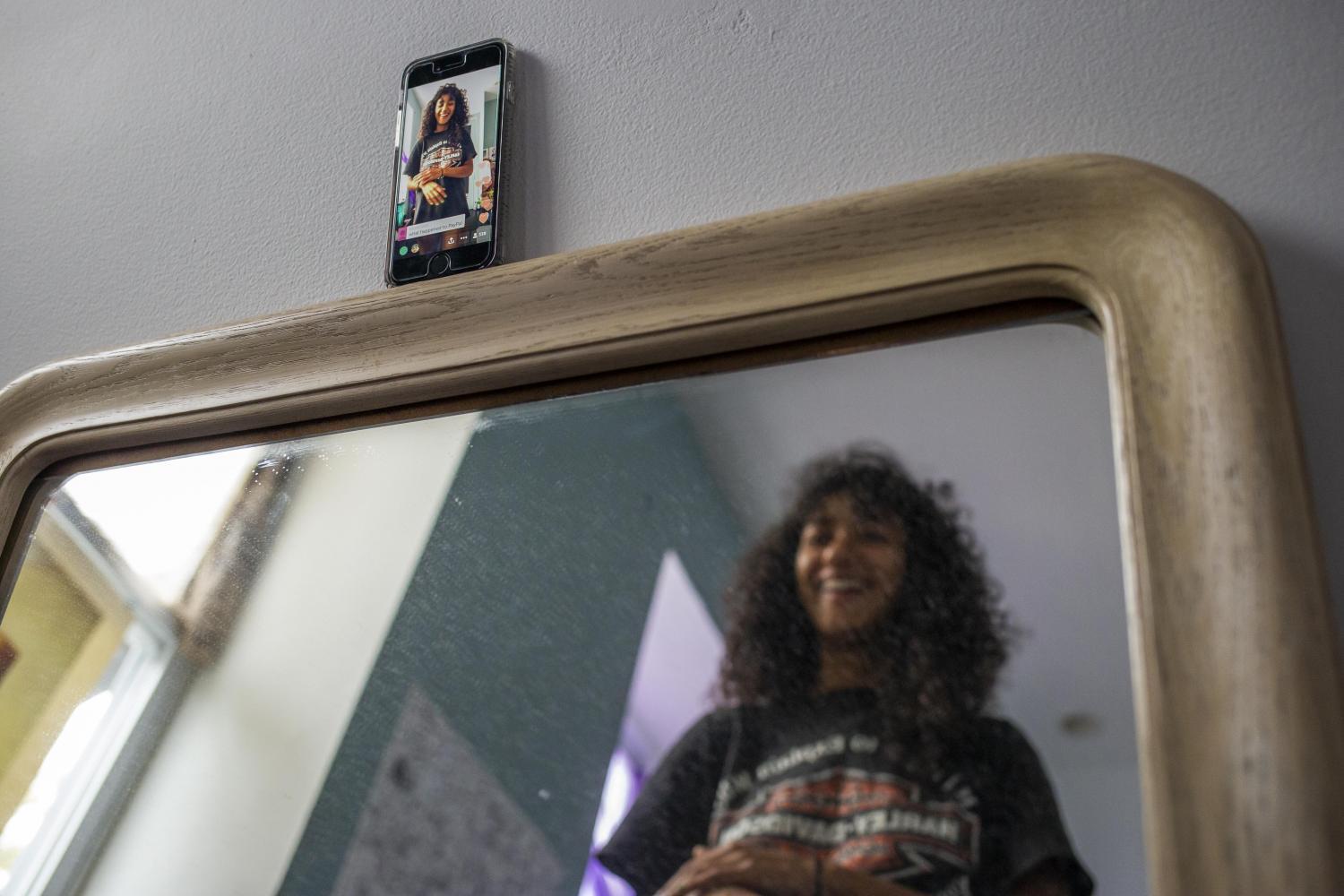 "I like camming because I can literally do it from my room, and I'm not having to dance [in a club] seven times for a couple dollars," Lola said. "And I'm the only person there, it's not like a full club of other girls too. I wouldn't call [stripping] competitive, but it's obviously easier for me to make more money."
It's clear: Lola calls all the shots. On Periscope, she can block trolls instantly, set prices for her private streams and go live whenever she pleases. All of her private streams are 15 minutes: $10 for a private group, $30 for a topless one-on-one and $50 for a full nude one-on-one.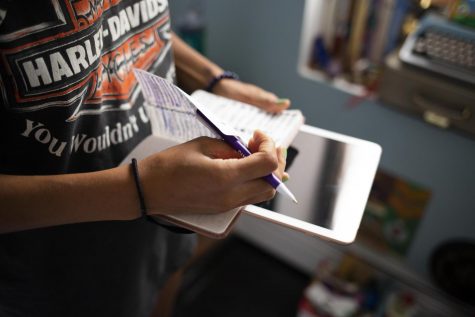 Lola jots down usernames in her pink faux-leather notebook during her public livestream for those who want to pay upfront for her private group later. She won't start the private stream until everyone has listed their age and agreed to her terms of not stealing content from her live streams. And as much as she is willing to explore her sensuality and body with others watching, there are certain things that aren't for viewers.
With what she does and how visible she is to her viewers and the general public, Lola is unafraid to speak openly about her business. According to her, people's reactions when she mentions her job are banal.
"I tell anyone. I'm definitely not too shy about it," Lola said. "Usually everyone is like 'Oh ok, I know someone who knows someone that does that too.'"
Lola considers herself relatively tame compared to other cammers. She draws the line at sexual acts,  straying away from more erotic acts, such as masturbation, and keeps things strictly to sensual nudity.
"Some girls sell feet pics or literally their underwear or socks," she said. "There are just people who have certain fetishes, and they need to be catered."
If users are being aggressively demanding or making her uncomfortable, she can block them with a single tap.
A self-proclaimed loner, Lola often turns to Periscope to get her dose of human interaction for the day. When a wave of boredom overcomes her, Lola goes live. A bagel and hummus are her sole props as she talks to viewers. These mundane streams fulfill her viewers most basic need: their desire to engage with her. Other times, going live signals her dwindling cash.  An urgent "NEED MONEY RIGHT NOW" headlines her live stream, and a regular fan would transfer a down payment for a later private session. Her profits are made on an irregular basis from camming viewers, so money can be tight at times. The symbiotic relationship between Lola and her viewers becomes clear in these times.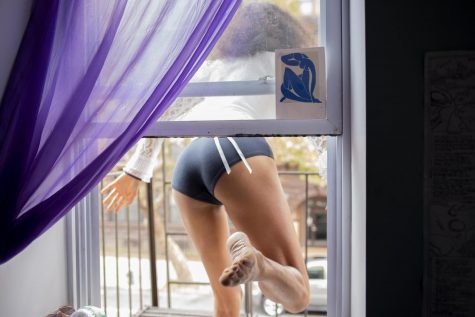 But it's not like she doesn't have friends. She can often be seen in the crowd of her favorite band, Porches, as one of their groupies. With her friend, Bri Born, a Rutgers University student and DJ, she formed the band, Group the Group — a nod to their self-proclaimed groupie identities.   
"Somewhere between a muse and amusing," Born said. "Lola is a free spirit if I've ever met one. She was born for the stars."
Despite her hectic schedule, Lola makes it a priority to see shows and get lost in the world of music while also experimenting with her own. 
Outside of her bedroom, the strip club becomes a haven for empowerment and money-making. Stripping was always on Lola's must-do list before she moved to New York. In actualizing this fantasy and in conjunction with camming, she's learned her patrons come from all walks of life — some can afford the expensive luxury of strip clubs and others are limited to online chat rooms. For Lola, the strip club is a place of female worship that allows her to, for a moment, level the playing field between men and women as patrons pay to watch her perform. That liberating energy spills into her daily life.
"I've become way more confident in how I carry myself — like especially when I talk to men too," Lola said. "I used to be sort of shy in a way, and now it's like I'm this unstoppable force, and they're smelly."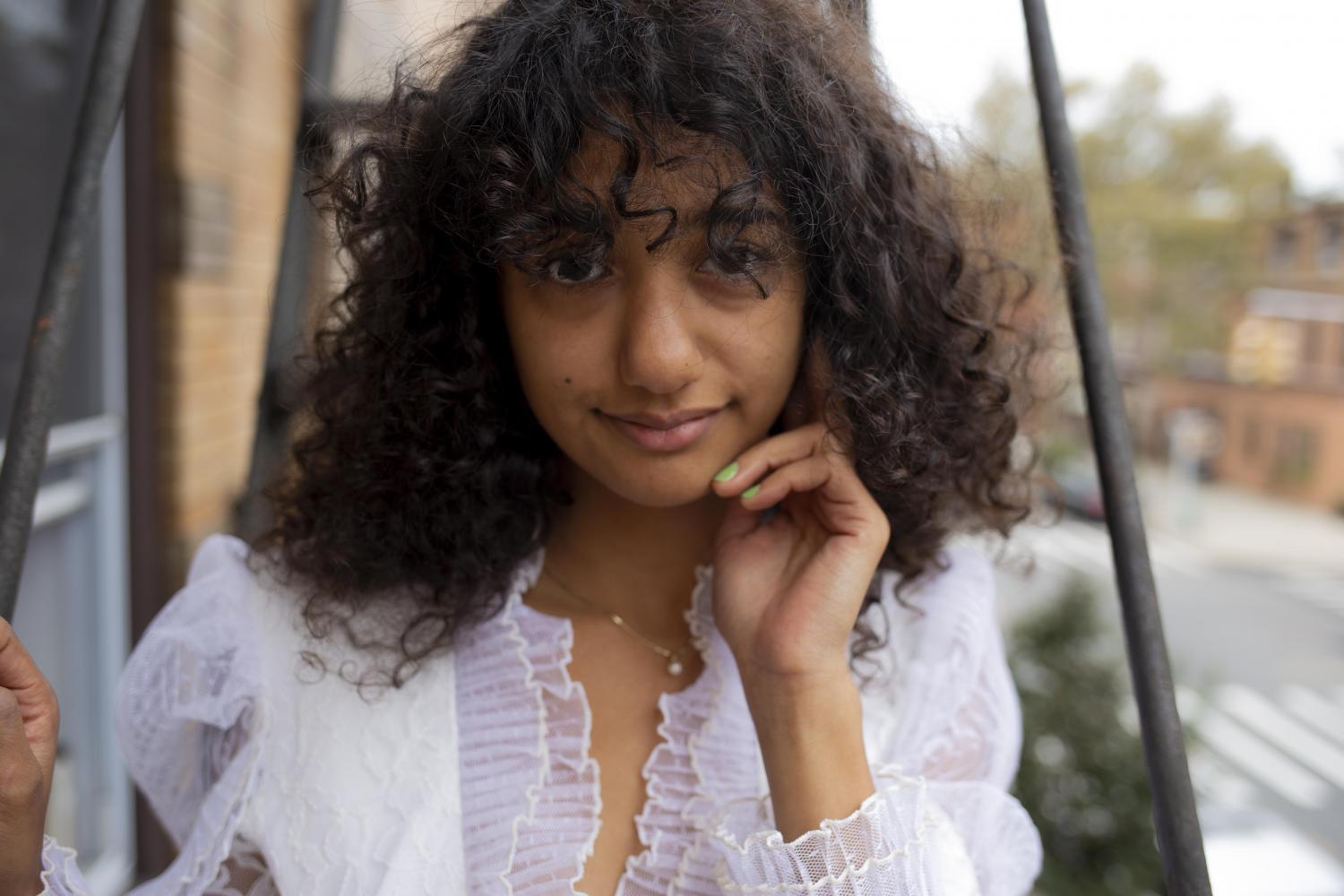 However, with one hand in the online world of streaming and the other on the pole, Lola has faced unforeseen problems in both realms. It's not always simple and fun.
A couple weeks ago, Lola tried to hail a cab after her shift outside the strip club. Changing into an NYU T-shirt and shorts, leaving on her large work heels, she wailed her arms to multiple cabs — none of which stopped. She only had cash on her and didn't want to stray too far from the club.
"At least three cabs passed by, and I had to take off my shoes and walk a block for cab to stop for me," she said.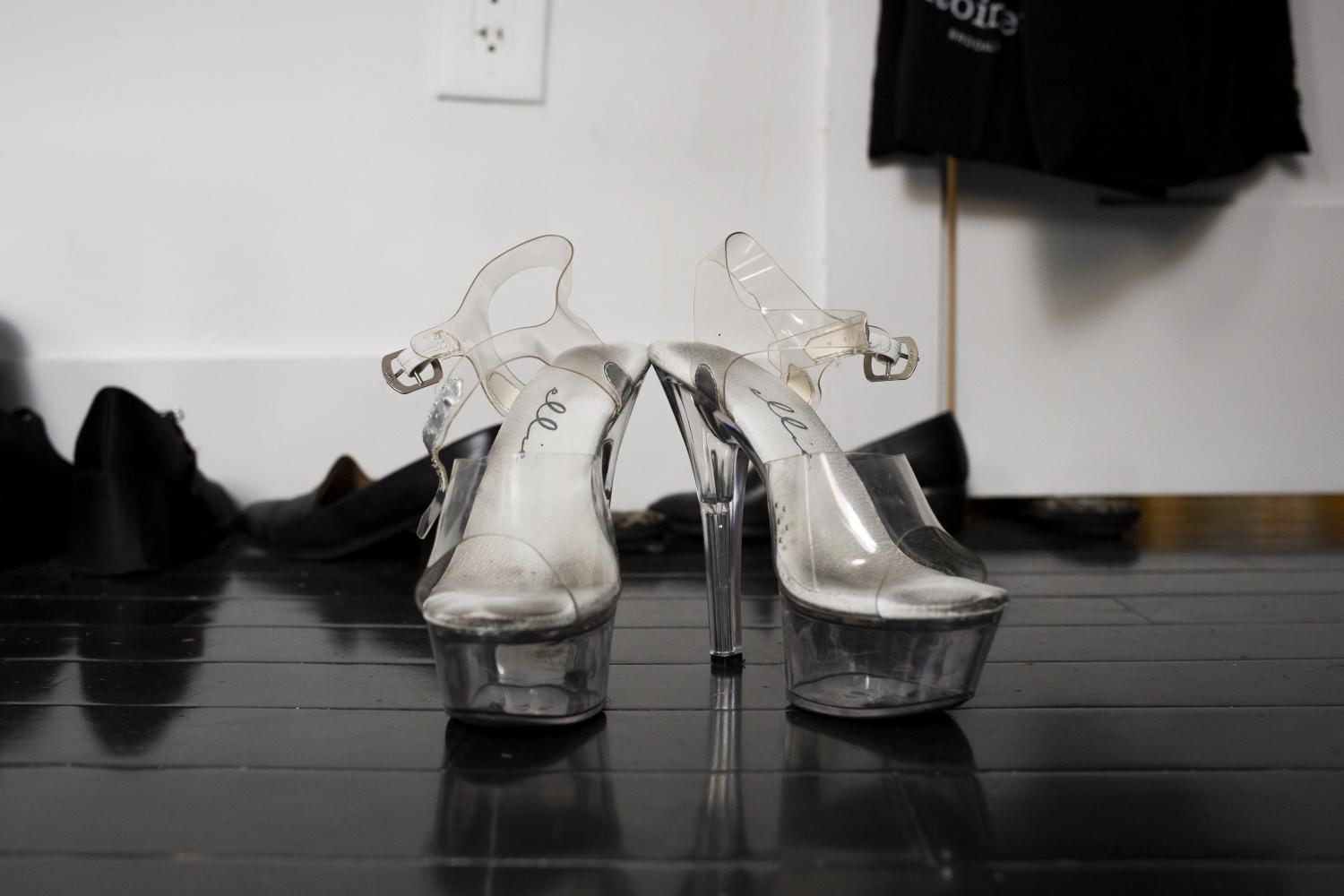 The hardships of her job continue with payment platforms online that deter Lola in her financial pursuits. That same Sunday afternoon, she battled it out with a PayPal agent about her blocked account.
"They think I'm a terrorist, receiving money for nuclear war," Lola said in a moment of pure exhaustion after the phone call. 
PayPal claimed suspicion over the fast and daily small payments that Lola receives from her international clientele. After the phone call, Lola went right to streaming to find new methods of payment, and with a few nudges to her fans, a viewer had successfully sent a dollar through Cash App to test if it would go through.
Having as many viewers as she does, Lola has learned to navigate the Periscope cautiously. There are times when trolls will tell her to shave her armpits; other times, viewers will get into heated political arguments.
One user on the livestream commented, "I'll stab you in the p***y with my d–k" to which Lola giggled and responded, "oh, how nice." She gracefully plays the role of both subject and moderator of her streams.
Through it all, Lola does what she can to control her business.
"They're just bored really. It's very clear," She said. "They're just looking for someone to pick on. But I'm always standing my ground. A lot of people call me a feminist as if it's a horrible thing."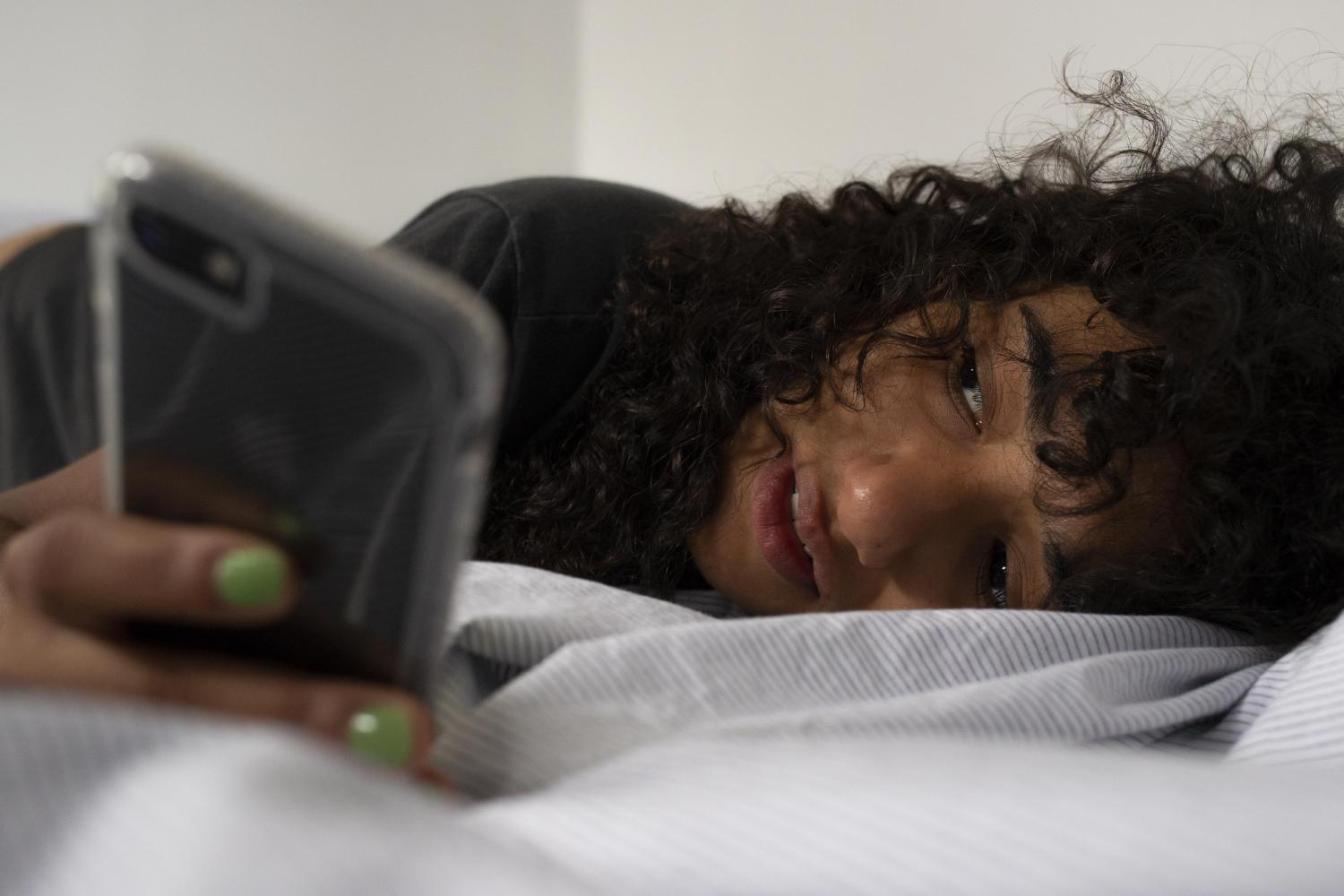 Despite the numerous precautions she takes, some viewers have illegally stolen her copyrighted private streams and posted them onto third-party sites. As a result, others wrongfully profit off of her content. She prefers to use Periscope because the revenue isn't cut by hosting sites.
Little is free in this world. Porn has always lived behind the veil of social taboo. However, Lola experiences firsthand what happens when people take her services for granted just to disappear behind a screen.
"I definitely think everyone should be paying for porn."
If camming doesn't bring in profits, she can't sustain herself or lifestyle. Coming from a big family, Lola made the conscious decision to be financially independent and not rely on her family. All of her tuition and rent money comes out of her stripping and camming gigs.
"[My mom] doesn't like it," Lola said. "She just worries about me, like any parent would."
Lola is taking in her future as it comes. Her only priority is to stay in New York and continue onto Columbia for her master's in literature or anthropology.
In the mix of all the streaming, stripping and studying, Lola defines herself as a sex worker who has forged her own place in the industry.
"My type of camming may seem more timid in comparison, but creating a hierarchy isn't beneficial to anyone," Lola said. "We all share the struggles and social stigmas of whatever kind of selected service we provide."
If you blink, you might just miss her. Juggling all of what she does, Lola has learned to enjoy the madness. She's sure of herself and won't budge from any disapproving glances. Her Sunday stream is about to come to close. She must leave her viewers abruptly to handle other matters. The rest of her seemingly ordinary life needs her attention.
A version of this article appeared in the Monday, Oct. 29 print edition. Email Joel Lee at [email protected].