My eccentric, albeit upstanding parents frequented the Jekyll and Hyde Club in the '90s. They raised me on stories of drunken bar fights and debauchery in the horror-themed pub. Since then, there have been a wide range of Jekyll and Hyde Clubs that have open and shut down, leaving the Greenwich Village location the last one standing.
If you're the type to be quiet on the Uber ride back home, the Jekyll and Hyde Club might not be for you. This place is a spooky Rainforest Cafe with quaint and proactively chatty actors wandering around while you eat and drink into oblivion.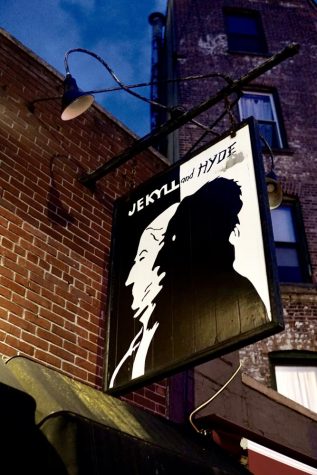 When I was seated immediately — quite quickly for a Friday night I might add — and warned that they only accept American Express or cash, I opted for the main dining area of the restaurant, directly under skeletons dangling from the ceiling. There are horrors hidden in every corner and terrific surprises haunting you from above so there's no best place to sit, though the bar itself is only for those 21 and over. 
The first thing that struck me about the restaurant was its clientele — a decent portion of which were families with young children. It was strange to see so many kids in a room full of skulls with ominous and dismally lit decor.
The stacked yet plain $16 portion of nachos that I ordered was impressively large, fit for a crowd of stoners looking to crunch their munchies. The $27 ribs were nothing to complain about, as they were pretty flavorful, unlike the bland fries they were paired with. Overall, the food was wildly overpriced and not really worth it flavor-wise. The drinks, while still expensive, were pretty damn strong.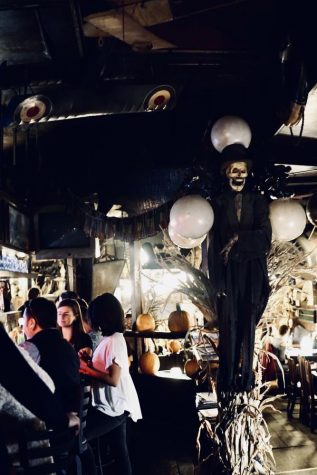 The Transformation Cocktail, the Club's signature drink, was very sweet and fruity, not what you would expect from a strong alcoholic drink. The Sweet Poison cocktail, startlingly green, and recommended by the staff, was a tangy coconut rum-infused cocktail with a hint of Curacao. The Pineapple Mint Mojito was exactly what you would expect — a refreshing concoction of tart and sweet. While there was a selection of beer and wine, opt for the cocktails if you can. 
The club houses short performances as well, and you may be intrigued at the revival of Frankenstein's creation. Or a quiz show with a werewolf. Or an Egyptian mummy speaking about a secret of secrets, one which I cannot publicly state. What kept pressing me were the questions of whether or not the spectacle was worth the hefty price. The actors, for what it's worth, are genuine and nice people who are just trying to ensure you have a good time. But if you're down for a spooky night of excess, this may be the place for you.
A version of this article appeared in the Monday, Oct. 29 print edition. Email Robert Coventry at [email protected].