In one reality you are Michael Sterling, a black man who encounters racism in life. In another, you can waltz through any city from around the world in an instant. A third reality has you experience the Tōhoku earthquake off the coast of Japan, one of the largest recorded in human history.
These simulations are all possible because of new projects utilizing virtual and augmented reality that are supported by the RLab, a new tech hub that opened Wednesday in the Brooklyn Navy Yard and is managed and operated by NYU's Tandon School of Engineering.
RLab is the product of efforts made by the New York City Economic Development Corporation and Mayor's Office of Media and Entertainment which collectively invested $5.6 million into the tech hub. Part of Mayor Bill de Blasio's New York Works program, the lab is meant to support new VR and AR companies, as well as existing ones looking to incorporate the technology into their business models, with the goal of creating jobs for New Yorkers. Brooklyn Navy Yard is a not-for-profit with the same goal of increasing New York employment that doubles as the location for the lab, which is located on the third floor of Building 22 in the yard.
Tandon Dean Jelena Kovačević believes RLab will do more than encourage job growth.
"This lab will be the epicenter of the research and sparkups and jobs for New York City and the larger area," Kovačević said. "But it will also be the epicenter for things we can't even contemplate today for us and our partner universities."
Columbia University, the City University of New York and The New School have all partnered with NYU as part of the project, although Tandon will be the one to manage and operate the lab, which showed off different VR and AR projects from start-ups, many of which were founded by masters students from the different universities.
Tandon second-year graduate student Pratik Jain founded one of the 10 companies selected for the RLab's bootcamp program. The company is called Craft and features a VR program that utilizes head movements and voice commands rather than a controller to draw, so as to be accessible to people with disabilities and the elderly.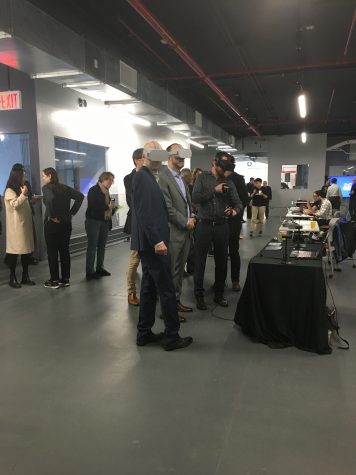 Jain said he feels that institutions should develop VR technology independently to reach its full potential, despite the sentiment expressed by some that it should merely be incorporated into existing research.
"I think there's a lofty future if you leave behind the thought that 'this is going to be be your new phone' and try to think of it as a tool and hardware that is really good for certain things," Jain said, emphasizing that VR is best when applied to simulation training, gaming and entertainment.
Tandon alumnus and co-founder of the game "Unseen" Brian Hui incorporated augmented reality into his project. While virtual reality puts you into a new sphere of space, augmented reality puts something new into your space, allowing you to interact with an object as if it were there. Additionally, augmented reality does not require a headset.
When asked how his company would be aided by RLab, Hui said that the simple provision of space in an often cramped and expensive New York City would be a big help.
"This facility will help because it gives people space to work," Hui said. "I think with the technology support and equipment support that this will be a space that will really foster not just entrepreneurship, not just academic endeavours but really foster the tech community in regards to [VR and AR]."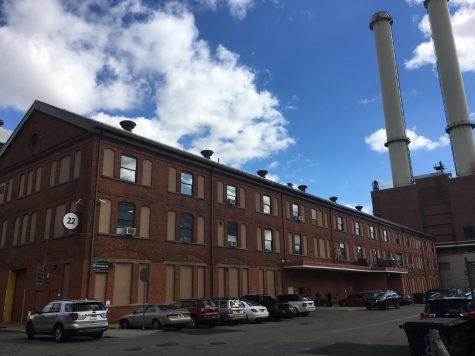 This is the goal of Brooklyn Navy Yard, which works to connect the local community with its economic opportunities and resources. CEO David Ehrenberg said he has "been trying to woo NYU to the Navy Yard for quite a while," and was excited to begin the project.
Executive Director of NYC Media Lab and the new RLab Justin Hendrix described how Tandon was chosen to manage the hub, explaining that the engineering school has a "real history" of delivering on programs with similar goals of RLabs — ones with a focus on technology and entrepreneurship and how they can create opportunities together.
Hendrix explained that Tandon students would be involved through participating in startups featured by the lab, and would have future opportunities to take part in events the lab would host, from hackathons to meetups and educational programs.
When speaking about the goal of the program, Hendrix said that he wants to see the technology advance in a way that does more than make money or create jobs.
"We want to explore the technology, we want to explore the entrepreneurial and business opportunities, but it's not all about that," Hendrix said. "It's also about answering real social problems, real questions and challenges we face, and I think of these technologies as a means to an end."
Email Victor Porcelli at [email protected].