Protestors Say 'Hell No' to the Anti-Trans Memo
Washington Square Park rang with the voices of over a hundred protestors Sunday evening enraged with what they see as the Trump administration attempting to erase protections for transgender and gender non-conforming individuals.
The protest, organized by Lambda Legal and Voices4, was called "Hell No to the Memo," in response to a New York Times article published Sunday reporting that the Trump administration is planning to overturn multiple Obama-era policies protecting people's right to identify as a different gender than the one they were given at birth.
Now, the Department of Health and Human Services is seeking to define gender in only two categories: male and female. This motion will push to narrow the definition of gender under Title IX, a civil rights law banning gender discrimination within federally funded programs.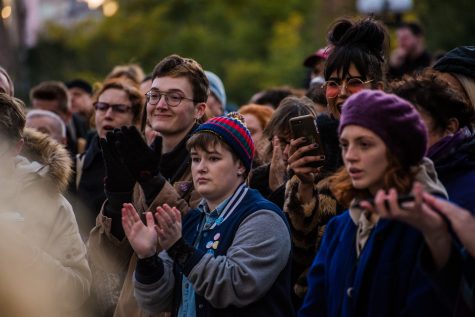 After the article was released, the New York City LGBTQ community responded with anger. Chase Strangio, a lawyer and transgender rights activist, spoke to the urgency of this national crisis at the protest.
"The federal government has been trying to erase us long before The New York Times released that article about the memo," Strangio said. "The effort to erase us will not be successful."
The Obama-era policies allowed a person's assigned gender at birth to later be altered to the individual's choice. Overall, the policies widened the definition of gender on multiple fronts, including programs surrounding health care and education. The New York Times reported that an estimated 1.4 million Americans who identify as a different gender than the one they were assigned at birth would be federally ignored if these policies were to be overturned.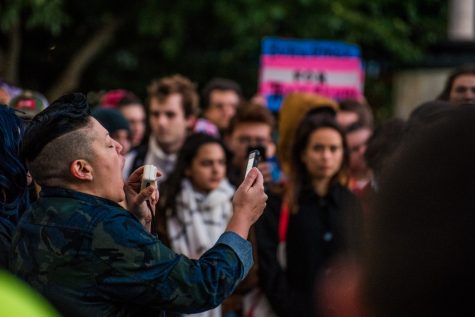 The Trump administration has long been criticized for its refusal to accept advice from scientific experts regarding climate change and a multitude of other issues. Multiple speakers from the event challenged the administration's inconsistency in wanting scientific evidence of gender. 
Indya Moore, an actress on FX's television series Pose, was a main contender in the argument for listening to the science behind this newfound understanding of gender. 
"Two weeks ago when talking about climate change, science didn't matter," Moore told the crowd. "Why does it matter now?" 
Among the crowds Sunday evening were dozens of NYU students. GLS first-year Maddy Trpisovsky told WSN that this motion to narrow gender is not shocking.
"I am not surprised, but it is still upsetting," Trpisovsky said. "The fact that they're getting rid of this distinction, and encouraging government agencies to not acknowledge anything besides male and female doesn't make sense to me. These people exist."
Another speaker in the event's lineup was Tony Winner and Grey's Anatomy star Sara Ramirez. Ramirez shifted the tone of discussion, encouraging the crowds to recognize the failures and the work that still needs to be done within their movement. 
"Transgender and non-binary people of color continue to be assaulted, attacked, murdered and erased without being centered in the mainstream [LGBTQ] movement," Ramirez said. "That is our failing, and it has emboldened our administration." 
Ramirez left audience members with a harrowing thought. 
"If today is a wakeup call, then where have you been?" Ramirez said.
A version of this article appeared in the Monday, Oct. 22 print edition.
Email Jared Peraglia at [email protected].