A Shopping Experience Straight From the Future
Online shopping is convenient and easy — it's no wonder busy college students take advantage of sites like Amazon. While it's nice to be able to Amazon things with the click of a button, you can now shop in person at Amazon's new SoHo store.
The store, which is called Amazon 4-star, opened on 72 Spring St. last week. The permanent location sells items that are either rated at least four stars or are new and trending on Amazon.com.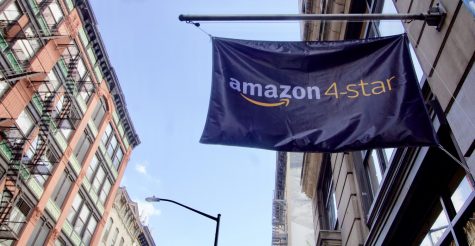 The space is divvied up into sections you'd see at any brick-and-mortar store, such as "Speakers and Home Audio," "Small Kitchen Appliances" and "Devices and Electronics." However, Amazon spices it up with specialty tables that feature items based on how customers interact with them online. On my visit, the "Most Wished-For" table featured copies of Jordan Peterson's "12 Rules for Life," the Black and Decker kettle and Amazon's Echo Spot. Other tables had labels such as "Frequently Bought Together" and "Trending Around NYC" with equally eclectic assortments of items.
When CAS junior Dena Li stopped by the store, she said she was instantly drawn to these specialty tables, most of which were situated at the front of the store.
"The tables were the only things I looked at," Li said.
Although Li didn't spend very much time in Amazon 4-star, she said it reminded her of a popular bookstore.
"It was very big," Li said. "[It had] a Barnes and Noble-type feel."
Amazon products appear across the store in different sections including "Meet Alexa," which displays smart home items with Amazon's artificial intelligence, and "Amazon Basics," which feature everyday items like USB and HDMI cables. Prices for items appear on digital displays that feature the latest price from the website. Prime pricing also appears on these displays, meaning members can get the same savings they receive with some items on the Amazon website.
NYU students who are Prime members said they hadn't heard of the store, but were interested in shopping there. CAS sophomore Cristopher Arteaga said he likes the convenience of the online Amazon platform because he doesn't have to go to a physical store, especially when he has other things to do. However, for something small, he's willing to try Amazon 4-Star.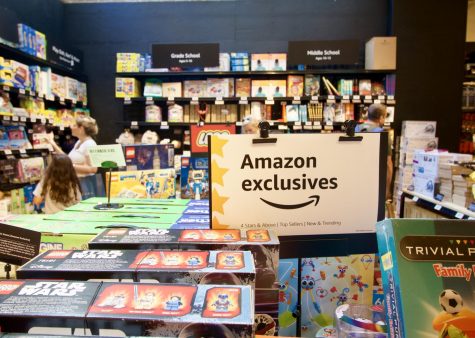 "If I just need an HDMI cable, I'd rather just go to the store and buy it there," Arteaga said.
Li shared similar thoughts on the new store.
"I would shop there … for little things," she said. "Probably for gifts though, not for me."
CAS junior Joanna Caravantes, who said she shops on Amazon.com at least once a month, said she would be interested in a physical store because she prefers seeing products in real life before purchasing them.
"Online, you can only really read reviews," Caravantes said. "You kind of just have an idea and you're not 100 percent sure of what you're going to get until it arrives."
Unlike the Amazon Go grocery stores in Seattle and Chicago, which utilize sensors and cameras to allow customers to leave with their items without paying for it in person, Amazon 4-star requires customers to check out at a register. Customers can choose to pay with their credit or debit card, or by pulling up their Amazon account on a smartphone. Amazon 4-star is open from 10 a.m. to 9 p.m. Monday to Saturday and 11 a.m. to 8 p.m. on Sundays.
Email Melvis Acosta at [email protected]