Fire Ignites in East Village Apartment, NYU Tenants Evacuated
A kitchen fire set alight an East Village apartment block, near where many NYU students live.
In the early hours of Wednesday morning, a kitchen fire from Japanese restaurant Uogashi ignited 188 1st Ave. in raging flames. Fourteen firefighters and three residents were injured. Three nearby buildings have been evacuated and two local schools, P.S. 19 and P.S. 34, were closed.
By midday, First Avenue was jam-packed with fire engines, ambulances and police cars as the fire was still burning. Firefighters fought recurring sparks and tried to prevent the building's structural collapse.
Jose Villeda, a nearby resident, learned about the news on his way to work early Wednesday morning.
"I'm surprised the fire is still going," Villeda said. "I work over on Bowery and I came back over at lunch and saw [firefighters] still hosing it down."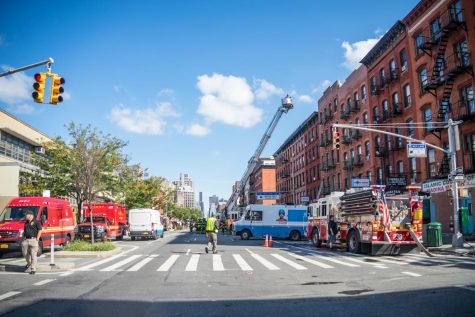 Joel Kaswan, a Tisch sophomore, lives at 186 11th St. Around 2:00 a.m. Wednesday, Kaswan looked out his window to see the neighboring building ablaze. He and his roommate were evacuated by authorities and placed in a local hotel.
"We're not allowed back in, and I don't know when we will be," Kaswan said.
Local businesses were affected by smoke damage and surrounding residents are not allowed back inside until further notice. A nearby mosque, Madina Masjid, was also evacuated due to smoke damage in their basement. Wednesday afternoon, devotees from the mosque prayed next to fire engines and large smoke clouds.
New York Police Department authorities from the scene have confirmed cleanup will most likely last until the end of the week. For now, local officials have relocated residents into nearby hotels.
Kaswan described his frustration with the move.
"Right now [authorities] have me staying at a nearby hotel," Kaswan told WSN. "I mean, it's pretty nice, but I just want to go back home."
This story will be updated with any developments.
Correction Oct. 3, 2018: A previous version of this article reported that the address of the fire was 188 11th St., but the fire was at 188 1st Ave. 
Email Jared Peraglia at [email protected].