Eating Out While Eating In
For anyone who managed to stomach the first two movies in the "Fifty Shades of Grey" franchise, its latest release, "Fifty Shades Freed," features a moment that is difficult to shake. What has become known as "The Ice Cream Scene" depicts the two characters sharing mint chip ice cream in a different, more sensual way. While most of us don't have lives like Christian Grey and Anastasia Steele, the combination of food and sex isn't just for the movies. 
Aphrodisiacs come in different forms, many of which are normal, everyday foods used by normal, everyday people. Even Sidestein sells mint chocolate chip ice cream.
The topic may seem a bit awkward, and for those who are already too concerned about whether or not to put the sock on the door handle, it can be scary to experiment. But it doesn't have to be awkward. It doesn't even have to be sexy. Lauren Jeevanjee, an LS sophomore, used the quintessential chocolate-covered strawberries to experiment with her beaux.
"He started feeding them to me, and I would lick his fingers," she said. "Then I started feeding them to him, and he would kiss my hands and up my arms. It got very sensual very fast."
The story could be intimidating to some who still feel uncomfortable when grabbing a condom from the publicly placed dispensers in residence halls, but lucky for Jeevanjee, she felt comfortable enough with her boyfriend that this food adventure became a highlight of their sexual experience.
Stern sophomore Zoe Van Den Bol, has a story that's a little less seductive and a lot more laughable, only this time it involves a whipped cream experiment sabotaged by aerosols.
"The idea was to spray it on each other and lick it off but the air in the can wasn't working so it was all liquidy and gross," Van Den Bol shared. "It ended up being super funny."
Despite a technical malfunction, the experience of trying something new together for the first time can be intimate in itself. Faced with a situation that could have easily found its way into a circle of friends gossiping about their most awkward sex stories, Van Den Bol instead decided to spin things around and focus on the positive. Rather than be embarrassed, Zoe and her partner laughed about their shared experience, bringing them closer together in an unanticipated way.
However, aphrodisiacs extend beyond sensuality and comic relief. Many foods are believed to chemically stimulate desire. And don't worry if you swing a different way, there are vegan options too. 
Asparagus is high in Vitamin E, an ingredient that triggers the production of sex hormones. Though, for this to be effective, one would have to eat a whole lot of asparagus. Watermelon has an amino acid that relaxes blood vessels in a similar way to Viagra. Worried about that awkward conversation with your doctor to get a prescription? Don't be. That's why watermelons exist, kind of. Celery, oysters, pomegranates and many more all have components that make them sexually arousing in one way or another. And then there are the rumors about pineapple and taste.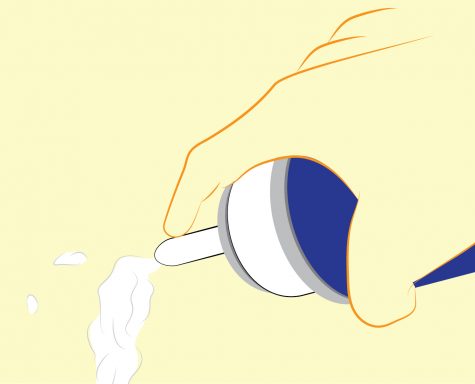 EasIllustration by Rachel Buigas-Lopez
Even if you're a picky eater, there are a plethora of options when selecting your aphrodisiac of choice. Whether you're more comfortable getting sticky or if blending together a nice pineapple smoothie is more your speed, there are creative ways you can dabble in the world of aphrodisiacs. But for those comfortable enough with their partner to try something new and risk possible humiliation, don't be scared to open the fridge and pull out that can of whipped cream. Just make sure you check the expiration date first.
Email Calais Watkins at [email protected]