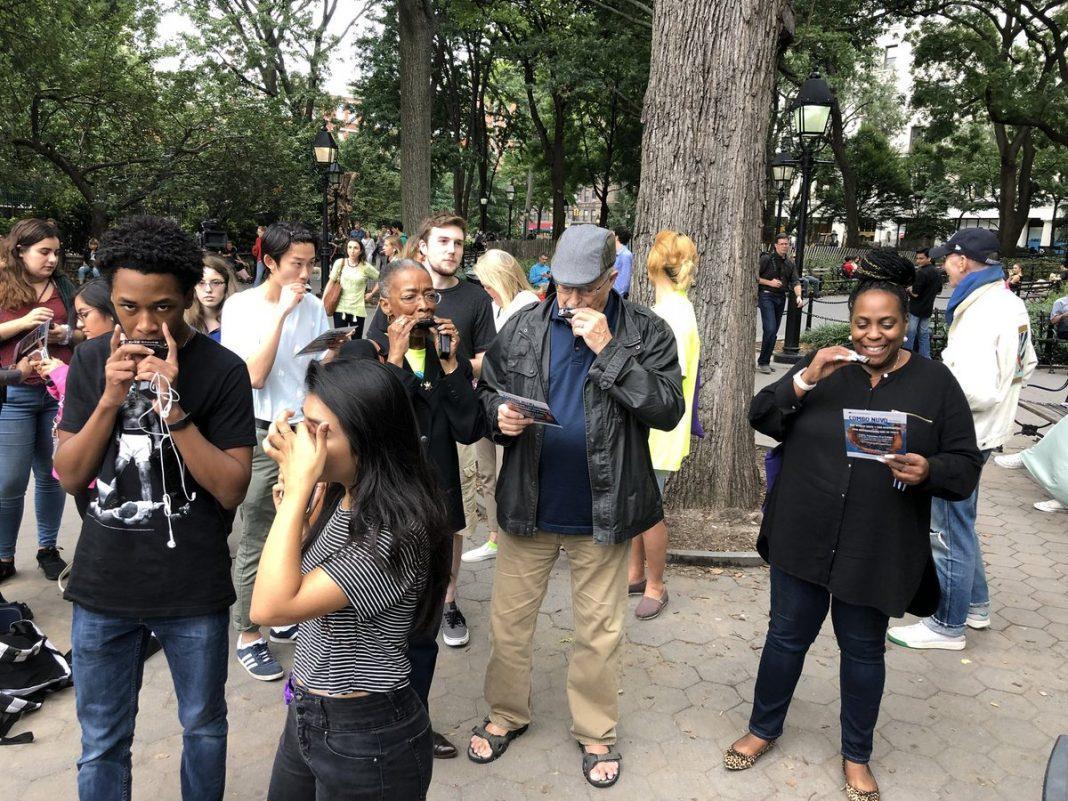 Most days, Washington Square Park is filled with the sounds of conversation, the fountain and distant traffic. But on Friday evening, all was drowned out by the symphony of 500 harmonicas.
Adjacent to the park's Giuseppe Garibaldi statue, Steinhardt Director of Jazz Studies David Schroeder and his musical ensemble, Combo Nuvo, set out to promote world peace and environmental sustainability through music. After Combo Nuvo's initial musical numbers, anyone could grab a free harmonica and sheet music and join the ensemble to play a group song.
Recruiting 500 harmonica players is no small feat. Schroeder prepared extensively to ensure the event ran smoothly.
"In our new student seminar class, Dave Schroeder came in and gave all of us harmonicas," Steinhardt first-year Joyelle Watkins said. "He told us about the event and taught us about how to play."
The event was organized in recognition of the International Day of Peace, an event sponsored by the United Nations. To relay the message, the words "Harmonicas for Peace" were printed on a massive whiteboard sign in bold letters. In between musical numbers, Schroeder read out quotes about nonviolence and justice by visionaries such as Eleanor Roosevelt and Dr. Martin Luther King, Jr.
"Some people say actions are louder than words," Schroeder said to a crowd of onlookers. "Music is our action."
Some members of Combo Nuvo supplemented the music with other instruments, such as drums, clarinets, guitars and piccolos. But the highlight of the event — and the biggest draw for passersby — was the sheer number of harmonicas. Tisch first-year Sav Geevaratne, attracted by the event's support of world peace, was one of many who picked up a harmonica and joined the ensemble for its final song.
"They're doing it to unite people through music," Geevarante said. "Music has the power to do that."
Schroeder attributed his choice of the harmonica, also known as the Mississippi saxophone and the blues harp for its simplicity and historical presence. According to Schroeder, notable harmonica players of America's past include Abraham Lincoln and Benjamin Franklin.
The last song the ensemble performed was a one of Schroeder's own compositions, "The Oceans."
"The last song of the concert, 'The Oceans,' is to demonstrate that everyone has a unique voice," Schroeder said, "but when we combine our individual voices through the harmonica, we create one unified and positive message. We are here today to spread peace on Earth."
Email Lauren Gatesman at [email protected]
Here we go! #Harmonicas4Peace #InternationalPeaceDay 🌍✌🏽🕊@UN @nyuniversity @nyusteinhardt @nyunews pic.twitter.com/1oylO8W317

— NYU MSCLab (@NYUMSCLab) September 21, 2018