Picking and Perfecting Your Dorm Aesthetic
For all you kids who didn't plan your dorm decorations a year in advance.
More often than not, NYU can be overwhelming. Whether it's classes, internships or simply being a part of this crazy city we all temporarily call home, the pressure can boil up — leaving us desperate for a moment to breathe.
That's why it's so important to make the most of the small sliver of space you get to mold: your dorm room. It's a place you can exercise individuality and self-expression, and a big part of that is decorating your room to your tastes. Whether you're a pop culture fanatic or world traveler, here are some tips to make sure your dorm aesthetic is just right for you this year.
The World Traveler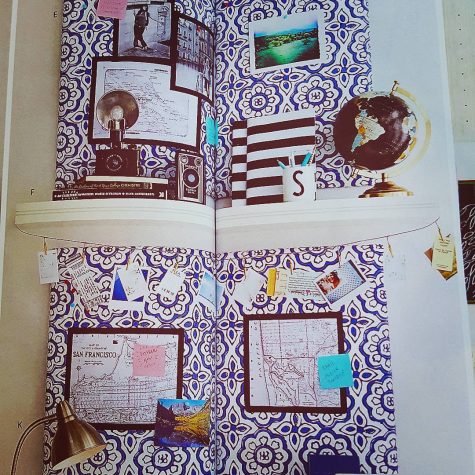 For the soul that longs to escape to places far away or wishes to keep a piece of the remote world right at home, embrace the travel aesthetic. Add maps, pushpins, globes and even foreign literature to your space to get the feel just right. Make sure your wall is littered with postcards, ticket stubs and polaroids so all visitors know just how worldly you are. Insomnia Cookies might seem hours away from your dorm at 3 a.m., but your favorite destination doesn't have to.
The Mood Board Enthusiast
If you feel all the feels all of the time, try painting your room with those colorful emotions. Spreading words of affirmation and inspirational quotes about your dorm can help you to breathe and check in with your emotions each morning. Similarly, this dorm aesthetic can help you to remember your goals and the reasons you are right at home at NYU. You might even help your roommate feel inspired and less alone each time he or she returns. Plus, much of this can be done with arts and crafts supplies, so these dorm room decorations don't need to have a hefty price tag.
The Basic White Snoozer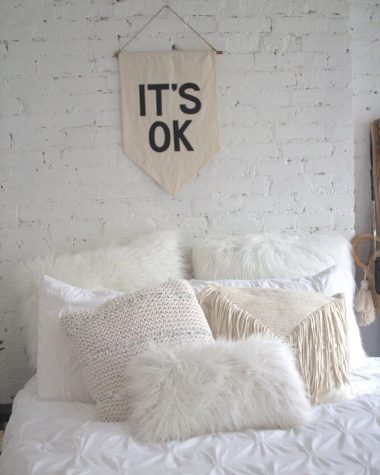 Did you just invent heaven on earth? Basic doesn't have to be boring if you get this aesthetic right. Fairy lights, soft white pillows, fresh linens and simple posters can go a long way in keeping you floating whenever you need an escape from the stressors of college life. If you don't want to pay for a new set of pristine white sheets, just bleach the heck out of your current ones. No matter the room's makeup, fairy lights are a basic b-tch dorm essential, and you can buy them for as little as $5 to $7. Decking your room out in the heavenly hue can keep your mind clear and your ideas fresh. However, make sure to keep your space clean if you're opting for this aesthetic because your emotions can always mirror that of a dull and dirty space.
The DIYer
Looking to create a room that can rival that of Steinhardt junior Jennifer Zhang, the brains behind JENerationDIY?  Do it yourself, and do it right. No one can bring your dream aesthetic to life better than you can, so get out of your head and start creating. Whether your next project is a dreamcatcher or a bedframe, make your space feel like home by giving it the perfect touch of you. Do you, boo!
The Fallout Boy
Are concerts your life? Try filling your walls with posters of your favorite bands and making your Pulp Fiction poster front and center. You can buy a brand new one for as little $4.25. You don't have to wait around for Vans Warped Tour or the next Twenty-One Pilots concert because you can bring the scene right into your dorm. Don't forget to throw all of your old and new concert wristbands onto your shelf for premium display because everyone will want to see your vast concert history.
Email Tianne Johnson at [email protected].