Panorama Day Two Brings Janet Jackson Super Fans and A Cappella Performances
Pamela Jew, Managing Editor of Under the Arch
Jul 29, 2018
In a sea of Janet Jackson fans waiting for who they lovingly refer to as "mother," the muddy, sinking ground below was the only reminder of yesterday's midday cancelation. Panorama Day Two was in full swing with Saturday-only festival goers only hearing the gossip of yesterday's weather tragedy. Many feared an afternoon shower with dark clouds canopying the island, but they never broke, allowing Panorama officials to seemingly redeem themselves — but only in terms of weather.
Attendees had to watch their steps coming to and from the Panorama Stage as the flood had hit the hardest in that area with ground surrounding the Pavilion and the Point mainly dry by midday.
Earlier acts of the day included up-and-coming hip-hop artist Kalin White, indie rock band Lo Moon and Filipino American DIY artist Jay Som. These artists were able to introduce newcomers to their music and play favorites of fans who were sprinkled among the crowd.
When crowds started to roll in more around 3:00 p.m., festival goers could bounce around from artist to artist since there was little to no overlap. At the main stage, female artist CLOVES played a soulful set with fans swaying their arms to "Don't Forget About Me." At the Pavilion Stage, Sigrid danced across the stage in her rainbow-striped pants, the crowd bouncing along with her as she sang popular singles "Don't Kill My Vibe" and "Strangers." Japanese Breakfast brought more of a calm to the Pavilion audience with its synth-infused, bass-driven sound.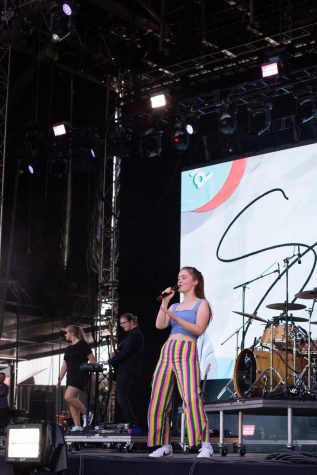 After fans waited 20 minutes for Lil Wayne at the Panorama Stage, who was a last minute addition to the lineup, a loudspeaker announced that Lil Tunechi would not be arriving to perform. The pillared LED screens flashed a message reading "DUE TO WEATHER CONDITIONS, LIL WAYNE'S FLIGHT HAS BEEN DELAYED AND HE IS UNABLE TO PERFORM TONIGHT. HE WAS LOOKING FORWARD TO PERFORMING FOR HIS NYC FANS AND PLANS TO COME BACK AS SOON AS POSSIBLE." Another Panorama loss at the mercy of Mother Nature.
Struck with another hit of disappointment, many flocked to the Pavilion to wait for St. Vincent's performance at 6:55 p.m.
Immediately after St. Vincent closed her set with an a capella version of "New York," a ballad dedicated to her years living in the East Village, Native New Yorker SZA graced the main stage. During SZA's performance, video clips which matched the current song played on the backdrop behind the flouncing, dancing singer. SZA spoke to the crowd as they were friends; her mom was among the audience as well. She played chart-topping favorites, such as "Love Galore," "Drew Barrymore" and "The Weekend," and later retreated to the sound booth to watch Janet Jackson perform.
Although many people camped out at the mainstage awaiting Jackson, much of the younger crowd fled to the Pavilion Stage to see Gucci Mane perform. With a few audio issues messing with Gucci's intro, his resident DJ, DJ Champ, shouted back to the sound booth, "We can't be having that with Guwop now!" The audio interruptions persisted even when the Trap God's wife Keyshia Ka'Oir made a surprise appearance. To soothe a shouting crowd, he performed an a cappella version of his 2009 hit "Lemonade."
Headliner Janet Jackson arrived at the Panorama main stage on time after an opening video around the topic of racism played, gushing blood-red tinted clips and plastering phrases, such as "We will not be silent," "Black Lives Matter" and "We Want Justice." Her show, which ran over an hour and a half, emulated the same caliber of performances from her "State of the World" Tour. During her rendition of "Together Again," pictures of the young Janet Jackson and her father, the late Joe Jackson, appeared on the screen backdrop. Jackson reached her arms toward the sky and said, "I miss you — both of you."
Email Pamela Jew at [email protected].