Stern Professor Lays Out Progressive Vision for Congress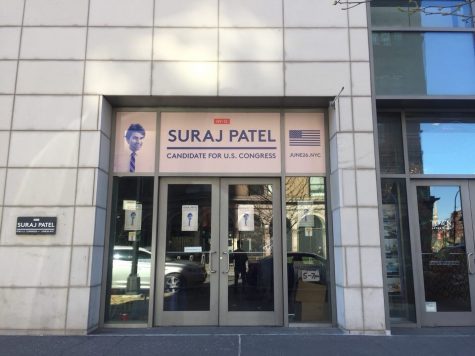 Entering Suraj Patel's East Village apartment, I am greeted by three millennial-aged staffers hanging around a kitchen counter. Before one of them can tell me Patel will be back in a minute, he strides in from the rainy New York streets in a navy blue Canada Goose jacket. He jokes with his staffers about what a busy schedule he's had today and invites me to sit with him across the living room.
Suraj Patel, Stern School of Business adjunct Professor, NYU School of Law alumni and candidate for New York's 12th Congressional District for the United States House of Representatives, is embracing a certain idealism that comes with having a strong progressive vision for America. He has raised over $1.1 million and is beginning to pose a threat to incumbent Democrat Carolyn Maloney, who has held office since 1993, since announcing his candidacy in December 2017.
"Yes, of course I'm idealistic," Patel said. "This should be the most idealistic district in the country," he said of New York's 12th Congressional District which spans across the Upper East Side, the Lower East Side, the East Village and parts of Brooklyn and Queens.
Patel's campaign champions many progressive issues —  legalizing marijuana, ending mass incarceration and delivering medicare for all — through social media, employing Buzzfeed-esque YouTube videos to relate to a younger generation of voters.
Patel is running on many issues which he lays out succinctly on the campaign trail: "Climate: Changing," "Immigrants: Welcome," "Guns: Control Them," "Gender: A Spectrum," "Empathy: Essential," to name a few. The Patel campaign intends to reach an untapped voter-base that is younger, more diverse and more educated than those who typically vote in New York's congressional races. Any NYU passersby can spot his campaign headquarters just steps away from NYU's Arthur L. Carter Journalism Institute in Cooper Square.
Gallatin Junior Joseph Taecker-Wyss shares a similar stance with Patel on the topic of incarceration. reform. Taecker-Wyss is active in the Incarceration to Education Coalition at NYU.
"A lot of people feel very apathetic to both political parties," Taecker-Wyss said. "Without knowing exactly what Patel stands for, I think his assessment is accurate. If progressives who do not vote are engaged in the political process, who is elected can change drastically."
His optimism and go-getter attitude is balanced by a laid-back image of himself reclining inside his East Village apartment. While his staffers chat away in the kitchen, Patel settles into a comfy chair with a blanket to keep himself warm. When he gets to talking about the progressive issues he champions, however, the blanket comes off.
"It is very unlikely in a democracy to get the most progressive district to be the one to make the laws," Patel said. "But it is our obligation to make sure that we're pulling our weight so that we can pull the center back."
He said he is not afraid to fight for the vision.
"If someone said, 'If you cast this vote, your career is over,' I would say 'Sure, it's fine. It's worth it,"Patel said.
Stern Professor of Business Law Rachel Kowal, who worked with Patel during his time teaching Professional Responsibility at Stern, had nothing but praise to offer Patel.
"He was energetic and devoted to carrying out the requirements of the job," Kowal said. "I knew he had political ambitions."
Patel has written intermittent articles for the Huffington Post with inspirational messages that call to action U.S. progressives, worked for Barack Obama during his presidency, advised for Hillary Clinton's 2016 campaign and even supported Reshma Saujani who ran against Maloney in 2010 though he said Saujani ran as a conservative challenger to Maloney.
"I supported Reshma … because I thought the incumbent [Maloney] was not an effective Congressperson for a district like this," Patel said.
One of the Patel campaign's main gripes with Maloney's congressional record is her consistent push for the largely debunked anti-vaccine agenda, although the New York Post reported in mid-March that Maloney has since denounced these beliefs.
In response to President Donald Trump's recent authorization of airstrikes on Syria without Congressional approval, Patel presented himself as the image of #ResistTrump.
"Oh boy, I would not give Donald Trump approval," Patel said. "I don't believe Donald Trump should be given the discretion to do much of anything."
If Democrats should gain a majority in the House, many progressives are discussing whether or not Nancy Pelosi, Democratic stalwart and symbol of the center-left, should become Speaker of the House. Patel has mixed feelings on the matter.
"She's a very effective leader," Patel said of Pelosi. "That being said, there's no doubt that Congress is out of touch with where the Democratic party is going." When asked if he would consider a more progressive voice for Speaker of the House, Patel replied: "I'd certainly be willing to listen to anybody."
Despite the optimistic vision he holds for America, Patel cannot escape allegations against his character. Earlier this month, the New York Post shared Facebook posts written by Patel after meeting Olympic gymnast McKayla Maroney who was 16-years-old at the time.
"I told her she should come to New York because we have a top shop [Topshop] there on Broadway," Patel wrote in the Facebook comment in 2012. "Haha, that may have crossed the creepy line by a little."
Liz Smith, Patel's campaign spokeswoman dismissed the allegations.
"He's an outspoken supporter of the national dialogue we are having about sexual abuse and harassment," Smith told the Post. "These efforts to tie years-old comments to it do a great disservice to women."
While his vision is vast, Patel remains humble about his individual power.
"A lot of what I'm promising to do is to change the conversation. It may not be that we get my carbon dividend plan. It may not be that we get my Medicare for all plan," Patel said. "But if I'm beginning to introduce those ideas into the mainstream … then at least the center gets pulled back to a direction that seems to resemble what was the center."
A version of this article appeared in the Monday, April 23 print edition. Email Sunanda Gaskins at [email protected]