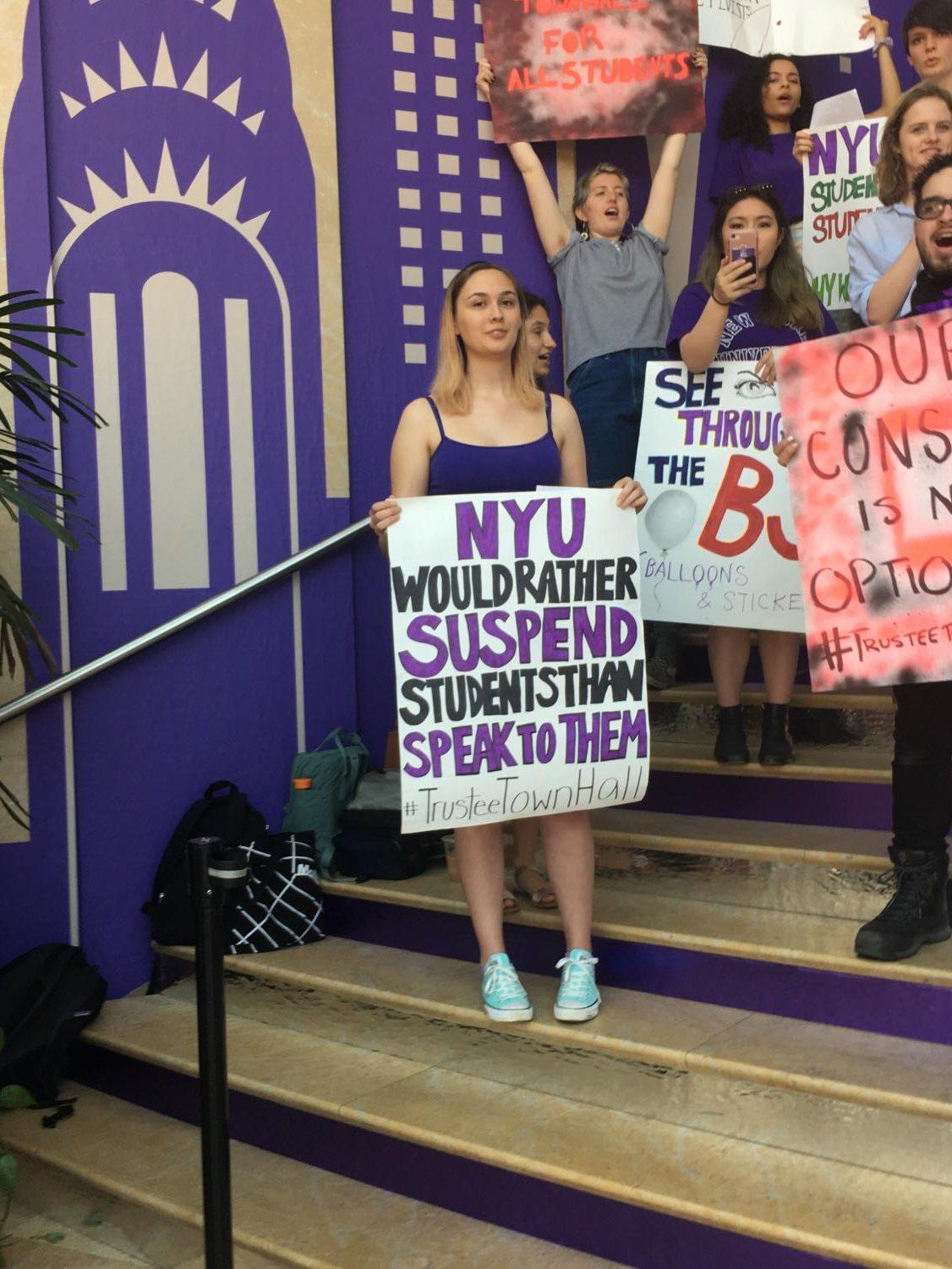 NYU community members eager to pose questions and concerns to NYU leadership will have an opportunity this Thursday during a public Town Hall meeting with President Andrew Hamilton and Student Body President Juan Manuel Calero Canaval.
The Town Hall will take place in the Kimmel Center for Student Life in room 802 at 4 p.m., according to a post on Facebook by NYU Student Government.
The Town Hall comes on the heels of disciplinary threats of suspension, expulsion and revoking of financial aid made by the Office of Student Conduct and Community Standards against Student Labor Action Movement and NYU Divest members occupying the Kimmel staircase demanding, among other requests, a public town hall meeting between the student body and Hamilton. A number of student activists, as well as 105 faculty members, have spoken out criticizing the university's handling of the situation.
In an email to WSN, NYU Spokesman John Beckman said that the Town Hall had been planned long in advance and was not a direct result of the SLAM and Divest demands.
Calero did not immediately respond to WSN's request for comment.
The theme of this year's Town Hall, according to the post, is NYU's Global Network.
"Join NYU Student Government and President Andy Hamilton in our Town Hall this semester," the post reads. "The theme of this semester's Town Hall is the Global Network. What does the ideal Global Network look like for you? How can the university work to make the Global NYU experience better for students?"
Fundamental elements of NYU's Global Network have come under fire after multiple faculty and former students, including tenured Journalism Professor Mohamad Bazzi, were barred entry to NYU's Abu Dhabi campus. Hamilton addressed the NYU community via email in February admitting that the university had mishandled the situation and would take steps to improve future global mobility.
"In these two cases, we were deficient in our communications to the individuals involved, and I regret that this exacerbated an already difficult situation." Hamilton wrote in the February email. "I am consequently committed to immediately improving how we deal with future cases."
NYU Student Government encourages community members to submit their own questions via a Google Form linked on the website. According to the form, some the submitted questions will be asked during the first half of the town hall.
Hamilton regularly holds Town Halls each year. Last year, Hamilton addressed students in Kimball Hall on the topic of affordability. Tensions ran high at that meeting, which quickly shifted to students voicing demands for NYU to become a sanctuary campus. Hamilton also used the town hall forum to discuss affordability in 2016.
As of this writing, only eight students have confirmed their attendance via the Facebook group. Nine have expressed interest. SLAM and Divest members are planning on attending the Town Hall, though it is unclear what actions they will be taking.
Email Mack DeGeurin at [email protected]