Student Activists Rally at Weekend on the Square
On Saturday afternoon, NYU Admissions Ambassadors greeting prospective students had to yell over the chanting of about 50 student activists occupying the opening staircase in the Kimmel Center for University Life.
Activists who attended the rally protested NYU administration's recent rejection of the Student Labor Action Movement and NYU Divest's demand for an open town hall meeting with administrators and trustees, and demonstrated in favor of other causes. Attendees represented several student organizations, including SLAM, Divest, Jewish Voice for Peace, Students for Justice in Palestine and Incarceration to Education Coalition.
Hundreds of prospective students and their families visiting NYU for its annual Weekend on the Square stopped to watch the rally and take videos of activists. Additional public safety officers were deployed to ensure that visitors could enter and exit the building easily. Despite the noise, admissions ambassadors supported the demonstration, often clapping in response to rally cries and dancing along to the activists' chants.
"I'm glad they're here," said Admissions Ambassador and Tisch sophomore Mariyea Jackson. "I feel like prospective students should feel comfortable knowing that they can come to a campus and have the right to use their voices as students."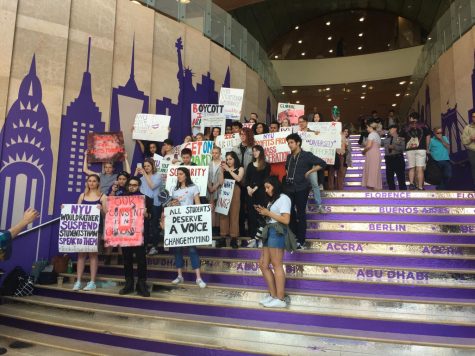 Saturday's rally was the first major student demonstration since SLAM and Divest occupied Kimmel for 36 hours earlier this week, which ended after administrators threatened suspension, removal from housing and loss of financial aid. NYU administrators have said they support students' right to speak freely but that, by occupying Kimmel past its closing time, they interfered with university operations and forced security to work overtime.
Social and Cultural Analysis professor Andrew Ross, who rallied in solidarity with activists, said it was wrong of the administration to threaten students.
"At most university campuses, the student center is considered to be a sanctuary for student action and student free speech, but apparently some highly paid NYU administrators didn't get that memo," Ross said. "The habit we've seen this week of threatening punitive action against students is a habit that really needs to be stamped out here at NYU."
CAS sophomore Rafaela Siewert believes that NYU deceives students about its values.
"When I came to NYU, it promoted itself as this very progressive university in everything that happens, but I learned that's not really the truth," Siewert said. "Behind closed doors, a lot of really conservative decisions are being made that are going to affect us and not the decision makers themselves."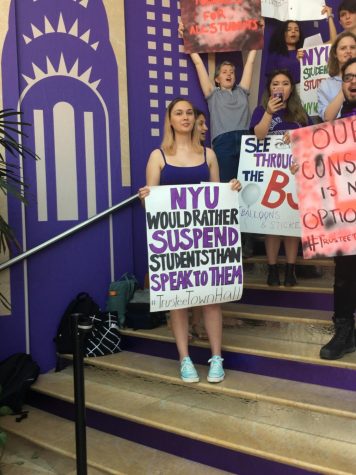 In 2015, the Student Senators Council and the University Senate passed a resolution that called on NYU to divest from fossil fuels. The Board of Trustees struck down the resolution over a year later. Activists have spoken out against trustees for their ties to the fossil fuel industry, involvement with allegedly predatory student loan companies and close relationships with President Donald Trump.
Gallatin sophomore Stephanie Rountree, directly addressing Chairman of the Board of Trustees and NYU alumnus William Berkeley, criticized NYU for not providing more financial aid to students.
"William Berkeley, get the f-ck off the Board," Rountree said. "If you're going to do stuff with my money, you're going to have to give me at least two hours. Look me in the face and tell me why I don't deserve more financial aid, why more people at this school don't deserve financial aid."
Ross, an active member of the American Association of University Professors, said he and a number of other professors are preparing to confront the administration in response to the disciplinary threats levied against SLAM and Divest.
"We drafted a letter to administrators this week reminding them that these are issues that are of instrumental interest to everyone on campus," Ross said. "Everyone is affected when there are potential violations of academic freedom, and this heavy-handed threat to punish students for their exercise of free speech is a potential violation of academic freedom."
While the organizations attending the rally support various causes, all attendees rallied in favor of increased transparency and shared governance, taking aim at the Board of Trustees.
"The Board is completely unaccountable," Siewert said. "There is no way we can contact them realistically and frequently, and that is insane to me because they are supposed to be representing us. Obviously, not the entire student body is here, but we're fighting for them, for ourselves and for future generations."
Email Alex Domb at [email protected].