Four Places to Stuff Your Face This National Grilled Cheese Day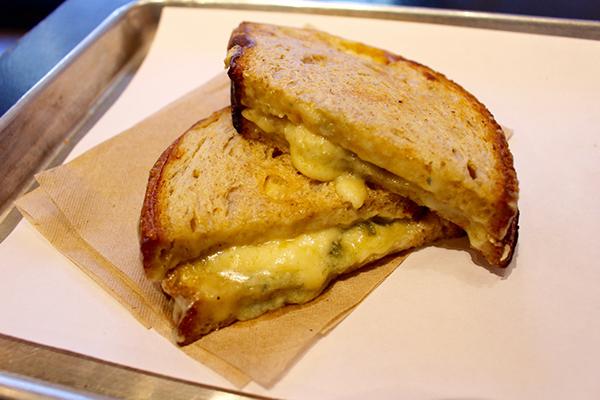 The grilled cheese is a true American classic. Observe the peanut butter and jelly attempt and fail to match the buttery crust of the grilled cheese, and watch as the BLT ignorantly thinks it can live up to the gooey melted insides of the classic sandwich that takes you back to your childhood. And if you're a part of the enlightened group that knows the grilled cheese is a far superior option for all three meals of the day, then you'll know that April 12 marks the most important national holiday: National Grilled Cheese Day. And it doesn't stop there. The entirety of April has been coined National Grilled Cheese Month. But don't fret, you won't have to celebrate alone because these worthy establishments are honoring this holiday with the respect it deserves.
Murray's Cheese
Rush over to Murray's Cheese at 254 Bleecker St. to try an assortment of limited edition grilled cheese sandwiches with a variety of cheeses. Wait until the last week of April to try the "Truffalo Buffalo" with buffalo mozzarella, parmigiana reggiano, truffle pesto and white truffle oil all on a crunchy sourdough. This decadent melty sandwich is sure to satisfy all your expectations, and if you're hoping to snag a sandwich on the house, on April 12, National Grilled Cheese Day, it will be giving away vouchers to the first 100 customers for a free sandwich.
Veselka
Located on 144 2nd Ave., this classic late night Ukrainian diner is celebrating the month by selling a different melt each day. Come all hours of the day to sample a mozzarella, bacon and fig jam melt, or perhaps its three cheese grilled cheese. However, the cheesy sandwiches change daily, so the only option is to go every single day to make sure you're not missing out on the flavors.
Cheese Grille
This Lower East Side establishment has been generating buzz ever since it first opened. Located on 188 Allen St., Cheese Grille serves a menu of exclusively grilled cheeses, both savory and sweet. It has perfected the craft of making everyone's favorite sandwich. In celebration of National Grilled Cheese Day, it will be handing out free grilled cheese from 3 p.m. to 8 p.m.
Melt Shop
The Melt Shop is the place to be. Go for the "Big Pull," a sandwich stuffed with an insane amount of cheese, and stay for a menu so decadent that a starving third-grader must of dreamt it up one day. Whether it's the Maple Bacon, the Fried Chicken or the Truffle Melt, these sandwiches are bound to satisfy any cheese-related craving you could ever have all with a side of their famous tater tots. With locations all over the city, you'll never be far from true bliss.
After you've eaten all you can, just remember, you're celebrating a national holiday, and this is what it feels like to be a winner.
Email Scott Hogan at [email protected]