19 Student Activists Defy Administration, Occupy Kimmel Overnight
Despite threats of disciplinary action, 19 members of the Student Labor Action Movement and NYU Divest declined to leave the Kimmel Center for University Life at its closing time of 12:00 a.m.
The groups will occupy the building overnight and indefinitely until the university acquiesces to its demand for a public town hall meeting with trustees and administrators, in which activists want to discuss issues of representation, transparency and institutional decision-making.
The 19 students are spending the night on the front staircase of the building, a space which they have occupied since 9 a.m. on Monday. Several sleeping bags, boxes of food, books and laptops are sprawled along the steps. Throughout Monday, Public Safety had sectioned off a part of the staircase to allow other students to efficiently pass by the occupation.
"We are not threatening the safety of any students," GLS sophomore and Divest member Josie Riederer said. "Most people think that it's only reasonable for students to have some sort of public conversation with people that make executive decisions for the student body."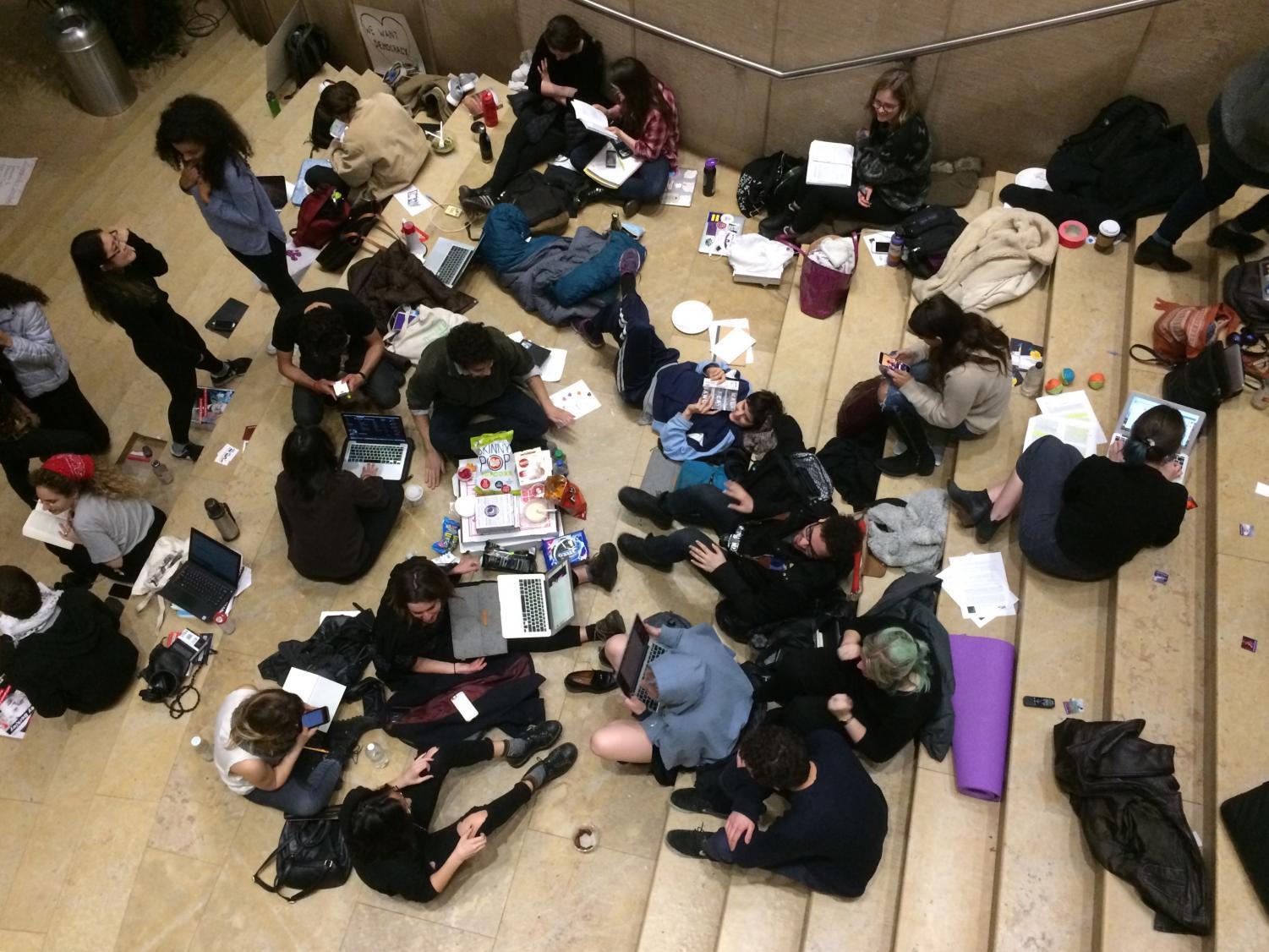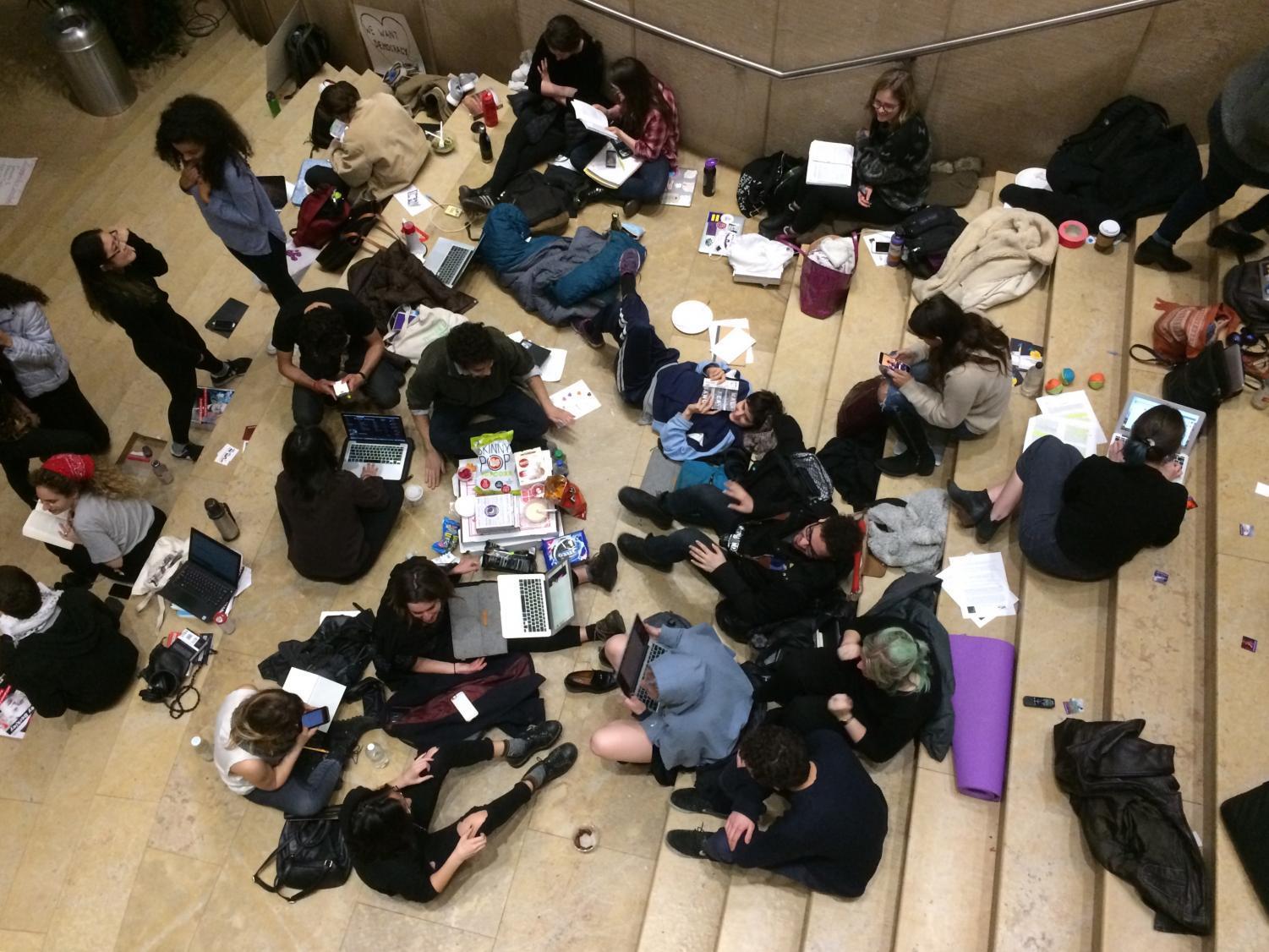 Public safety officers have been asked to work overnight and told WSN that they will be paid overtime. Students occupying the building after hours were asked to turn in their NYU identification cards to Public Safety while the building remains closed.
On March 31, representatives from Divest and SLAM met with two NYU administrators and initially brought forth their demand for a town hall. The two administrators said that they would need until April 6 to respond to this demand. When demonstrators received a letter from Senior Vice President of Student Affairs Marc Wais on April 6 declining this demand, they committed to occupy the building starting Monday, and several members from each organization said they were willing to face possible consequences for staying overnight.
Activists are undeterred by the threat of disciplinary action, and feel encouraged by the support they have found from members of the community.
"We're really on this upward and progressive move," NYU Divest member and GLS junior Ismail Ibrahim said. "The numbers and the energy we have is much better than we've had before."
At 10:30 p.m., Wais visited Kimmel to speak to protesters. He commended the students for their activism but said he did not agree with their message and reiterated that channels of communication between trustees and students are already in place. Wais also re-emphasized that students would almost certainly face disciplinary proceedings for occupying a campus building after its closing hours.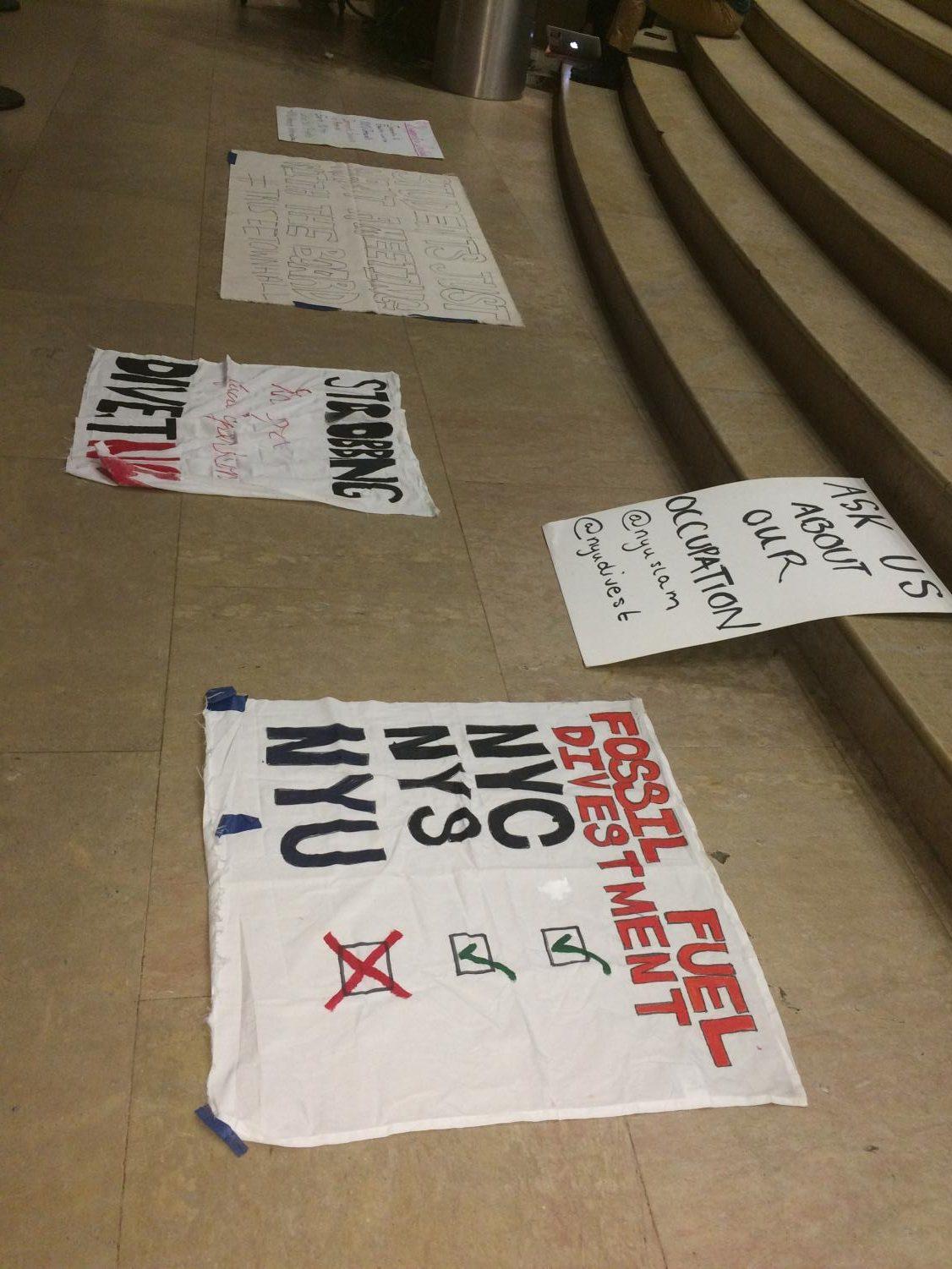 In previous occupations, NYU administrators have immediately threatened activists with summary suspensions. However, in this occupation, activists have only been threatened with the vague possibility of disciplinary proceedings for which the consequences remain unclear.
"I really commend the people out here today because they're fighting their own institution which is the hardest thing to do," said student Senator-at-Large and student activist and CAS junior Rose Asaf, who visited activists late Monday evening to voice her support. "They're fighting for a better future that NYU is denying to give us by continuing to invest in fossil fuels and by continuing to exclude student voices from decision making."
Asaf said that, if the students face disciplinary action from the administration, she would use her power on student government to fight for them.
"I'll be advocating on their behalf," Asaf said. "While it's likely that disciplinary proceedings will happen, if they get charged with anything that will be quite an injustice. If anything happens with regards to actual punishment I will be knocking on doors making sure that doesn't happen."
SLAM and Divest members who did not choose to occupy Kimmel overnight plan to bring their fellow members breakfast and rejoin the occupation Tuesday morning. Activists will be returned their NYU identification cards Tuesday and expect to receive word on possible disciplinary action by the end of the school day.
Email Alex Domb at [email protected].
For the latest, follow Alex Domb on Twitter @dombalex