Fallen NYU Fireman Honored by New York Community
Hundreds of New York City Fire Department firefighters lined the streets of Fifth Avenue on March 29, the solemn sound of bagpipes surrounded them. The men and women had gathered to mourn and honor their fallen member, Christopher "Tripp" Zanetis. 
Zanetis was carried atop a fire engine, dedicated in his honor, down Fifth Avenue to the arch of Washington Square Park. 
The CAS ('03) alumnus Zanetis died in a helicopter crash while serving the 106th Rescue Wing of the Air National Guard in Iraq. He died on March 15 alongside six other soldiers, including fellow former New York firefighter Sgt. Maj. Christopher Raguso.
A firetruck carrying the casket of FDNY Fire Marshal Christopher "Tripp" Zanetis lead a procession down Fifth Avenue. Fire Marshal Zanetis died in the line of duty while serving in the Air National Guard in Iraq. pic.twitter.com/bHKIcBrt1j

— NYC Mayor's Office (@NYCMayorsOffice) March 30, 2018
Zanetis's family and friends trailed behind the fire engine as it made its way to Washington Square Park where Zanetis received formal military honors. The ceremony ended with a 21-gun salute. FDNY officials, Air Force officials, NYU administrators and community members all mournfully looked on from within and around the park.
The procession was followed by a private ceremony celebrating Zanetis' life in the Kimmel Center for Student Life Eisner & Lubin Auditorium. The celebration began with a speech from another NYU alumnus Mayor Bill de Blasio, who spoke about the immensely positive impact Zanetis had on those in his life.
"It seems today we have lost a Superman, we lost someone who was endowed with some amazing ability, an extraordinary ability, to wrench from life the greatness of every moment," de Blasio said. "He loved life and we remain incredibly indebted to him."
#FDNY Lt. and @usairforce Master Sgt Christopher Raguso died on March 15 in an Air Force helicopter crash in Iraq, alongside FDNY Fire Marshal and Major Christopher "Tripp" Zanetis and five other military service members. Today, he was laid to rest in his hometown of Commack, NY pic.twitter.com/zSqMyOtri3

— FDNY (@FDNY) March 31, 2018
The ceremony was closed to the public and students were not allowed in without credentials.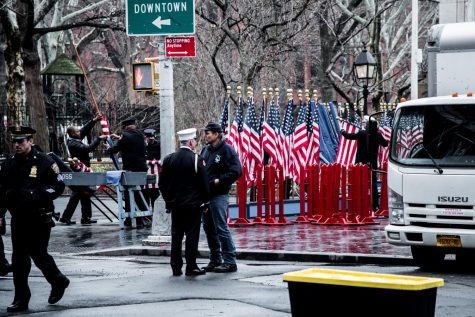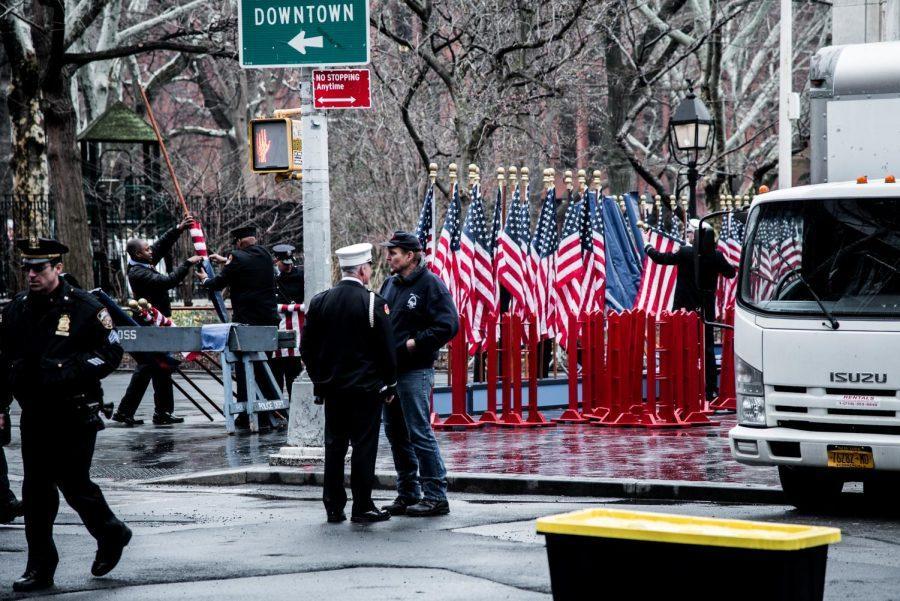 Zanetis accomplished much in his short 37 years of life. President Andrew Hamilton spoke at the ceremony and said that Zanetis had thrived academically and socially at NYU. He detailed Zanetis' many accomplishments during his college career, including how in his second year of college, he rushed to aid first responders to the 9/11 attacks. Zanetis went on to serve as the chair of the NYU Student Senators Council — the highest office a student can hold at the university. After graduating in 2003 cum laude, he began his career with the FDNY.
He later joined the U.S. ANG, where he performed rescue missions while simultaneously attending Stanford Law School, according to Lt. Col. John Schultz.
Shultz recounted when Zanetis came into his office and told him he wanted to be deployed as a pilot for an earlier mission.
"I remember sitting back in my chair and thinking, 'I love this guy's motivation, but I think he's crazy,'" Shultz said.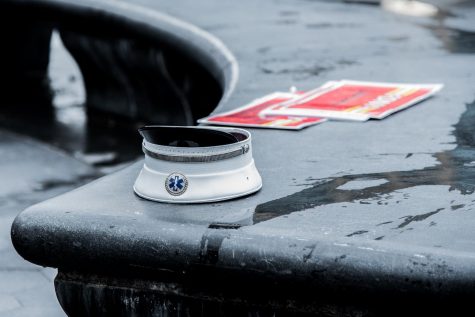 Shultz went on to detail the ways Zanetis took on every task with a positive attitude, including how he surged troop morale by leading crossfit sessions.
"It became the must see must do event of the whole base. We had marines running from two miles across the base to participate," he said. "We had British Apache helicopter pilots coming over to join in. Even Prince Harry did burpees for Tripp."
Zanetis served in the ANG from 2008 until his untimely death this past March. During his military career, he earned five Air Medals for his service.
The FDNY lined 5th Avenue this morning for the funeral procession of Captain Christopher "Tripp" Zanetis, of the NY Air National Guard, and also a well-respected FDNY firefighter. We honor and remember the ultimate sacrifice Captain Zanetis and his crew made serving our country. pic.twitter.com/jNXASEsJXw

— GreenwichVillage NYC (@GrnVillageNYC) March 29, 2018
Later on in the ceremony, Zanetis' younger sister, Britt, spoke about her profound admiration for her brother.
"I have had the extreme privilege of growing up and navigating adulthood in Tripp's radiant light," Britt Zanetis said, holding back tears. "He was my protector, my guide and my partner in life."
The ceremony concluded with a speech from Zanetis' lifelong friend, Drew Elliott. Elliot opened up about Zanetis' personal life, including his experience as a gay man serving in the military while "Don't Ask, Don't Tell" was still in affect.
Elliot maintained a light-hearted tone in his remembrance of Zanetis. But while concluding, he grew somber and serious.
"He was supposed to be the first gay president," Elliot said. "He was changing the world because he was changing people's minds."
A version of this article appeared in the Monday, April 2 print edition. Email Noah Mutterperl at [email protected].