Cat Callers Get Chalked Up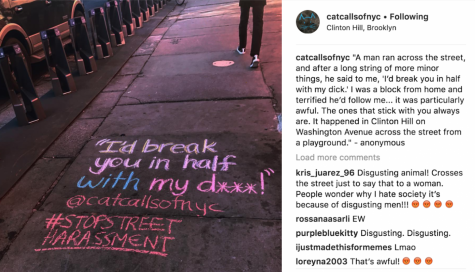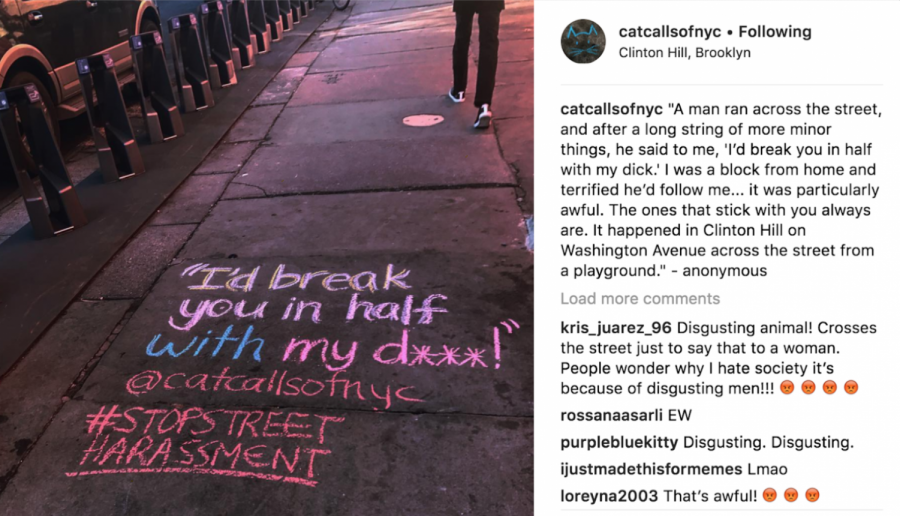 Catcalls and whistles disrupt women walking on the street daily. CAS junior Sophie Sandberg takes these instances to disrupt the average Instagram feed. She puts an end to mindless scrolling through countless photos of a night out and instead splashes colorful words of vulgarity across her followers' screens.
"I'd break you in half with my d***!" reads her latest Instagram post on @catcallsofnyc, which features the words of nameless catcallers written in bright letters on a New York City sidewalks.
According to Sandberg, the concept is simple: followers send her descriptions of their experiences with street harassment. Sandberg then travels to the exact location where the follower was catcalled and paints the unwelcome words onto the sidewalk. The brightly colored letters are impossible not to notice contrasted against the dull New York sidewalks.
Through this work, the 20-year-old aims to spread awareness about women's daily experiences with street harassment. Sandberg started the account in March 2016 after experiencing years of catcalling while growing up in the city.
"When I was catcalled, I felt really weird," Sandberg said. "I did not know what to say or what to do and I felt there was something wrong with me. Then, learning that catcalling happens all the time made me want to fight back against it."
The account has gained significant traction in recent months, as the #MeToo and Time's Up campaigns encourage women to voice their experiences with sexual harassment on social media.
"I think that right now we are kind of in a moment in history where things are changing a lot," Sandberg said. "The #MeToo movement is a lot about speaking out against things that we have been facing silently for a long time, that we have just kind of been accepting as normal. I think street harassment is exactly like that because it happens every day."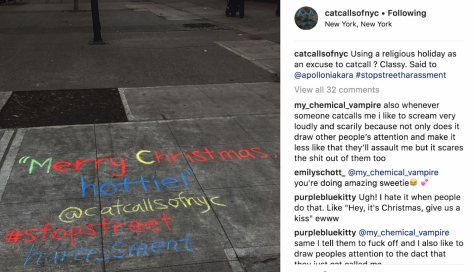 Sandberg's work has not only raise awareness of the issue, but has also provided solace to women who share similar experiences with her. Apollonia Karampatsou is a 20-year-old whose encounter with street harassment was featured on the page.
"After having the experience, I felt that it would be empowering to share it with others," Karampatsou said. "Even if it is not extremely serious, I think it is important to know you are not alone and that it has happened to other girls as well."
Nina Haines is a friend of Sandberg and works as the community manager at Women of Sex Tech, a networking community aimed at connecting like-minded women within the sex tech industry. Haines introduced Sandberg to the community and helped expand the account to what it is now with over 29,000 followers.
"I started following it when it had like 500 followers," Haines said. "I think what she's done expanding it around New York and now all around the world is amazing."
Sandberg's work has inspired numerous spin-off accounts from cities around the country. She is also currently working with women in international locations in order to bring the message to people abroad, such as in Paris and London.
Check out the page for yourself at @catcallsofnyc.
Email Maddie Howard at [email protected]