The Hidden Irreverence of Emily Dickinson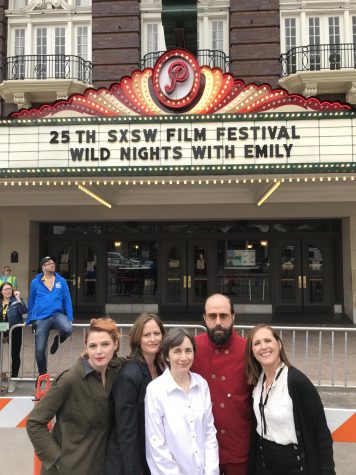 During her time at NYU, Madeleine Olnek (Tisch '87) didn't want to touch Emily Dickinson's work. Her public persona was creepy – "gross," in fact to Olnek. It wasn't until she read an article in The New York Times that the magical, irreverent life of the morbid poet finally sparked her interest Have we all misjudged the spinster recluse all along?
In her new film "Wild Nights with Emily," Olnek excavates the erased history of Dickinson and her work's surprising muse. Thanks to advancements in infrared technologies, "Wild Nights" uncovers the vivacious and queer life of the world-famous poet and her relationship with sister-in-law Susan Gibert.
Led by the equally irreverent Molly Shannon (Tisch '87) and Susan Ziegler (Tisch '87) as Emily and Susan, respectively, Olnek calls the film an NYU effort.
"Molly, Susan and I were all in Tisch at the same time," Olnek told WSN at the film's premiere at South by Southwest last week. "Molly has such a distinctive presence just like Emily Dickinson … I knew that if she played her, people would finally know who Emily truly was."
Shannon captures the enigmatic poet's essence with a gut wrenching performance in – of course – true Shannon fashion, with perfect comedic timing and a face that tells a thousand mysteries. Known for her work on "Saturday Night Live," Shannon proves to be an enigma herself, stepping up to the plate in one of her more dramatic roles since 2016's "Other People" to deliver truth and dignity to a misunderstood woman's life.
This commitment to the truth is at the core of "Wild Nights." From Dickinson's "wish" to be published posthumously to her public persona as a wallflower too delicate for this world, history could not have written Dickinson's life more incorrectly. "Wild Nights" explores the truth: Dickinson's unwavering attempts to get her work published and her not one, but two relationships with women in 19th century Massachusetts.
"She just wanted to be published," Olnek said. "Her poems didn't include a note that said: 'Please only publish this when I'm dead …' They weren't going to accept a fire brand rebel who flouted social convention. They were going to accept a frightened woman who was heartbroken and pining away."
In the film, we witness this rejection first hand as the powerful men who defined publishing told Dickinson 'no' again and again. One in particular, The Atlantic editor Thomas Wentworth Higginson (Brett Gelman) felt that, then more than ever, intelligent women needed to be published, but claimed "he just hadn't met any yet."
Perhaps the most challenging facet of Dickinson's life for Olnek to document was her romance with Susan Gilbert. Known for her work on lesbian films like "Codependent Lesbian Space Alien Seeks Same" and "The Foxy Merkins," Olnek has been creating queer cinema since the early '90s –– largely comedy. With "Wild Nights," the filmmaker had to find a balance between comedy and drama because, like Dickinson's work, the subject dictated it.
"I've gone on record saying, 'It's immoral to make a drama if you can make a comedy,'" Olnek said. "Emily, herself, lived a combination of comedy and drama. She struck that balance in her work … It is sad when the movie ends but because we know Emily's work has lived on, that gives us some consolation."
Out of her 1,800 poems, Dickinson only saw 11 published while she was alive, according to the film. Due to politics of the time, it can be assumed that none of these published poems were about her lover, Susan. What "Wild Nights With Emily" hopes to do is uncover these 1,789 remaining poems and restore the erased history and inexplicable irreverence of the queer American poet.
"Wild Nights with Emily" premiered at SXSW on March 11.
A version of this article appeared in the Monday, March 19 print edition. Email Ryan Mikel at [email protected]