GCOMMS Fights Misinformation in Wake of Downstein Disgrace
The Governance Council of Minority and Marginalized Students released a statement on Feb. 25 countering misinformation that has gained traction since NYU served Kool-Aid and watermelon-flavored water for a Black History Month meal in Downstein last week.
In the meal's aftermath, Aramark, NYU's food service provider, fired the Downstein head chef and manager — both of whom are white — for planning the menu on their own. Aramark fired the pair for not vetting the menu through Aramark's corporate headquarters and NYU beforehand, which violates Aramark policy.
On the evening of Feb. 23, the GCOMMS general assembly met with Senior Vice President for Global Inclusion, Diversity and Strategic Innovation and Chief Diversity Officer Lisa Coleman, Associate Vice President for Student Affairs and Diversity Initiatives Monroe France and Director of the Center for Multicultural Education and Programs Leah Lattimore. They discussed the response to the meal and answered questions from attendees about the basic facts of Aramark's response.
The Daily Wire first falsely reported that two black cooks were fired. They have since issued a correction.
"[GCOMMS] is both dismayed and disgusted by the misinformation being spread surrounding the 'Black History Month Meal' here at NYU," the statement reads. "We will not stand idly while black women and student organizations are both demonized and harassed."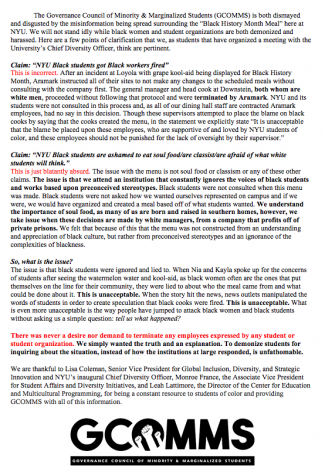 Though CAS sophomore Nia Harris — whose letter to administrators sparked the uproar — was told by the head chef that black cooks planned the menu despite the fact that it was the head chef and the manager who planned the menu.
Other news outlets, including The New York Times and CNN, reported as fact what the head chef told Harris.
"News outlets manipulated the words of student in order to create speculation that black cooks were fired," the GCOMMS statement reads.
Commenters on Harris' viral Facebook status have also falsely claimed that the two employees who were fired were black. Many of the comments have been racist or sexist.
Twitter users have also propagated falsehoods, suggesting it was black students who called for the firings though no student or student group ever called for anyone on staff to be fired.
"The Black student union got Black cooks fired because a Black History Month meal consisting of greens, cornbread, mac and cheese, ribs etc…..'perpetuated racial stereotypes,'" one tweet with over 11,000 likes and over 6,000 retweets read.
NYU nor any of its students were involved in the decision to fire the head chef and manager.
Students were primarily angered by the lack of say they had in the selection of the menu.
"The issue with the menu is not soul food," the GCOMMS statement reads. "The issue is that we attend an institution that constantly ignores the voices of black students and works based upon preconceived stereotypes."
Aramark's contract with NYU can be terminated in August of this year if NYU desires.
Email Sayer Devlin at [email protected]