In the Classroom with Wyclef Jean
Donning a colorful shirt spotted with palm trees and his signature black shades, legendary rapper and musician Wyclef Jean showed up at NYU on Tuesday night in true celebrity fashion.
Similar to Pharrell's visit in 2016, Wyclef Jean held a master class and conversation about his life, work and the state of the music business.
NYU's Program Board partnered with the Clive Davis Institute of Recorded Music and Sony Music U to put on the event. A majority of students in the crowd were aspiring performers, musicians and producers themselves. Wyclef Jean maintained an open and friendly demeanor when addressing the people in the room.
"Call me Uncle Clef," Wyclef Jean said.
Following the interview, Wyclef Jean gave four students the unique opportunity to perform for him and receive feedback. Steinhardt senior Chris "Ceezar" Hearn, Tisch freshman Leyla Blue, Tisch junior Jesse "Jesediah" Sgambati and Tisch senior Ada Obieshi delivered passionate and soulful performances. One of these lucky students will be featured on Wyclef Jean's upcoming album "Back To School."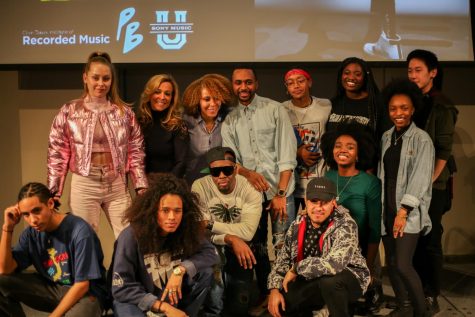 "This is New York City's greatest right here," Wyclef Jean said. "The artists in this room represent the next generation of music. I can't wait to hear what you all come up with."
Hailing from Haiti, Wyclef Jean began his musical career more than three decades ago alongside Lauryn Hill and Pras Michel in The Fugees. In the seven years the band was together, the socially-conscious hip-hop and soul group recorded two albums, won a Grammy and went platinum. Their hit 'Killing Me Softly' is still revered as one of the greatest hip-hop records of all time.
"A true artists suffers before he makes it," Wyclef Jean said.
After that, Wyclef Jean flew solo. "You have to keep going when you get that shot," Wyclef Jean said during the interview. After recording two successful albums in the late 1990s — "Wyclef Jean Presents the Carnival Featuring the Refugee All-Stars" and "The Ecleftic: 2 Sides II a Book" — Wyclef Jean was featured in Shakira's smash hit single "Hips Don't Lie."
Since, Wyclef Jean has released three more albums, a mixtape and a series of singles. He has written a memoir and worked with artists like Young Thug, Avicii, Akon and Lil Wayne. The 48-year-old shows no signs of stopping. Last month, Wyclef Jean announced "The Carnival Tour," which began on Jan. 19 will last until May 2.
In the small amount of free time Wyclef Jean has, he works on his mission to inspire the next generation by visiting college campuses across the country. In January, Wyclef Jean spoke with students at the University of Southern California. He was happy to return to the school of one of his oldest friends and collaborators: Clive Davis.
"The epitome of talent trumps all," Wyclef Jean said in his closing words to the students. "You have to work hard. That's why we're here."
A version of this article appeared in the Tuesday, Feb. 20 print edition. Email Ankita Bhanot at [email protected].