Professor Not Disciplined for Alleged Transphobia — Without Explanation from NYU
NYU Psychology Professor Edgar Coons told The New York Post he was not disciplined for alleged transphobic behavior in his classes. However, NYU Human Resources informed the student who reported Coons that "appropriate administrative actions" were taken.
A Bias Response Line report against Coons was filed in November by a former student, Steinhardt junior and transgender male named August, who only wanted his first name published for privacy reasons.
On Nov. 14, the Office of Equal Opportunity — the department which oversees the BRL — told August that it had referred their case to the College of Arts and Science Human Resources department. It remains unclear whether CAS punished Coons, decided not to punish Coons for his transphobia or whether CAS found Coons not guilty of the alleged misbehavior.
CAS Director of Human Resources Shabana Master declined to comment on the case. She repeatedly referred WSN reporters to NYU Spokesman John Beckman, whose department does not comment on affairs pertaining to specific faculty members or students.
On Jan. 11, Master told August that the CAS Human Resources review of the report against Coons was complete.
"Thank you for your patience while this matter was reviewed," Master said. "Our review is complete and appropriate administrative actions were taken."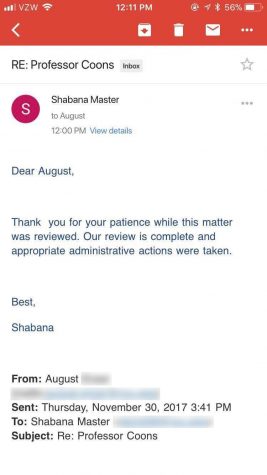 According to The Post, Coons said that he has not been disciplined since the report was filed, but declined to elaborate further. Since the BRL report first became public, Coons has repeatedly denied all allegations against him.
August expressed anger that Coons has not been disciplined for what multiple students have claimed to be offensive language, repeatedly referring to transgender students by incorrect pronouns, and teaching outdated science on gender and sexuality.
"I'm infuriated that the school has done nothing to resolve the situation, through education, discipline or otherwise," August said. "Nothing has been done to improve the environment for queer students, who are forced to take this course if they want to pursue any other psychology classes."
The BRL failed to produce a report documenting instances of bias in spring 2017, despite promising to do so. The BRL has yet to produce that report, citing personnel changes as the reason for the delay.
The Post's report that Coons has not been disciplined was published 23 days after Master told August that actions had been taken, leading August to believe that CAS has been dishonest with him.
As a result of Master's claim that actions had been taken, August feels that CAS has been dishonest, and remains unhappy with the outcome of the case.
"I think they lied," August said. "[For NYU] to make their students fight tooth and nail for justice like this is despicable."
August suspects that NYU's administrative departments are not fully concerned with the well-being of their students.
"At this point I'm fairly confident that NYU's allyship is completely performative," he said. "Their protection of their students is limited to when it is convenient and beneficial for them."
Email Alex Domb at [email protected].