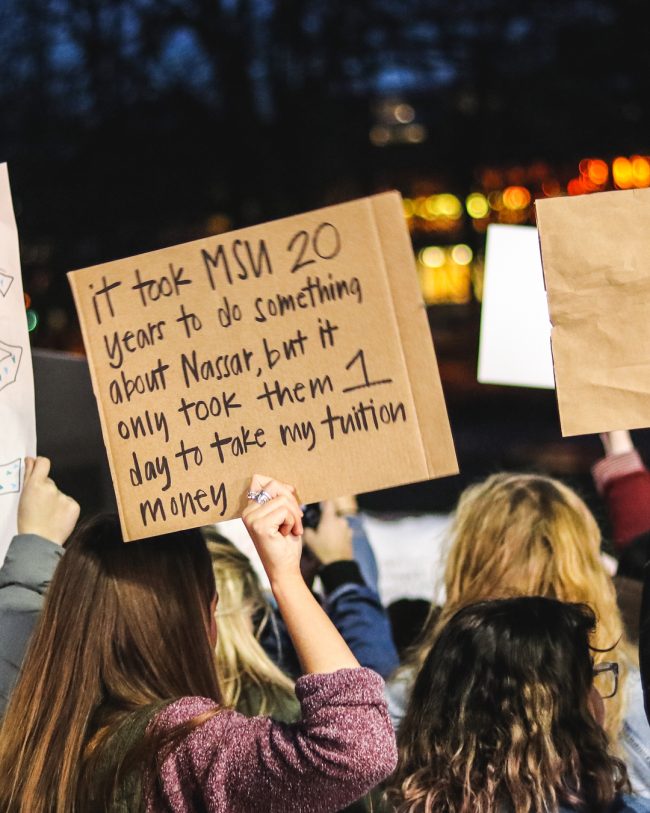 United States Gymnastics national team doctor Larry Nassar has now been accused of molestation by an astronomical 265 women, and has been sentenced to up to 175 years in prison. His crimes against gymnastics and adjacent communities have hurt and caused psychological trauma among those molested.
He often disguised his crimes under the pretense of a regular doctor's visit to treat injuries. Most women who have come forward have not only felt disgusted, but betrayed. They often thought of Nassar as a confidant or a trusted friend in the competitive and intense gymnastics field. One woman recounted how, instead of calling her parents to help her decide whether to end her gymnast career due to an injury, she called Nassar instead.
While Nassar's crimes were a revolting reflection of his own character, bystanders did not get off scot-free either. The tight-lipped community of Michigan State University and U.S. Gymnastics covered up these abuses, claiming that Nassar was their most trusted physician and ignored his actions.
MSU President Lou Anna Simon recently resigned amid accusations of mishandling complaints and reports of sexual misconduct by Nassar. The Title IX investigation conducted by MSU on Nassar in 2014 cleared him of sexual assault allegations, yet they continued to come in after the report, leading others to question whether MSU ever accurately assessed Nassar's danger to the community.
Simon's accusers believe that at least 14 university representatives were aware of accusations against Nassar, including Simon herself. Furthermore, MSU allowed Nassar to still see patients for 16 months while the university investigated his behavior. It took MSU until August 2016 to drop Nassar from his clinical position and later that year the administration eventually fired him.
This large time gap of neglect forced Simon to step down as it showcased her failure as university president to protect her students, though she claims in her resignation letter that she resigned due to the fact that as "tragedies are politicized, blame is inevitable … as president, it is only natural that [she is] the focus of this anger."
This domino effect hit the U.S. Gymnastics board as well, as it announced its entire board of directors and president has resigned.
The organization handled sexual misconduct poorly and was required by the U.S. Olympic Committee to completely overturn its leadership and create a new, safer organization. This hopefully paves a way for a new culture in the gymnastics community — one that values members over prestige.
A version of this article appeared in the Monday, Feb. 5 print edition. Email Helen Xie at [email protected]