NYU Stern Beats MIT, Dartmouth at MBA Case Competition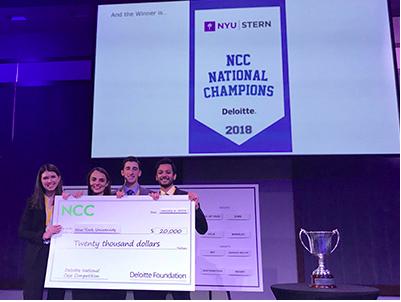 Four NYU Stern School of Business MBA students won first place and a combined scholarship of $20,000 during the eighth annual MBA National Case Competition. The event, sponsored by Deloitte University, was held between Jan. 4- 7.
The competition pits several teams from the nation's top business schools against one another, testing them on critical thinking, business knowledge and problem solving through case simulation.
The team members, Denitsa Kosharova, '19 MBA, Eric Gioseffi, '19 MBA, Utkarsh Satyawadi, '19 MBA and Kelly Williams '19 MBA, earned Stern its first win in the competition.
"This was my third case competition at Stern," Williams said. "I made it a priority to work with a different group for each competition and by chance the Deloitte team came together. I couldn't ask for a better team. We all brought different strengths to the table and were able to have fun despite the stress inherent in the competition environment."
While more than 1,000 MBA students across the country entered the regional competitions, only 64 students, in 16 teams of four, made it to the national finals at Deloitte University.
"Prior to Stern I was never involved in any sort of case competition," Gioseffi said. "But last semester I participated in the Deloitte Technology Innovation Challenges and Amazon case competition. While they were all pretty different, in terms of objective and prompt, I think the exposure to the competitive nature of the challenges was certainly beneficial."
Due to a non-disclosure agreement, the only information available about the actual competition is from Deloitte's press release. The press release said that teams were charged with a strategic proposal and presentation to answer a business challenge posed by Chameleon Cold-Brew. This challenge required the teams to focus on achieving growth for the company by identifying target customer segments, developing unique value propositions and identifying capabilities required to execute its strategy.
"My background is in tax and accounting consulting, so I was able to leverage my expertise to develop the implementation strategy and identifying risks associated with the business decisions we were proposing," Gioseffi said. "While we all had different area that we focused on, the proposal was a collective effort. We collaborated together during the storyboarding process, and were open to each other's feedback."
The teams needed to present to a panel of 26 judges, including Chris Campbell, president and CEO of Chameleon Cold-Brew, and a combination of top industry executives and Deloitte leaders.
Both Williams and Gioseffi said that during the finals, their team decided to push beyond the obvious solution to the prompt and instead try an innovative idea, which helped them stand out from the other 15 teams.
"We knew competing with top talent from 15 strong MBA programs would require a unique and actionable strategy with a strong execution," Gioseffi said. "I think the fact that we were genuinely excited about our idea helped motivate us to achieve those results."
Gioseffi reflected on the talent brought by the other top business programs competing, including University of California Berkeley's Haas School of Business and Northwestern University's Kellogg School of Management.
"What really impressed me was the talent that Deloitte brought to the competition," Gioseffi said. "The other schools had some really impressive ideas and we were really competing against the best and the brightest. Additionally, Deloitte brought senior partners and senior executives from outside companies to act as judges. They challenged us with their questions, and pushed us to deliver our strongest performance. I've never experienced something like that and it was nothing short of incredible."
The competition also gave the team members an opportunity to explore new skills.
"I've learned so much about myself — my strengths and weaknesses, working style, et cetera — and the role I take on in the team environments," Williams said. "Stern is really an amazing place to grow and learn and this experience is proof-positive of the meaningful impact only a few months at Stern can have on its students."
Email Christine Lee at [email protected].