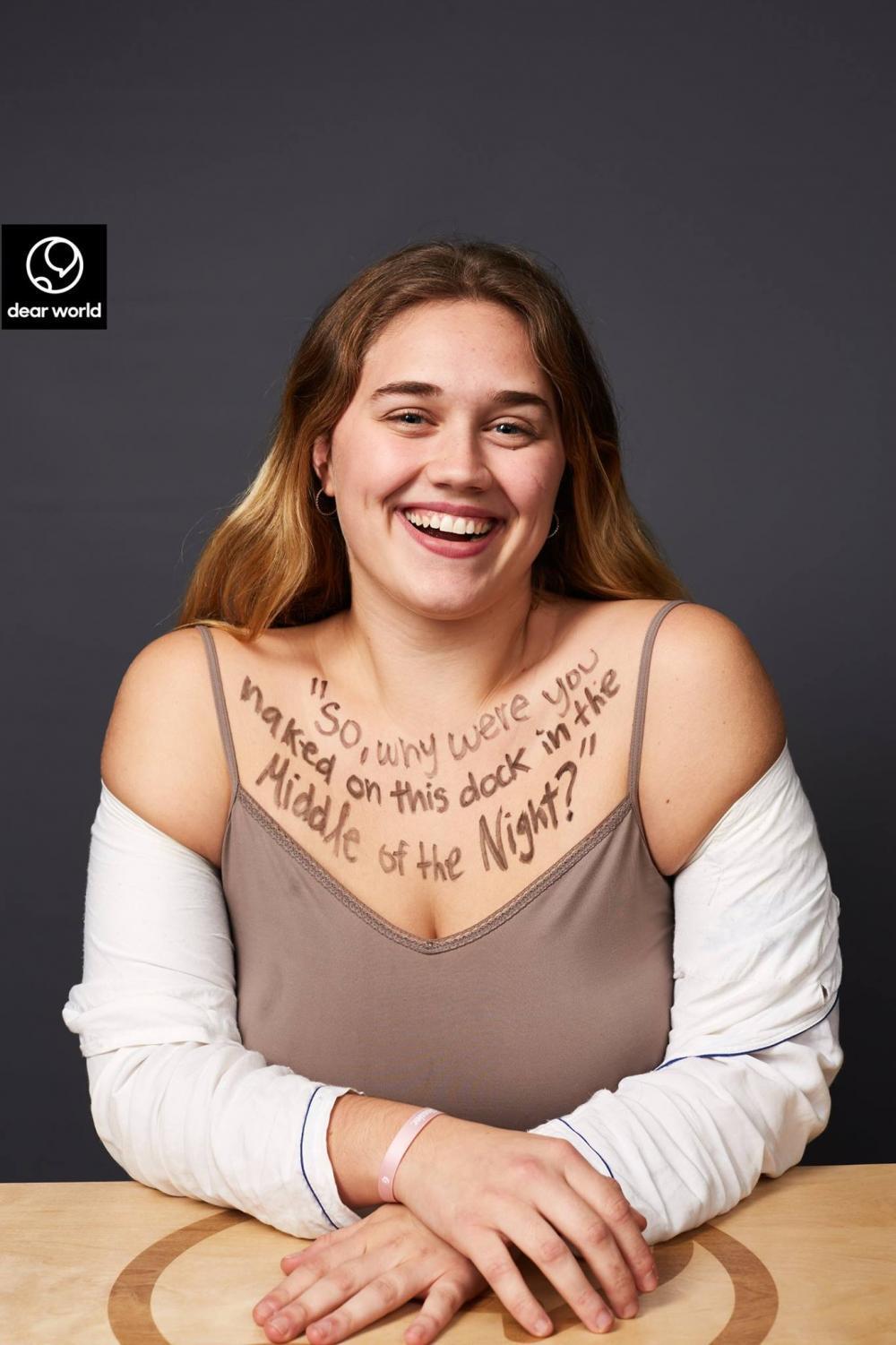 The words you chose could be about anything. They could be a popular slogan, a deep saying or a quote, scrawled across some body part to convey a story through just a portrait and that single phrase. Tisch sophomore Chloe Elizabeth Citron chose to tell the story of when she was hanging on a dock over the Savannah River in the middle of the night.
"Dear World" is an internationally renowned art project that aims to bring communities together through a series of personal portraits, asking the subject to share a message in their own way. This movement was brought to NYU by the Student Senators Council, the Commuter Student Council and the Center of Student Life between Nov. 7 and 9.
The project started in 2009 when New Orleans residents wanted to write a love letter to their city, noting down sayings, adventures and experiences they had experienced and considered unique to New Orleans on their bodies in a display of solidarity. Since then, "Dear World" has photographed over 50,000 people, often working with large universities to share the stories of college students and unite people through individual stories.
Citron's quote, "Why were you naked on this dock in the middle of the night?" was written across her chest. According to Citron, the quote was from a conversation she had the night of this incident with the police after they fished her out of the river.
"It's one of my famous stories that I tell," Citron said. "People who were close to me would know the story, and people who I didn't know would be intrigued by it. It was a big night in my life because I almost died, but it makes me proud of myself and who I am."
Tisch sophomore Ellie Ligonnet Lam chose to be photographed with the phrase "1,080 hours of sunlight to be exact" written across both her arms. The quote was about what she describes as the longest day in her life — a 45-day, or 1,080-hour, long hiking trip in Alaska during which the sun never set.
"1,080 hours of sunlight is something I found there, but also in 1,080 hours I found a refuge within myself that I took home with me," Lam said. "The sun never set so sometimes you would have to sleep in bright light. I took that sunlight home with me, and sometimes when I think about it really felt like a day but also an eternity at the same time."
During the photoshoots, subjects were partnered with a "Dear World" staff member to write their phrase on a part of their body. For Lam, presenting this part of her life to the NYU community was her way of paying tribute to the journey she took on. While waiting, people would share their stories with each other. Lam said it was both inspiring and empowering to share her story with people who were once strangers.
"I got someone I didn't know to write on my skin," Lam said. " I got to hear stories because you hear and read these statements on people's arms, their chests and their faces. It is not just a statement, it is a detail very specific to them. You just want to know more, there's just a spark … you want to know everything."
Email Jesica Xing at [email protected]