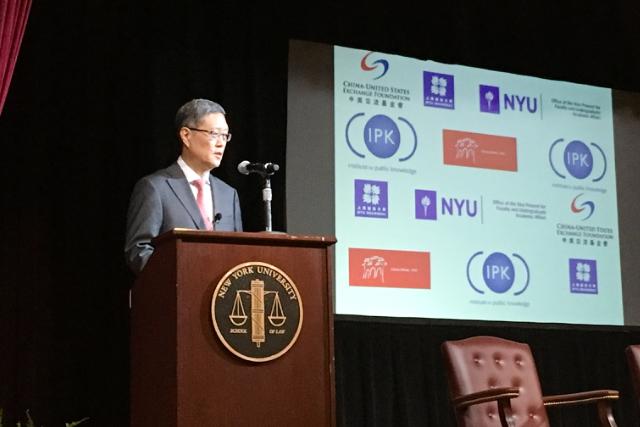 On Monday, the former Chinese Vice Minister of Foreign Affairs, He Yafei, and former United States ambassador to China, Clark T. Randt Jr., spoke to a crowd of over 100 NYU students and faculty about U.S.–China relations at the NYU School of Law. The two called for cooperation and coexistence during a time of marked political uncertainty.
Over the course of two hours, the two diplomats rehashed events from their careers and discussed a variety of pressing foreign policy issues surrounding the future of U.S.–China relations on the global stage.
"We need to look at the world as a whole and not just at our national interests," He said.
He, who represented China during the Copenhagen Accords in 2009, said that the U.S.–China relationship is "the most important bilateral relationship in the 21st century." According to He, the world is currently experiencing a transition phase.  
"The global balance of power has changed in favor of the developing nations," He said.
According to He, the world stage, once dominated by the West, is moving toward a period of co-governance by the West and the East. This transition period, He said, brings uncertainty. One key source of this uncertainty is President Donald Trump and his coalition of anti-globalization supporters.
Despite conflicting statements on most key political issues, Trump has remained largely consistent with his views on U.S.–China relations. During his rise to fame as a New York real estate giant and television celebrity, Trump repeatedly commented on what he saw as an unfair and one-sided relationship between China and the U.S.— one in which he has categorized China as taking advantage of the United States.
Trump made clear some of this sentiment at a May 2016 campaign rally in Fort Wayne, Indiana.
Addressing a loud and active crowd, then-candidate Trump said, "We cannot continue to allow China to rape our country. And that's what they are doing."
During his talk, He remarked on this growing anti-globalization fervor.
"The U.S. has some anxiety over the fact that China has grown very fast," He said. "That anxiety should not be be a guideline for forming foreign policy."
He worried that if left unchecked, this anxiety could lead to real word conflict.
"There is a real danger of stumbling into a collision course," He said.
Recently, Trump and President Xi Jinping of the People's Republic of China have sparred over several geopolitical issues including conflict over the South China Sea and rising tensions in North Korea.
…they do NOTHING for us with North Korea, just talk. We will no longer allow this to continue. China could easily solve this problem!

— Donald J. Trump (@realDonaldTrump) July 29, 2017
While Randt echoed some of He's concerns, the former ambassador expressed a degree of optimism over the president's recent change in tone. Following a two-hour conversation with Xi on Nov. 9, President Trump told reporters that he did not cast blame directly on China.
"After all, who can blame a country for being able to take advantage of another country for the benefit of their citizens?" Trump said.
I am very disappointed in China. Our foolish past leaders have allowed them to make hundreds of billions of dollars a year in trade, yet…

— Donald J. Trump (@realDonaldTrump) July 29, 2017
Randt sees President Trump's multiple meetings with Xi at his Mar-a-Lago resort, as well as their recent exchange in Beijing, as a sign that the two are actively cooperating.
"History has shown that once you become president, you have to cooperate," Randt said. "Everybody in the world loses if China and the United States don't get along with each other."
During the panel discussion, which was moderated by NYU Shanghai VIce Chancellor Jeffrey S. Lehman, He and Randt discussed what they both see as a positive direction of dialogue between the two world leaders.
Trump recently visited Xi as part of a 13-day trip during which he met with officials in Japan, South Korea, Vietnam and the Philippines. The American president received a lavish reception and reportedly said he and Xi shared great chemistry.
President Xi, thank you for such an incredible welcome ceremony. It was a truly memorable and impressive display! 📸https://t.co/J9x51h1LBe pic.twitter.com/g4Z7mO5cV9

— Donald J. Trump (@realDonaldTrump) November 9, 2017
Jason Xiao, a CAS sophomore who attended the event, said his northern Chinese background piqued his interest in the event.
"It was very eye-opening to hear things about the new foreign policy China is proposing," Xiao said.
During their discussion, both Randt and He noted the need to view Chinese and American relations as interdependent.
"There are no longer purely domestic or purely unilateral policy anymore," He said.
Randt agreed, reinforcing his position on globalization. Despite differences in politics, culture and history, Randt believes the U.S. and China can unite on common interests.
"Globalization is a fact," Randt said. "Globalization has been a good thing for the U.S.; it has been a good thing for China, and it is a good thing for world."
Some of this cooperation, Randt said, occurs through non-political institutions. Randt heralded NYU and its global network as a model for the open exchange of ideas.
"NYU is a real model of the global education," Randt said. "This is the future."
Email Mack DeGeurin at [email protected]