Life Imitates Art in 'I Love You, Daddy'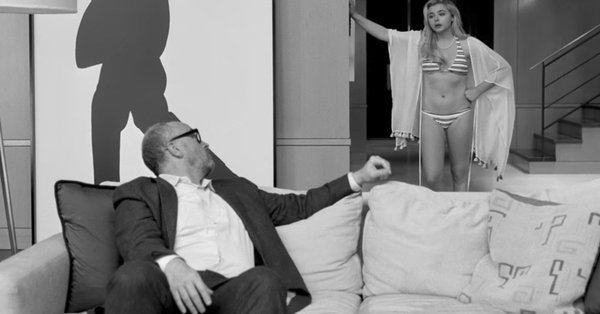 The timeliness of Louis C.K.'s "I Love You, Daddy" could not be any more shocking, following the New York Times article chronicling sexual misconduct allegations against the film's writer and director, C.K. himself. C.K. is the latest Hollywood power player to be accused, alongside the likes of Harvey Weinstein and Kevin Spacey. Its release was subsequently canceled by The Orchard, the indie distributor that owns C.K.'s film.
"I Love You, Daddy" centers on divorced TV producer Glen Topher (C.K.) who is at a career high, but has loose ends professionally and personally. His daughter, China (Chloe Grace Moretz), is free-spirited and tends to manipulate her father into getting what she wants. When legendary auteur Leslie Goodwin (John Malkovich) — notorious for pursuing underage girls — befriends China at a party, Glen is thrown into a whirlwind where he has to balance the personal and the professional, but ends up infuriating all the women in his life.
The film does not completely condone the notion of a relationship between a 67-year-old man and a 17-year-old teenager — as Glen goes to great lengths to condemn China for spending time with Goodwin — but it takes a darkly comedic, at times explicitly inappropriate, approach to the problem of having to distinguish between an artist and their art. "I Love You, Daddy" directly asks the audience to be cautious about jumping to conclusions when they don't know the full story of an artist. Meanwhile, it appears as though C.K. is attempting to defend his own sexual misconduct in light of the recent allegations against him.
At the same time, C.K. rides a fine line between tackling male hypocrisy and giving a pass to toxic masculinity. The film's reality feels improbably heightened, but C.K.'s dialogue still feels as natural as ever. Despite scenes of Glen blatantly mansplaining to women, the film does denounce his ignorance and shows how his narcissism negatively affects his career and the relationships in his life, especially with China. There are several uncomfortable scenes given the context of current events, and certain characters even challenge Glen's opposition of China and Goodwin. China, who barely gets any attention from Glen or her mother, Aura (Helen Hunt), is left to figure out her life alone, embarking on a coming-of-age journey in the film.
The technical aspects give the film a distinct vintage feel, yet the characters are in situations that are meant to defy traditional ideologies. C.K. employs the use of an orchestral score and long takes of dialogue, in addition to the use of black and white 35mm film. Although the setting is modern day, the film could easily find itself transported into a different time.
"I Love You, Daddy" is carried by great performances and naturalistic dialogue — not every joke hits, but overall it is a solid film. But much to the film's irony, it can be difficult to separate the allegations made against C.K. and the film's controversial subject matter. Indeed, it's nearly impossible, and perhaps we shouldn't even try. The story of "I Love You, Daddy" and controversies surrounding the creator raise a critical, ongoing discussion that needs to be had right now.
A version of this article appeared in the Monday, Nov. 13 print edition.
Email Guru Ramanathan at [email protected]