Former WSN Editor Dies at 32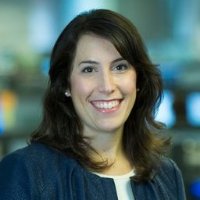 After an eight-month battle to recover from a traumatic brain injury she suffered in March, Sarah Portlock, who was editor-in-chief of WSN in 2006, died last Monday at the age of 32. Portlock was the day editor for The Wall Street Journal.
Portlock began working at local newspapers after she graduated from NYU in 2007, according to her LinkedIn profile. She took a job as a reporter at The Wall Street Journal in 2012 and climbed the ranks from reporter to multimedia producer to day editor.
Portlock was seven months pregnant with her daughter, Aviva, when she suffered an aneurism, according to an update posted to a YouCaring page set up by her WSJ co-workers to raise funds for her family. She was progressing in her recovery when she died on Nov. 5. As of Nov. 12, 1,042 donors have raised $97,663 for her YouCaring page.
Brooke Kroeger, who was the journalism department chair and Arthur L. Carter Journalism Institute director while Portlock worked at WSN, remembers her fondly.
"Sarah was smart, energetic and a delightful, engaging personality," Kroeger said in an email. "All the qualities her colleagues at the Journal mentioned in their remembrance of her were well on display during her student days at NYU. I so wish the best to her family and loved ones during this difficult time and always."
The editor-in-chief of The Wall Street Journal, Gerard Baker, issued an announcement to his staff which was published in Talking Biz News.
"Sarah will be remembered by colleagues in Washington and New York as a warm and kind colleage, a friendly face for new employees; the organizer of cards and gifts when someone had a new baby or got married; the planner of team-building happy hours; and the cheerleader of friends and colleagues when they landed a big scoop, finished a big project or received some recognition for work well done," Baker said. "Sarah will be remembered by all for her thoughtfulness and her collegiality."
Portlock is survived by her husband, Sam Fellman, and a healthy eight-month-old daughter, to whom she gave birth on the day of her brain injury.
A version of this article appeared in the Monday, Nov. 13 print edition.  Email Abigail Weinberg at [email protected]