Student Organizations Condemn Trustee's Remarks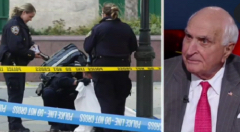 After a truck drove onto the Hudson River Park Bikeway, killing eight people in the worst terror attack in New York City since 9/11, billionaire NYU trustee Ken Langone appeared on Fox News to speak out against the United States for its immigration policy.
"Look, there's nuts in the world," Langone said. "You know, we have mass murders, remember Kaczynski, the guy that was the Unabomber – we have enough screwballs in America without importing them."
The attacker, Sayfullo Saipov, is an Uzbekistan native who immigrated to the United States in 2010.
Langone has been an outspoken verbal and financial supporter of President Donald Trump, who campaigned on a hard-line stance against immigrants.
Sentiments between students and the Board of Trustees have already been tense throughout the first two months of the school year. The Student Labor Action Movement has held several demonstrations against trustees as part of its initiative to add student representation to the Board of Trustees, but the university has up to this point strongly resisted those efforts.
Since Langone made these remarks, several student groups have spoken out in condemnation. Student Body President Juan Manuel Calero Canaval criticized the lack of morality behind the statements on behalf of student government and claimed that Langone's statements were made on false premises.
"The Leadership of Student Government vehemently condemns and finds morally vacant Langone's comments, particularly the notion that 'we need to know who's here with us'… the use of the term 'imported'… and that instances of mass violence in the U.S. is a product of 'screwballs,' " Calero said.
SLAM said that Langone's comments are representative of a board which is largely out of touch with students' interests.
"[SLAM has] little trust the NYU Board of Trustee members can make decisions based on what is best for the NYU community," SLAM organizer Kendra Prat said. "Especially the students, staff and faculty who are black and brown, have immigrant status or are otherwise marginalized and targeted by moments such as these."
Prat, representing SLAM, pointed out what she sees as hypocrisy between the university's stated values and the actions of its leadership.
"Langone's remarks are not surprising. They reflect the politics and investments of numerous members on NYU's Board of Trustees — whose connection to exploitative industries … are often the reason they sit on the Board and hold fiduciary responsibility to the university," Prat said. "But for a university that claims its love and protection of diversity and inclusion, isn't that kind of backwards?"
NYU Dream Team, a student organization that advocates for the rights of undocumented students on campus, supported SLAM's efforts in a statement to WSN.
"Dream Team condemns Mr. Langone's comments and his presence on the Board of Trustees in the strongest possible terms, and stands in solidarity with SLAM's Student Trustees Campaign," Dream Team said in an email.
Dream Team specifically criticized Langone's reactionary rhetoric.
"When people in power like Mr. Langone and President Trump try to use the actions of one individual to advocate for stricter immigration controls, it demonizes the entire immigrant community in the United States and threatens the safety of the millions of people abroad who need to flee their home countries in order to protect their livelihoods, often due to the very actions of the United States government itself," the group said.
Like SLAM, Dream Team felt Langone's remarks were symptomatic of a wider sentiment within university administration. Dream Team believes that these university leaders are actively working against the organization's efforts.
"In our fight for undocumented rights on campus, Dream Team encounters significant pushback from NYU's leadership every the step of the way," Dream Team said. "Whether it's concerning financial aid policy or an anti-hate rally, the administration is there trying to silence our voices, strip away our autonomy and minimize our impact."
A version of this article appeared in the Monday, Nov. 6 print edition. 
Email Alex Domb at [email protected].