Ross Lynch Trades Disney For Dahmer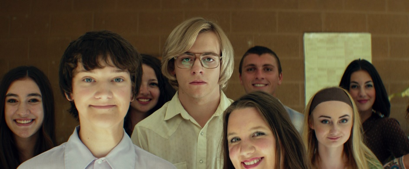 Disney Channel has provided a platform for many young actors to break into the film industry. With that fame comes a glossy shell to escape from once the shows  they were on stop running. Ross Lynch, of "Austin and Ally" fame, obliterates any semblance of his wholesome Disney persona in his fantastic and unsettling turn as the cannibalistic killer Jeffrey Dahmer in Marc Meyers' "My Friend Dahmer."
Dahmer, also known as the Milwaukee Cannibal, killed 17 men and boys between 1978 and 1991. Based off of Derf Backderf's biographical graphic novel, the film chronicles Dahmer's late high school years (mainly in 1978) and the events that led to him becoming a murderer.
"Dahmer" is greatly helped by how it aptly captures the 1970s counterculture — Myers provides a unique context in which the killer in Dahmer is made. The film also points out flaws in a previous era, using the naiveté of Dahmer and other kids to illuminate the racist and homophobic context in which they lived and how it influenced Dahmer's internal conflicts. He is depicted as a kid struggling to conform and slowly finds a group of friends in his senior year. Dahmer gets labeled as a class freak for simulating epileptic seizures and cerebral palsy; Backderf (Alex Wolff) befriends the outcast and uses him to play pranks on other people. The pranks are initially uncomfortable and become darkly humorous, but Dahmer's performances grow sadder and more humiliating throughout the film, pushing him into an even worse outcast state.
Meyers balances a disturbing drama and dark humor without ever losing a sense of who Dahmer is or what he will become in the future. The film is sympathetic but does not make excuses. Unlike some biopics that gloss over details to give the most empathetic portrayal of their subject matter, "My Friend Dahmer" is brave to delve into the killer's combative parents, struggles with sexuality and obsession with roadkill, and it demonstrates how these facets of his life affect the misperception of his own identity.
Lynch, who shares a striking resemblance to young Dahmer, gets under the viewer's skin quickly. He struggles to smile and walks with his back always slightly hunched; over the course of the film, he becomes a disturbing presence in every scene. His movements and tone are so robotic that it is difficult to even see him as a human — a great juxtaposition to a line in which he talks about being normal. There are moments where he runs the risk of overacting certain emotional beats, but he still manages to handle every scene with nuance, hiding underneath years of rage and humiliation begging for release. The film takes some time to get to his pseudo-friendship with Backderf, but once the ball starts rolling it becomes a thoroughly engaging drama.
Bolstered by an incredible dramatic performance from Lynch and by Meyers' capable direction, "My Friend Dahmer" is an unnerving character study of a social outcast who would go on to become one of the most infamous murderers in American history.
"My Friend Dahmer" opens in theaters on Friday, Nov. 3.
A version of this article appeared in the Monday, Oct. 30 print edition.
Email Guru Ramanathan at [email protected]