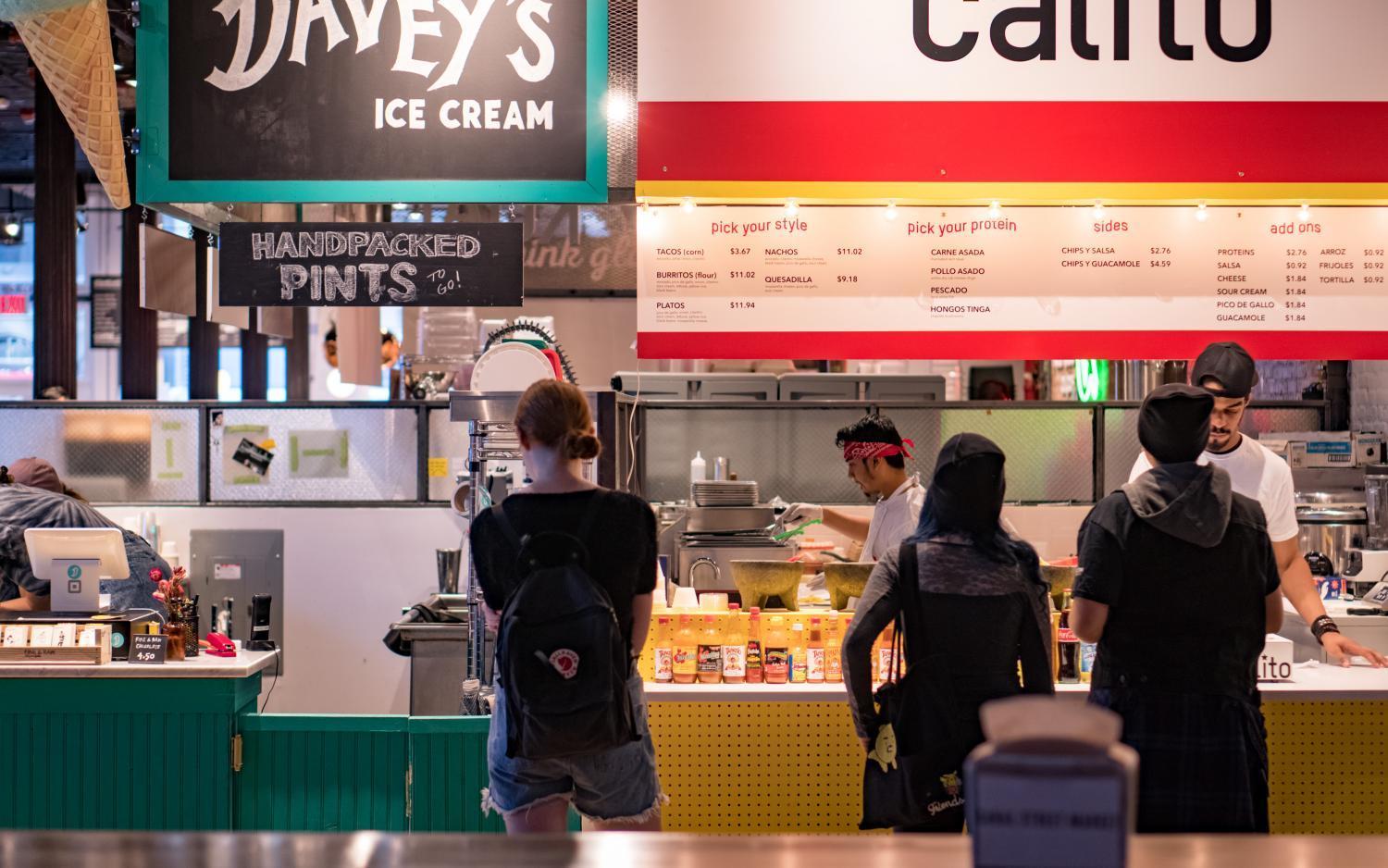 In case you needed yet another reason to visit Chinatown, the Canal Street Market offers the perfect excuse to leave the Village for a few hours. The upscale marketplace located at 265 Canal St. offers New Yorkers a great array of dining and retail options in a single location.
Similar to Chelsea Market, Canal Street Market includes a number of local vendors that showcase a fraction of the menu options you can typically find in their full–sized restaurants. The complex includes a gritty brick and mortar layout, giving it a sleek modern feel. Since its opening, the agora has seen massive foot traffic thanks to the individual businesses' popularity and quality.
Architecturally, the space is split into two sections: the cuisine area and the shopping area. It is a great place to spend the afternoon stocking up on art and goods before grabbing some Korean food and ice cream for dessert.
The dining section brings to the table everything from sushi to Lebanese food. If you're in the mood for Japanese food, head over to Kuro-Obi for some savory ramen noodles or Uma Temakeria for a nice sushi roll. All of the fish used for their sushi is ethically sourced, making it a guilt-free dining experience.
In the mood for something more Instagram-worthy? Head over to Lulu, a smoothie and acai bowl restaurant known for its fluorescent drinks. It is a great way to show your followers your ability to spot food trends.
End your dining experience with a few scoops at Davey's Ice Cream to satisfy that sweet tooth. The business gets its milk and seasonal fruits from local farms and gardens. With one small scoop, you'll get the best of what New York has to offer. If desserts aren't your vibe, treat yourself to a classic: Boba Guys. Grab a cup of your favorite flavored bubble tea for an on-the-go drink to finish off your meal. Even though it's a chain, the booth is always a hot spot for guests.
Once you're completely full, head to the other side of the market to look at works from some local artists and craftsmen. Leibal sells a number of minimalist home goods perfect for a petite Brooklyn apartment or a chic Manhattan penthouse. While you're in the mood to spruce up the home, check out Keap Candles to keep your space fresh and floral at all times.
If you are interested in modernizing your style, check out Beton, a Brooklyn-based jewelry company that specializes in simply designed accessories, perfect for any kind of look. For apparel, try the eco-friendly and sustainable SiiZU clothing. The fresh cut designs are trendy chic with a preppy aesthetic.
All in all, Canal Street Market is a great place to access several businesses all in the same building, without having to fight off the tourists at the famous Chelsea Market. Hurry and scope out the scene before word gets around about all that this new New York City hot spot has to offer.
Email Alyssa Lynn Kelly at [email protected]