Kimmel Rally Responds to Anti-DREAMer Vandalism
Rows of solemn faces could be seen through the glass doors of the Kimmel Center for Student Life at noon today as students gathered at a rally organized in response to a vandalized poster found on campus Sunday evening threatening DREAMers.

The poster, found by Gallatin sophomore Kevin Weiskirch in one of the Elmer Holmes Bobst Library bathrooms, had the words "Hasta Luego Dreamers," which translates to "Goodbye Dreamers," sprawled across its surface in black market. NYU's Dream Team responded by co-hosting a rally titled "Anti-Hate Rally: DREAMers Are Here to Stay!" with the Incarceration to Education Coalition, and 13 other clubs on campus.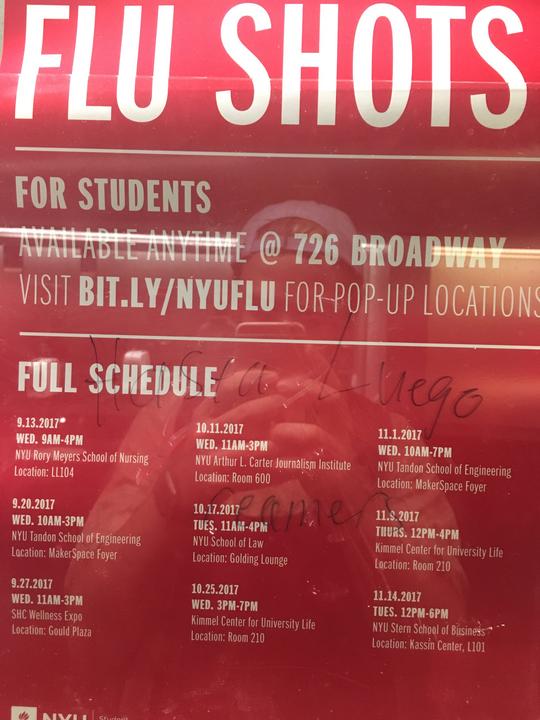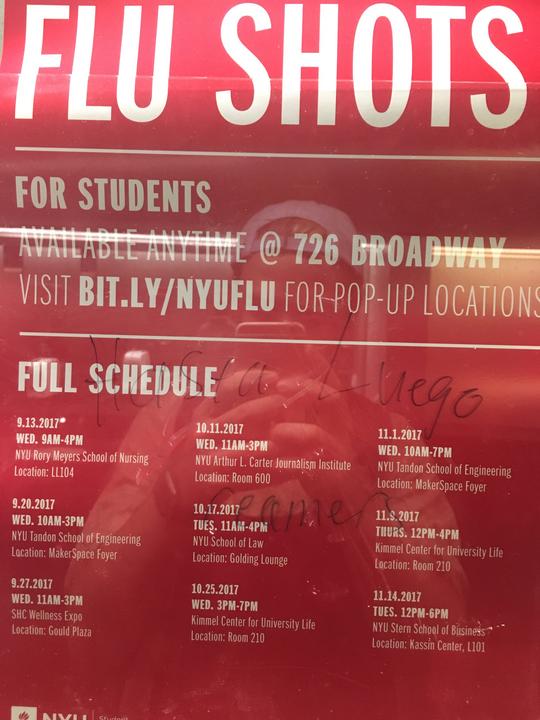 Dozens of students filled Kimmel's main staircase for the entirety of the hour-long rally, intently watching as representatives from the clubs hosting the event took turns voicing solidarity with DREAMers and undocumented students in the NYU community.
"We, the NYU Dream Team, condemn this despicable act of cowardice in the strongest possible terms," the group said in statement to WSN. "There is no place for this type of public display of hatred and intolerance on our campus, in our city or in our country. The individual or individuals responsible for this attempt at intimidating undocumented students represent the worst that our society has to offer."
NYU Dream specified that at the rally, it would prioritize the voices of those who are directly impacted by the type of hate perpetuated by this instance of vandalism, and anyone promoting bigotry in any form would be asked to leave.
Gallatin junior Aree Worawongwasu, the president of NYU's Asian Pacific American Coalition, which was one of the clubs represented at the event, said the initial response to the rally was mixed.
"We received criticism from administration and faculty for making a big deal out of nothing, but this isn't nothing," Worawongwasu said. "This is just a drop in the bucket. Every time one of our community is attacked, told they don't belong or that they don't have a right exist, that is a an act of hatred and white supremacy. We have to fight back."
Worawongwasu later said in an email, "Only some faculty and administrators have criticized the rally, many faculty and administrators have also been supportive of the work of Dream Team and NYU Sanctuary, and that many NYU faculty are part of NYU Sanctuary."
Worawongwasu said this type of racist rhetoric has been normalized on campus, and she was not surprised upon hearing about the existence of the vandalism in Bobst. She also said that in addition to its interpretation within the specific framework of immigration, the message, written in Spanish, was an attack on the Latino community as a whole.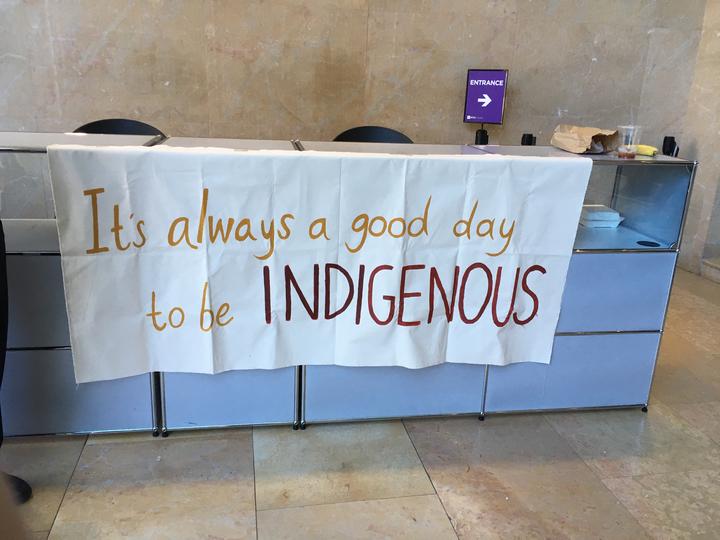 "Speaking on behalf of the Asian American community also, we have to be in solidarity with the Latino and black communities and fight alongside other marginalized communities," she said.
Another group involved with the rally was the NYU College Democrats, whose president, CAS senior Fadumo Osman, was one of the many speakers who took to the podium at the foot of the staircase.
As the daughter of Somali refugees, Osman said it was challenging to see her fellow DREAMers attacked on campus again while also dealing with groups like the NYU College Republicans inviting discriminatory speakers to campus with few repercussions.
"The first thing I noticed when I walked into this building was an hour before the rally began, there were 10 [NYU] Public Safety officers and a whole slew of NYU [Public Relations representatives]," Osman said. "In my now senior year, this is the first time I've ever seen it like that despite it being a lot smaller of a rally than most. I found that interesting because I've never seen a response like that an active hate group being on campus or an active hate speaker."
She said it was great to see solidarity, but pointed out that there was little to no reaction to the Identity Evropa flier that was found in Kimmel a few days ago.
Osman said that during her speech she found it more difficult than usual to express the same level of positivity that she usually promotes.
"I felt like I was instilling hope while also feeling hopeless at the same time," Osman said about her speech. "Usually I'm really amped up but honestly I could not confirm, at least to an underclassman, that it is going to get better."
Update: Oct. 24, 2017
This article has been updated to include Worawongwasu's email statement.
Additional reporting by Miranda Levingston and Mack DeGuerin. Email Jemima McEvoy at [email protected].