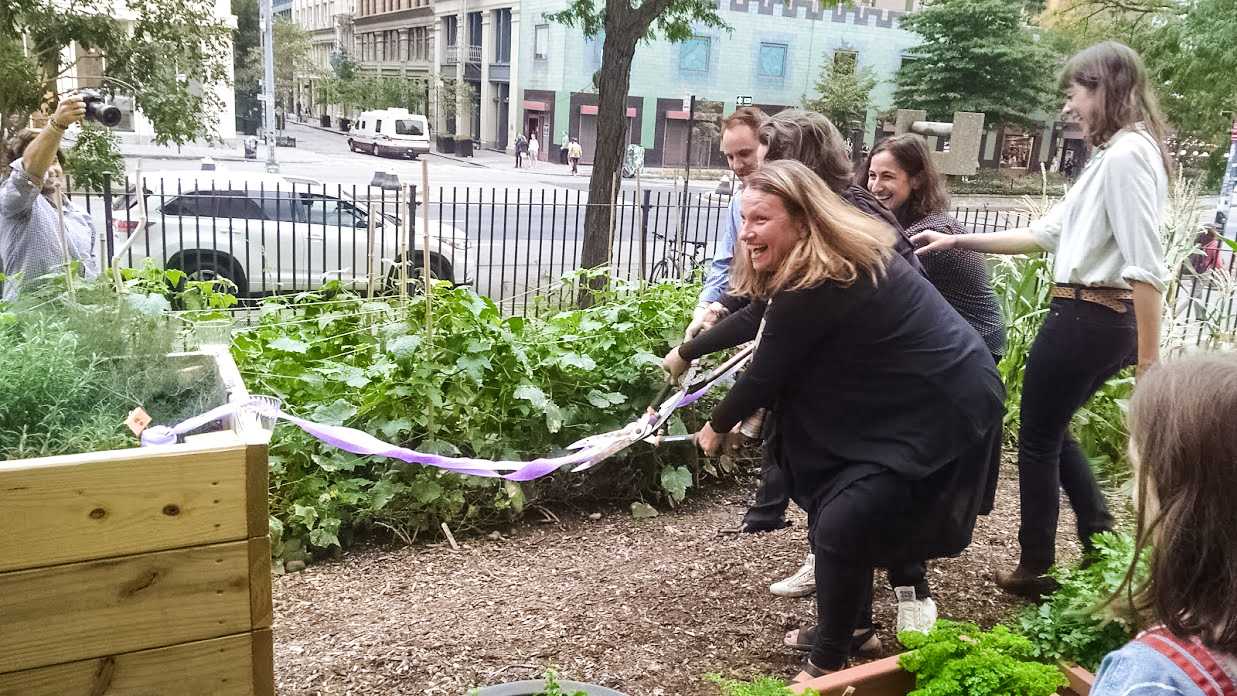 On a slightly overcast day, when the sun was peeking through the clouds over a garden filled with a variety of fruits and vegetables, people harvested crops, stuffed their faces and corralled children who were running amok on the soil beds. In the immediate background, cars and trucks zoomed past, traffic noises infiltrated conversations about farming and pedestrians looked on curiously as a ribbon was cut to announce the of cial reopening of NYU's Urban Farm Lab on Wednesday, Oct. 11.
"We're kind of building a community here," Melissa Metrick, the instructor of NYU Steinhardt's Introduction to Urban Agriculture course said. Her students maintain the Urban Farm, along with residents from the Silver Towers that border the garden and children from a neighboring nursery.
Two years ago, the NYU Urban Farm Lab was founded by Director of the Graduate Food Studies Program Jennifer Berg and Professor of Food Studies Amy Bentley. The initiative was started by graduate student Daniel Bowman Simon and was shortly thereafter ceased.
"Because this building is landmarked, it's got landmark status, we couldn't do anything around it without permission from New York City," Bentley said.
She said that without permanent status, the farm had to be replaced with a lawn.
"Now it's permanent and we're just delighted, we hope to improve it every year."
Bentley said urban farms are important for environmental sustainability and greatly benefit the local community.
"Gardens have so many benefits — they retain water, rainwater, they cool down spaces that otherwise would be too hot with just asphalt," Bentley said. "There's a lot of evidence that shows if kids for instance have involvement in how the food is grown then they
are more likely to eat and enjoy a vegetable later on."
Many people unaffiliated with the farm also came to the opening ceremony to admire the garden.
CAS Metropolitan Studies senior Jessica Saab said urban farms are important for food justice because they educate people about how their food grows and where it comes from.
"It's hard to bring fresh food and the closer we can bring food to the source of the city, then the better and the more equitable it can be," Saab said.
Joachim Hjerl, who works with an urban aquaculture company in Denmark, complimented the program for allowing children to connect with a natural landscape.
"When you live in a big city like this one, that's just really important because people who grew up in cities lose contact with nature and to the places where food comes from," Hjerl said.
The students from the Introduction to Urban Agriculture course work on the farm on a weekly basis from seed to harvest according to Metrick. She explained that the garden's location on West Houston Street enhances the farming experience for the students because they are part of this urban environment while gardening.
Bentley said that NYU's urban farm goes beyond benefiting those directly involved, but also positively impacts the wider community.
"Growing stuff makes people happy," Bentley said. "Looking at growing food, it lightens people's moods. There are psychological studies that show we as humans need green spaces for our wellbeing and whatever we can do to contribute to that is really what our mission's about."
A version of this article appeared in the Monday, Oct. 16 print edition. Email Jendayi Omowale at [email protected]