Brennan Center Sues Trump
Amy Rhee, Contributing Writer
Oct 16, 2017
The Brennan Center for Justice, a policy institute and think tank within the NYU School of Law that provides counsel for legal cases, is fighting the latest version of President Donald Trump's travel ban, which goes into effect Oct. 18.
The lawsuit, Zakzok v. Trump, claims that Trump's September proclamation violates the First Amendment's Establishment Clause, the Immigration and Nationality Act and the Administrative Procedure Act.
In late September, the Trump administration released the most recent version of the travel ban which prohibits almost all travel from seven countries — Iran, Libya, Syria, Yemen, Somalia, Chad and North Korea — many of which overlap with the nations affected by the travel ban from earlier this year. With the recent proclamation, certain groups from Venezuela and Iraq are also subject to additional scrutiny.
Brennan Center Lawyers Faiza Patel and Michael Price are serving as counsel for the parties involved in the case the Brennan Center filed against Trump.
In an interview, Price, senior counsel for the Liberty and National Security Program, said that the Council on American-Islamic Relations asked the Brennan Center for help in bringing the case to court. Price added that this is not the first time that the Brennan Center has taken action. The legal team previously filed briefs on behalf of all affected individuals during past iterations of the ban.
The ban affects student visas from some of the aforementioned countries. Price said that one plaintiff's sister was accepted by Ohio State University for research. However, if the ban goes into effect, she will not be able to pursue her academic studies.
The plaintiff's sister could have been an NYU student, Price noted.
"If [students] are subject to the new order, there's a real chance that universities like NYU will be deprived of the chance to have students from diverse populations and … Muslim students from the targeted countries," Price said. "I think that is a loss for everybody, for the university and those potential students."
NYU's political groups are aware of the Brennan Center's suit against the Trump administration. NYU College Republicans said they do not support the Brennan Center filing suit.
"I believe that the Brennan Center should be looking at taking action in more appropriate and time-worthy causes and that such a suit is not appropriate for an educational institution such as [NYU]," NYUCR's director of media, CAS senior Shawn Kim, said.
The case's oral arguments will be heard on Oct. 16 in Maryland District Court. Price stated that there is a likely chance that the ban will be blocked before it goes into effect in consideration of the judge's past ruling on the original ban.
"We're trying to tell [the Trump administration] that discrimination on the basis of religion or nationality is un-American," Price said.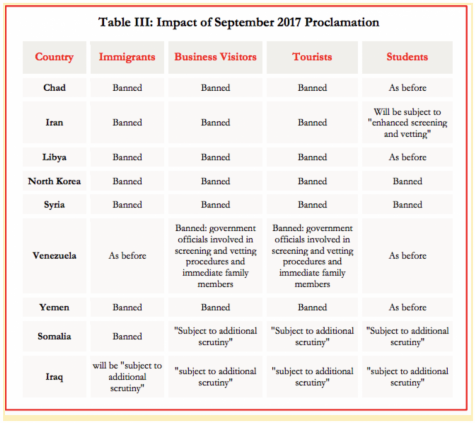 Email Amy Rhee at [email protected]