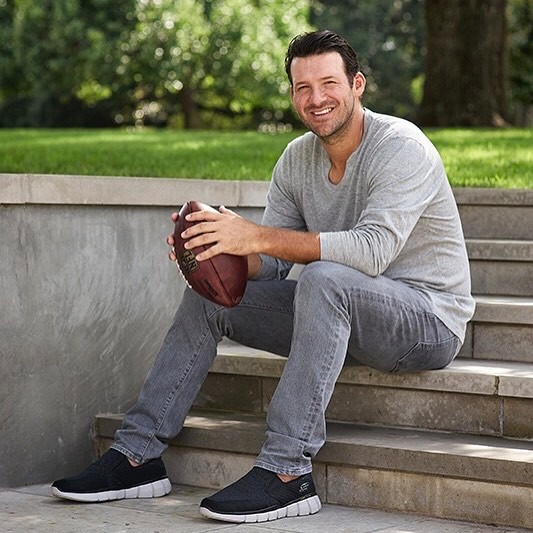 The Good: Romo is back, this time from the top rope.
Tony Romo has found a way back into America's good graces. He finally gets to predict when Jay Cutler and Co. will throw an interception instead of having all of America do it for him.
Oh, how the tables have turned. I seem to be in the minority on this case because I can't jump on the bandwagon and say I'm a fan. He's just a little too nerdy, and his constant urging for certain quarterbacks to make certain decisions annoys me.
He's not your bro's bro in the booth, and he delivers his comments like he has to go to the bathroom but wants to squeeze out one last sentence before he bolts. Nonetheless, I have to acknowledge that it is way more fun having him call out route trees and blitz schemes before they unfold. That insight brings a whole new side to the fan's viewing experience. All I need now is for him to team up with Jon Gruden for an epic booth breakdown.
I guarantee those two can argue over every variation of "Spider 2 Y Banana" that exists, and THAT is what we need.
The Bad: Unlucky scandal number Three for Rick Pitino.
Morty voice: "Oh geez, Rick." As of last week, former Louisville Men's Basketball Head Coach Rick Pitino lost his job amid one of the bigger, and more obvious, college basketball scandals in recent years.
You probably heard about it — the trail from shoe company, to college, to Amateur Athletic Union (AAU) team, to player's parents. Simple right? Anyway, The Ugly will explain that one.
But the past has been a rocky road for Pitino and Louisville that includes an extortion attempt against himself in 2010 and a spree of stripper parties in 2015 for his players and recruits. While seemingly
applying the "Water Boy"-esque "what momma don't know don't hurt" tactic, he was able to skirt by on only institution-imposed sanctions with no loss of wins or fines from the NCAA. And in college basketball, this is all that matters.
The Ugly: The secret money trail in basketball is not so secret.
There are four things in this world we have not fully explored: the deep sea, the expansive universe, the complex mind and the paper trail from big brands to college athletes.
Well, that was before the Federal Bureau of Investigation came out with a slew of federal bribery and fraud charges last week. Multiple coaches from some of college basketball's biggest schools were highlighted as having funneled money to players, families and summer league coaches in return for recruits.
If I learned anything from watching "He Got Game" as a kid or reading "The Last Shot" a few years ago, it was to follow the brand.
Adidas has been singled out as the company that sits as the middleman in the scandal. They pay certain schools, like Louisville, to be the sole gear producer for all sports. Every athlete is decked out in Adidas from head to toe. Then, they start their own feeder-league, like an AAU league, except you have to be invited. Yup, you guessed it: the players are decked out in Adidas gear, coaches are decked out in Adidas gear, travel is paid for and kids become Adidas athletes. Follow me now — then the players are persuaded, typically in a monetary manner, to continue going to Adidas schools, finalizing the deal.
A nice quid pro quo for all parties involved, I must say. Best teams, best players, best visibility. I can't believe Adidas would get muddy in such a sacrosanct process though. I just can't. Although it should be noted that both Nike and Under Armour both have individual feeder-leagues and so-called all-sport deals with Power Five schools. If 1+1=3, well, you can follow my drift.
A version of this article appeared in the Monday, Oct. 2 print edition. Email Austin Day at [email protected]