Highlights from Game Center Showcase
"Exposure," one of seven independent video games highlighted at this year's NYU Incubator showcase, broke barriers and wooed crowds by blurring the lines between gaming, art and Darwinian evolution.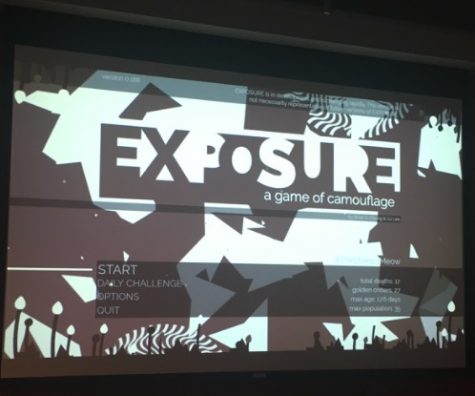 Mack DeGuerin
In "Exposure," players take control of a small creature that can instantly morph its color, camouflaging itself within a warping world of minimalist psychedelic art. Players utilize this camouflage system to avoid larger predators in an experience that simultaneously feels stressful and surprisingly calming.
Brian Chung, one of the two game designers of "Exposure," said the concept of the game comes from evolution and abstractions found in nature. For the game's main inspiration, Chung pointed to the evolution of the peppered moth, which during the Industrial Revolution completely altered its color to camouflage with the smog.
Despite its fast pace and do-or-die decision making, "Exposure" brings users a sense of tranquility through its eye-catching art design. GJ Lee, the game's other designer, explained how the two were inspired by the work of Bridget Riley and others in the genre of dazzle art.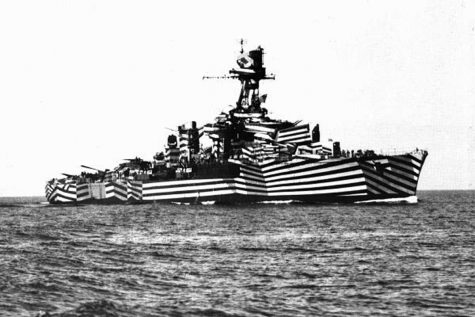 GJ Lee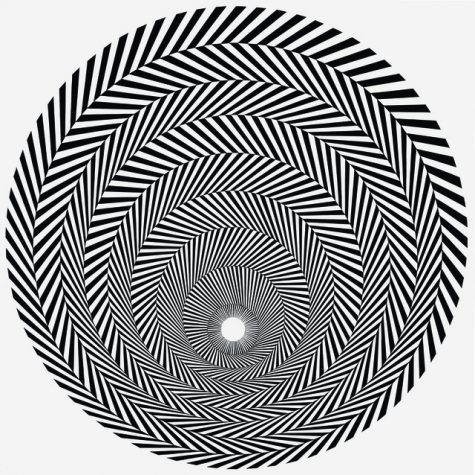 Bridget Riley
"We were especially interested in how patterns and shapes can incorporate movement," Lee said.
John Wanamakur, a Tisch junior majoring in Game Design, playtested the game and was markedly impressed.
"This is a very fluid game," Wanamakur said. "It makes you feel vulnerable but also very relaxed."
"Exposure's" abstract approach to gaming mirrors the NYU Game Center's greater philosophy.
"We want to really be exploring the frontiers of game design and think beyond the immediate horizons of what is currently popular or possible," Game Center Director Frank Lantz said.
Lantz, who has worked at NYU for 17 years, sees game design as an outlet for abstract creativity. Last year, the NYU Game Center received a $450,000 grant from New York state, solidifying its role as one of the key New York gaming hubs. Lantz said that supporting local game development rests at the core of the department's mission.
To help grow the next generation of games and designers, the Game Center created an intensive three month program called the Incubator. What began three years ago as a program to help introduce NYU MFA students to a world after college has quickly evolved into a highlight of the city's video game community.
This year's Incubator Showcase saw a crowd of more than 200 people clamoring for space on 2 Metrotech's 8th floor. Admission into the Incubator program is highly competitive.
The Game Center faculty, alongside industry insiders and developers, chose seven finished or nearly finished games from NYU students and local New York developers. From there, the Game Center faculty, alongside advisors from within the game industry, chooses from a competitive field of game designers.
Prisyafandiafif Charifa showed off his turn based strategy game, "Rondo 6," at this year's showcase and said the Incubator system allowed his co-designer and himself the ability to meet influential people in the gaming industry and widen their possibilities.
"There are no other words I can say except thank you," Charifa said during his presentation.
For Chung and Lee, the Incubator program allowed their dream to become a reality. Prior to their acceptance into the program, the pair was working full-time jobs and taught game design, so they could only dedicate a limited amount of time to developing their game. The Incubator program opened the designers' eyes to issues they were stubbornly blind to before.
"We had been designing the game for ourselves," Chung said. "The Incubator forced us to address the fact that we had to make the game for other people."
Lantz said it is important for these developers to incorporate an entrepreneurial spirit with their creativity. Despite living in what Lantz called "the golden age" of independent game design, markets remain extremely volatile. For this reason, a key component of the Incubator program seeks not just to invent new ways of imagining games but to actually bring those games to market.
Other Noteworthy Games
RONDO 6
Yes, keep doing that #crossfire!#games #gaming #gameart #gamedev #indiedev #indiegame #NYMakesGames #strategygame #madewithunity #3D #mech pic.twitter.com/ySXinEUC6h

— Rondo 6 (@rondo6thegame) September 5, 2017
"Rondo 6," a turn based strategy game made by developers Charifa and Keng Kai Chang, innovates the traditional strategy game formula by allowing players more freedom of choice and movement. In a style that feels similar to a high stakes chess match, players pick between two factions with special abilities and try to destroy each other's home base. Charifa and Chang, who both hold masters in game design from NYU, have launched a Kickstarter for the game and hope to release it on Xbox and Playstation next year.
DEEPER
"Deeper" is an ambitious title by developers Christopher Chung and Desirre Cifre, where players take on the role of an adventuring submarine team. The game, which seamlessly transitions from split to full screen, forces players to work as a team. With a persistently draining submarine battery and a limited amount of oxygen for divers, "Deeper" has a constant sense of tension. "Deeper" stands out for its attempt to maintain a strong narrative despite its coop presentation. Among other features, players can chose their own dialogue options when interacting with one another.
NO PLACE
Playable on computers and iOS devices, "No Place" takes the traditional puzzle game and flips it on its head. Created by designer Burgess Voshell, "No Place" plays on dimensionality and challenges players to approach puzzles from unusual and novel angles. Nick Carlson, a senior studying Film at Tisch, played the game at the Incubator showcase and said the game worked especially well with the touch screen functionality on an iPad.
"It feels like you are moving through the fourth dimension," Carlson said.
A version of this article appeared in the Monday, Sept. 11 print edition. Email Mack DeGeurin at [email protected].