Seniors Reflect on Freshman Experiences and Upcoming Hopes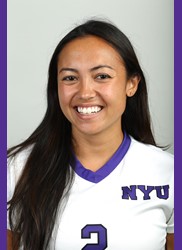 Senior athletes arguably carry the most weight on any collegiate sports team. They act as leaders for the group, doing things such as setting goals for the upcoming season, assessing the team's strengths and weaknesses and motivating players to push forward through difficult periods. However, they were not always the driving forces that they are today — they all started as nervous freshman. WSN asked a few of the fall sport captains to reflect on how their experience as a first year athlete compares to now being a leader on the team and about their hopes for the group and their upcoming season.
Marquel Love, Women's Soccer Senior Captain in CAS:
"My hopes for the upcoming season besides from the obvious goals of winning the UAA and being National Championships is to just enjoy the game. Being a senior, it is crazy to think over the next few months that these will be the last times that I get to play the sport. Looking back, I realize that freshman year and sophomore year, I focused so hard on playing my best every game, and I got so in my head that I lost the love for the game and was never truly enjoying it. So my hope for the season is that as a bigger team this year we can all use soccer as a way to express ourselves and let go of our responsibilities, fears and stress from school and just go out there and play the game we love because we love it. Team chemistry has a whole lot to do with it, so I hope that even with a bigger team we're still able to be as close as smaller teams. I think team chemistry has a lot to do with team success because you want to be out there with your teammates and you want to play well because you want to play for not only yourself but your team as a whole. Overall, I just hope this season everyone plays with heart and enjoys the game they play, because yes, it is always nice to be able to say you won conference, or won the national championship. Although, there will never be a point in anyone on the team's life where they will have the exact same group team. So just having fun playing the games, making memories through it all, and having no regrets after every single game knowing that they tried their best and gave it all that they could."
Mckennah Spagnola, Women's Soccer Senior Captain in Stern:
"The main goal is definitely making it to NCAAs this year. We did it my freshman year and I one hundred percent know we can do it this year. Our team has evolved so much, and I think that our skill matched with our team dynamic has us coming in really strong this year. Although the goal may be the same as my freshman year, I think our team has so much more confidence this season. We know we've earned our spot now and we've proven ourselves whereas my freshman year we moreso felt lucky to get in as a wild card pick. We're not the underdogs anymore."
Hannah Haley, Women's Cross Country Senior Captain in CAS:
"I am excited about how our team can do this year. I think we have a strong group to put on the line, and I think we will perform well at our championship races later on. I have run cross country for so long so I hope that my last season is one I can be proud of and enjoy. In comparison to freshman year, I am more team oriented. As a freshman I just wanted to do my best to run with the team and improve upon my high school self. Now, as a senior, it's important to be a leader and do my best to make the team successful."
Rayne Ellis, Women's Volleyball Senior Captain in CAS:
"We have the opportunity as a team to capitalize on all of the experience that we have, and really make a showing in our conference and region this season. As a freshman you have hopes, but usually you don't have the ability to contribute in a way that could make or break a season. As a senior, you know that it's your job to lead. So my hopes are the same, but my ability to do something about them is what has changed."
Tristan Medios-Simon, Men's Soccer Senior Captain in CAS:
"For the upcoming season I have two goals. As a team, I want us to get to the round of 16 in the tournament. As a personal goal, I want to make an All-American team. I spent freshman year at a different school and program so back then it was how can I make it onto the travel squad and how can I become an important player for the team. The main difference in perspectives, I would say, as a freshman I wanted to break into the team, [and] a senior now, I want to lead the team to championships."
A version of this article appeared in the Tuesday, Sept. 5 print edition. Email Maddie Howard at [email protected].