CAS Sophomore Elected VP of College Democrats of NY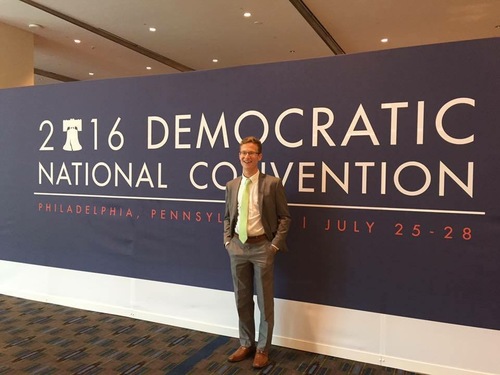 CAS sophomore and NYU College Democrats Treasurer Ryan Trumbauer was elected Vice President of the College Democrats of New York yesterday. Trumbauer is hoping to expand his ideas of communication and outreach through his position. 
Trumbauer said he wants to use his campaign platform — "Let's Talk, Let's Organize and Let's Grow" — to build on the trend of growth that has defined CDNY since the 2016 presidential election. He also said that increasing communication between the organization's various branches across the state is essential to CDNY's cohesiveness.
"Chapters sometimes hardly know what's going in different regions," Trumbauer said. "I can't profess to know every single thing that's going in every chapter, and that's a problem because at the end of the day we should have a stronger sense of community. So that's the premise of 'Let's Talk.'"
Trumbauer's next point, "Let's Organize," implores every chapter to improve its relationship with local officials and get members more involved in local campaigns and voting processes. In addition, he said that he hopes to work with high school students and inspire them to be active members of the Democratic Party.
CAS senior and former CDNY Finance Director Drew Weber said he agrees that reaching out to young Democrats is a crucial step not just for CDNY but for the Democratic Party as a whole.
"I think one thing that has been extremely clear is that young people are going to play an integral role in the rebuilding of the party,"  Weber said. "Engaging in this sort of grassroots organizing [is] necessary to build a base for our party, particularly our party that's going to be around for decades to come, maintains a strong presence and strong commitment to progressive values."
Gallatin sophomore Katie Mulkowsky said that she believes Trumbauer will be successful as the CDNY Vice President because of his dedication to the politics he cares about. Mulkolsky also said she hopes to see Trumbauer take on various topics within urban issues.
"I'm really interested in urban issues like public housing and the ways in which built infrastructure can exacerbate systemic inequities," Mulkowsky said. "Given the fact that Ryan is running for VP in such a vibrant urban context, it would be great to see him focus on not just trending topics but these embedded ones as well."
The last point of Trumbauer's campaign, "Let's Grow," primarily focuses on this end goal to build a strong foundation for the party. Trumbauer said that this means CDNY should expand to universities that haven't normally been included in the organization.
"There should be no reason that community colleges, for example, can't be included in CDNY," Trumbauer said. "Right now, we're very focused on four-year institutions and I think we should start expanding to two-year institutions. There's no reason that law schools can't be invited. So we can do better in who we're targeting and where we're targeting."
Furthermore, Trumbauer said that he plans on adding a new perspective to CDNY while also fostering collaboration between regions, incorporating perspectives from all over the state and supporting new regional initiatives.
"The more people you know, the more stories you're able to tell," Trumbauer said. "It [not] only helps you be a better person, but it also empowers that other person — and that's ultimately what the job of CDNY is, to empower its local members. And if you want to empower your local members, you've got to listen to them."
A version of this article appeared in the Monday, May 1 print edition.
Email Sierra Jackson at [email protected]