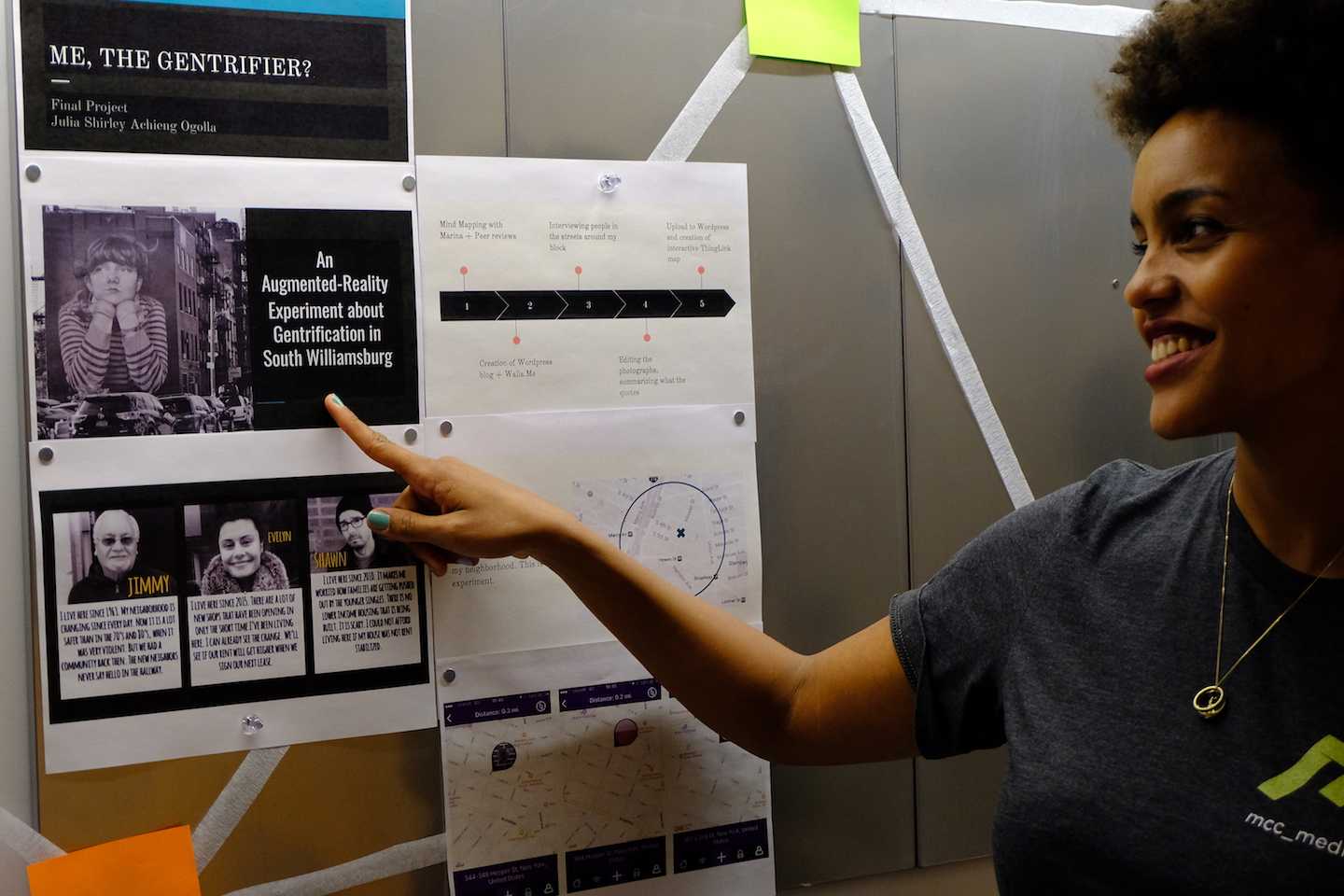 Last Wednesday, the MCC Media Lab, a media-making organization within Steinhardt's Media, Culture and Communications Department, hosted its second annual showcase of projects. These projects explored themes of social commentary, cultural critique and protests, many of which related to the personal experiences of their creators.
Of the people present, many were MCC students and professors. The eighth floor of the East Building was filled with student creators giving observers insight into the inspiration for their creations. Every project held a great deal of social relevance, relating to issues such as racial profiling, Donald Trump's presidency and traditional beauty standards.
Steinhardt junior Emily Tang's work "Obscurus" explored the nature of surveillance and its relation to protest. Her project used images, sound bites and video taken during the protests around Trump Tower after the presidential election to demonstrate the ubiquity of surveillance systems in New York City during protests.
Also working off themes of surveillance, Steinhardt freshman Jigna Kotecha's project "Surveillance and Racial Profiling of Muslims in New York" felt very personal. The work, aimed at exposing the harassment of New York City's Muslim community at the hands of the New York Police Department, created risk for the artist while she was working on it. Kotecha said that she was questioned by police officers while recording, and was told not to come back with recording equipment due to the dangerous nature of the area.
Steinhardt senior Shuang Bright decided to showcase his photography as a means of social commentary. His work, "Denaturalizing the Natural," called conventional beauty standards into question, focusing on makeup and the covering up of blemishes. Bright created a beautiful, flawed body in his photos through covering a fruit in paint to represent human skin with makeup. These images were incredibly provocative and striking.
Steinhardt senior Shirley Ogolla's work told the stories of residents of South Williamsburg, using quotes from locals. Not only did she interview residents who have lived there for decades, she also spoke with newer residents who have helped proliferate gentrification. Ogolla brought the viewers' attention to her role in the gentrification of Williamsburg, acknowledging that millennials like herself are part of the problem.
One impressive piece, "The Internet Is" by Steinhardt seniors Anna Bialas and Shira Feldman, utilized the computer application Python and its interface to provide an all-encompassing description of the internet. The work was a collection of tweets which all include the phrase "the internet is," which were projected successively onto a wall. The work questioned the definition of the internet and encouraged discovery.
The showcase allowed creators to use different types of media to communicate strong messages. It was inspiring to see students outside of Tisch or art-related majors using programs like Audacity, Photoshop, WordPress, Python and more to create moving and significant works of art.
A version of this article appeared in the Monday, April 24 print edition. 
Email Eliot Choi at [email protected]