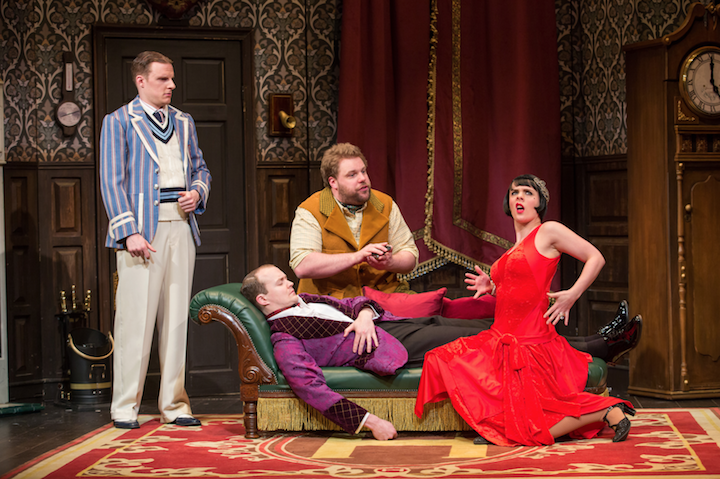 Broadway shows and musicals are a defining characteristic of the New York City experience. These shows are held in such high regard because of the immense amount of talent, preparation, creativity and perfection that goes into their production. Thus, when audiences attend a show, they expect to see the most talented and thoroughly trained performers, as well as the most glamorous sets. However, this sense of perfection is not for everyone.
Those looking for a more light-hearted show peppered with hilarious flaws should turn to "The Play That Goes Wrong." This comedy, which traveled to the United States from London's West End, opened April 2 at the Lyceum Theater.
In "The Play That Goes Wrong," the performers adequately introduce the Cornley University Drama Society's performance of "The Murder at Haversham Manor." That is about the last time everything seems to go right in the performance. This show doesn't follow the typical path of other Broadway shows — but that's not to say that the cast or set are lacking. In fact, the complicated set-up of a play within a play is executed magnificently so that audience members are not confused, but rather astonished at how the actors are able to feign bad acting. If anything, they are even more skilled because they are able to navigate the intentional errors, exaggerations and occasional improvisations.
The set is also exceptional as it breaks down without seeming ramshackle. Sure, sparks may fly, second floors may collapse and performers may be forced to substitute their own bodies for various props and furniture, but it is this excellent handiwork and acting that makes the play so hilarious. The faulty set plays an enormous comical role and the way in which the performers make use of it is equally amusing.
"The Play That Goes Wrong" calls back to a vaudevillian era where simple slapstick ruled in theaters. The play itself is like a mashup of scenes from the Three Stooges and the board game Clue. A number of faces may be smashed by doors, corpses may be caught walking on stage and audiences may have to pretend to see the antics of an invisible dog, but it is all these little details and clumsy bits throughout the show that add to itscharm and humor.
Any audience members who have performed in a play themselves will recognize the common mistakes that this performance amplifies. The performers almost never break character, even if this means having to circle through a certain scene four times to accommodate one of the actors' forgotten lines.
In a hysterical showcase of Murphy's Law, in which everything that can go wrong does, the performers carry out an incredibly and unbelievably entertaining feat.
"The Play That Goes Wrong" is playing at The Lyceum Theater at 149 W. 45th St. through December 30.
A version of this article appeared in the Monday, April 17 print edition. 
Email Annaluz Cabrera at [email protected]