NYU Divest Brings Demands to the Board of Trustees
Four NYU Divest members visited the corporate office of Board of Trustees Chairman William Berkley on March 31 in order to deliver a letter of demands. Their letter outlines demands for a revote on the board's June 2016 decision to continue investing in the fossil fuels industry from the fossil fuels industry.
"Over the course of this campaign, research emerged demonstrating that many board members had business ties to the fossil fuel industry," their press release said. "Divest released a letter, attached, detailing some of these business ties and calling for measures that would increase accountability as well as demanding a revote."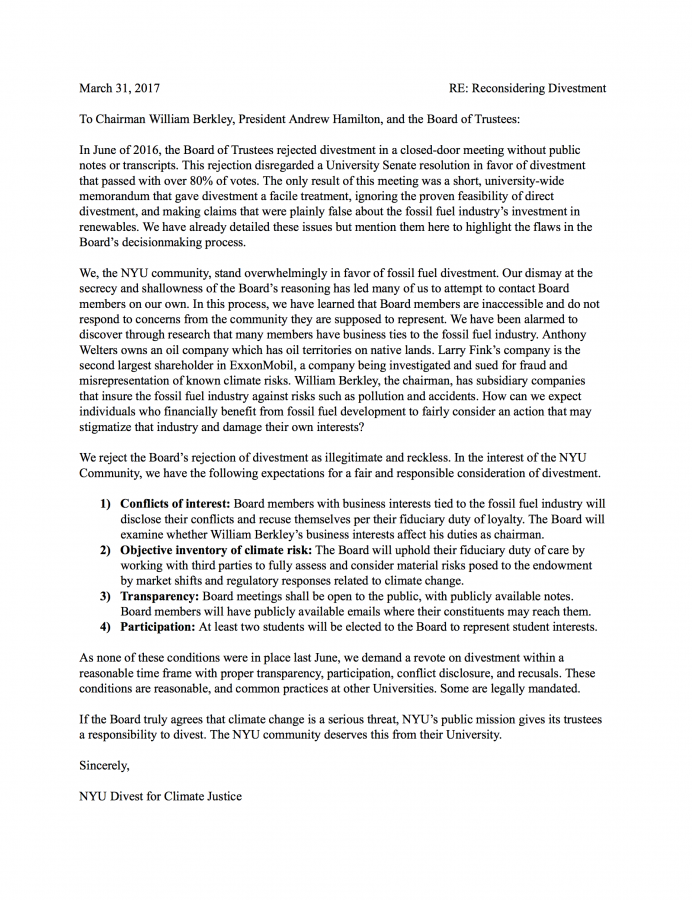 Washington Square News spoke with CAS senior Emily Scheele, CAS senior Alexandra Dahlberg and Gallatin senior Nina Demeo, three of the four NYU Divest members who visited Berkley's office last Friday:
Emily Scheele
Washington Square News: Why did you all visit Berkley?
ES: It's frustrating as a student to feel that we aren't being represented and that our best interests aren't being considered when making decisions and investments for the university. The point of this visit was to demand transparency from board members. We simply want to open lines of communication between students and the board going forward.
WSN: Why was visiting Berkley's office important?
Emily Scheele: I think this visit was really important, because we want to make the statement that students should feel neither nervous nor unwelcome to be in contact with a board member who is meant to be representing our views and best interests. Berkley and the other trustees who we've tried to contact have been silent and unreachable.
Alexandra Dahlberg
WSN: Why is it important for student voices to be heard?
AD: Berkley and the board of trustees make decisions that affect our endowment, and they must be accountable to the NYU community. After ignoring our calls last week, we empowered ourselves to visit his office and speak to him directly. The board must become more transparent and must access potential conflicts of interest. Until our asks are met, we will reject the board's decision on divestment as illegitimate.
Nina Demeo
WSN: How was your experience visiting Berkeley's office?
ND: Though we were able to enter the Seagram building, which houses Berkley's New York City office, we still find our trustees inaccessible. Throughout this week we have called and emailed Berkley. After exhausting these established mediums of communication we have found ourselves continually ignored and silenced. This morning we were unable to speak with Berkley directly. We have no guarantee that Berkley will read our letter or respond.
WSN: Why is it important that NYU Divest's demands be heard?
ND: The NYU board of trustees purports to govern our body based on the best interests of the university. However, we question how that is possible when they refuse to communicate with the very students they claim to represent. Our demands of transparency and a reevaluation of trustees' positions — should they hold conflicts of interest within the fossil fuel industry — are necessary if the board is to cast a fair, unbiased and legitimate decision on divestment.
Email Htoo Min at [email protected]