Runway to Real Life: J.JS LEE F/W 2017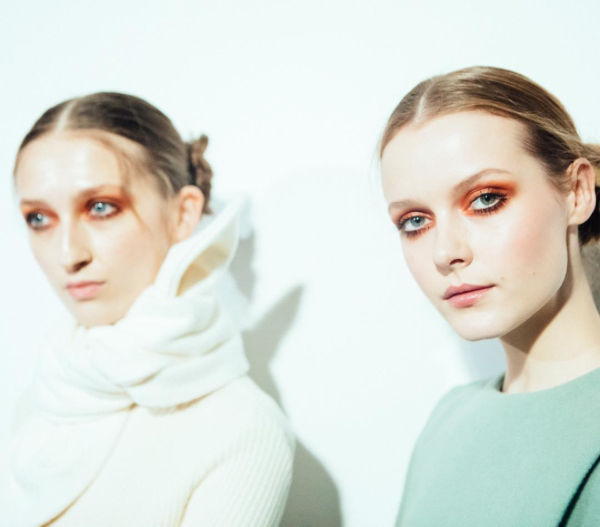 While many people wear makeup every day, gravitating toward neon eyeliner or smudged lipstick is less common. The runway provides plenty of inspiration for beauty trends, but the looks are often exaggerated and too over-the-top for daily life. A writer challenged this notion,   dared to try a runway makeup look for a day and recorded her experience.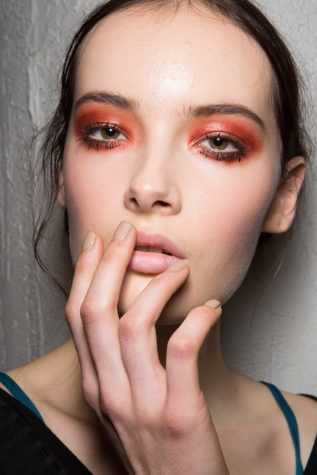 The Look
Last Monday, I recreated a beauty look from the J.JS LEE Fall/Winter 2017 runway show. I was tempted to pick a look more in my comfort zone after seeing the models sporting smokey orange eyeshadow and Twiggy-inspired, drawn-on bottom lashes. But, I decided that nothing was going to stop me from giving this look a shot because, why not? Orange eyeshadow and dramatic drawn-on lashes are not my go-to beauty tricks,  and I am not a huge fan of muted lipstick or coral blush. But if I was going to replicate this specific look, I was determined to do it justice.
The Process
The look was not too difficult to recreate. I used Maybelline Fit Me Matte & Poreless Foundation, the matching Maybelline Fit Me Concealer and my NYX Contour Pro Palette for my base makeup. To set this, I used my BareMinerals Mineral Veil Finishing Powder. I proceeded to lightly fill in my eyebrows with Anastasia Beverly Hills Brow Wiz in Granite.
Now for the fun part — I had my Anastasia Beverly Hills Modern Renaissance Eye Shadow Palette handy to create the orange smokey eye look. I started my eye makeup by applying e.l.f. Shadow Lock Eyelid Primer and the base color, Tempera, all over my lids. Next, I chose Raw Sienna, an amber color; and Realgar, a brick shade, to create the smokey eye with Vermeer, a light metallic, as a highlight in the inner corners. I applied the same eyeshadows on the lower lash line to mirror the smokey look. For the drawn-on bottom lashes, I used e.l.f. Intense Ink Eyeliner in Blackest Black to draw thin lines slightly diagonally one at a time to help them look more natural, making them a bit longer near the outer corner and shorter as I went inward. To finish the eyes, I used the Tarteist Lash Paint Mascara from Tarte.
Lastly, I used Milani Rose Powder Blush in Romantic Rose and added a swipe of the Candlelight Glow Highlighting Powder in Rosy Glow from Too Faced. I lined my lips with NYX Cosmetics' Tea & Cookies, a suede matte lip liner, and topped that with an Anastasia Beverly Hills Lip Gloss in Pastel Pink. To ensure everything stayed in place, I used the All Nighter Long-Lasting Makeup Setting Spray from Urban Decay.
The Result
I was proud of the final result, but I decided to search for a second opinion at a few beauty counters. At the four makeup stores I stopped by, I was complimented by several makeup artists who appreciated the effort I put into experimenting with a new look.
Overall, I learned that I shouldn't be afraid to step out of my comfort zone beauty-wise. I never would have guessed that I would enjoy wearing orange eyeshadow and coral blush. Next time I might even go a little bolder.
A version of this article appeared in the Monday, March 20th print edition. Email Sherah Ndjongo at [email protected]