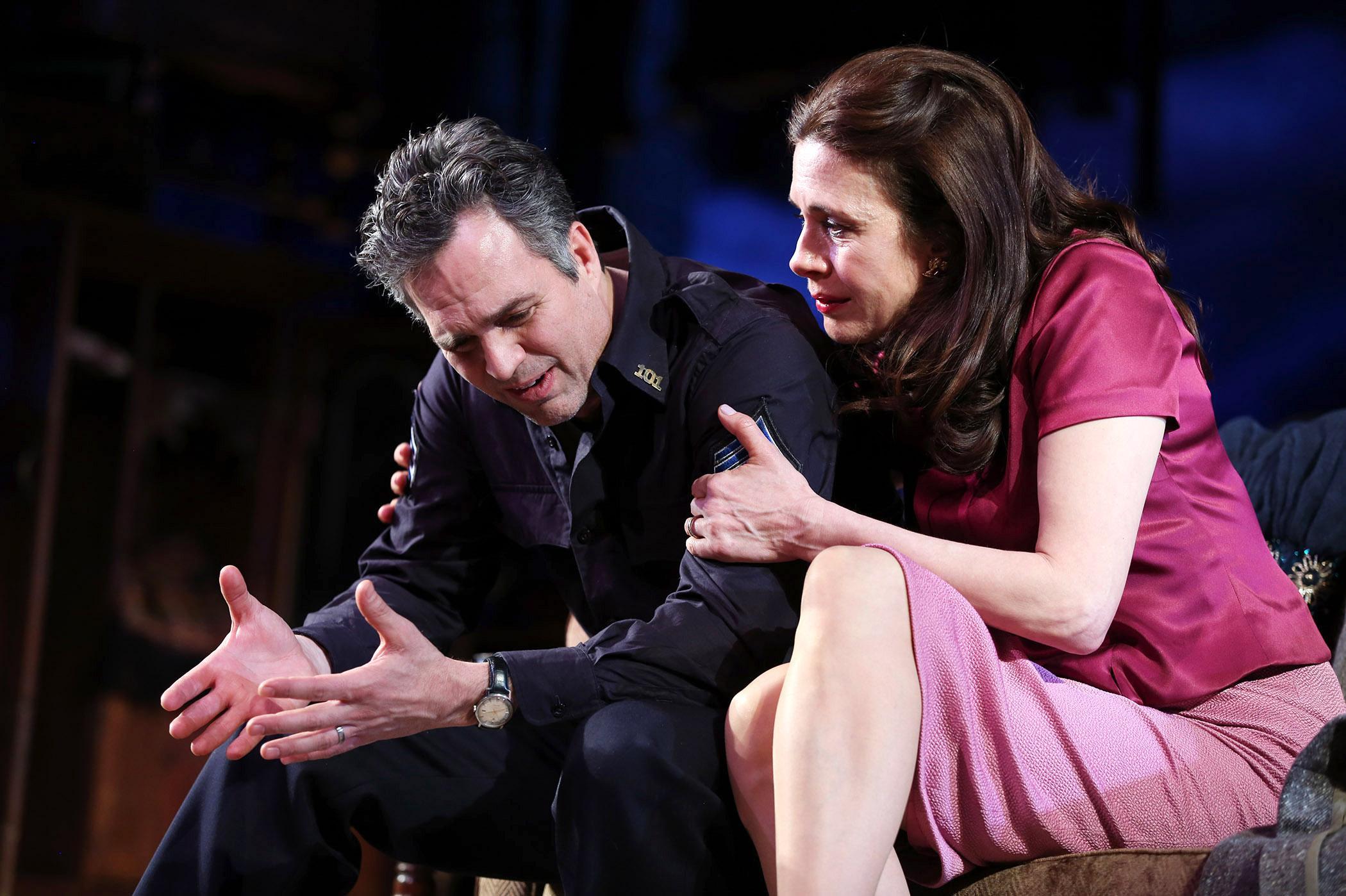 The striking stage of the American Airlines Theatre is worth the "price" of admission these days, even before the star-studded cast walks on for the Roundabout Theatre Company's production of "The Price." Subtly shifting clouds of purple and gray surround water towers that stand at a distance; antique chairs and dressers hang from the ceiling, suspended over the attic of a once-wealthy family. A spotlight pulses on items of importance: a harp, a wind-up Victrola, a loveseat and a dusty armchair.
As with most of Arthur Miller's plays, autobiographical elements add to the sense of authenticity. Miller's older brother, Kermit, is the inspiration for the leading man. Kermit was considered the brains of the family, but when their father lost everything in the Great Depression, Kermit had to drop out of NYU to support him. The ties to  NYU continue in this production — the Roundabout Theatre Company's founding father, Gene Feist, graduated from NYU.
Mark Ruffalo plays Victor, a police sergeant who relinquished his dreams of an education 30 years ago when the Great Depression left his father devastated and in need of support. Returning to his childhood home to sell the remainder of his late parents' estate, he negotiates a price with the scheming furniture dealer Gregory Solomon (Danny DeVito), an octogenarian Russian Jew. Victor's altruistic seminal sacrifice is brought into doubt when his estranged brother Walter (Tony Shalhoub) and Walter's wife Esther (Jessica Hecht) arrive with their own agendas.
While the show focuses on the conflict between the two brothers, Devito's fiercely charismatic Solomon steals the spotlight. With fluttery hands and a convincing Russian accent, he stretches the negotiations out through transparent manipulation tactics, which become inoffensive and unasked-for philosophical thoughts. Miller takes an unhurried approach that would have been tough-sledding without DeVito's engaging performance, as the two brothers only reach a bargain in the last few minutes of the first act.
Just as Gregory is putting the last couple of bills in Victor's hands, Walter conveniently arrives with his own opinion on the whole affair. While Victor and his father ate garbage to survive, Walter abandoned his family to pursue a career as a surgeon, sending them no more than $5 a month. Feeling guilty, he offers Victor the career in science that he once wanted so badly and a plan for the furniture that would yield a profit almost 12 times more than Solomon's original offer.
It is only in peak moments that Ruffalo's Victor really feels present. His understated approach borders on aloof, in contrast with the powerhouse performances of his cast members. Nonetheless, his chemistry with his on-stage wife is electric, especially in rare moments of more assertive behavior. Hecht masters Esther's genial facade and the desperation lurking behind it. In one standout scene, she lies slightly intoxicated and barefoot on the loveseat, growling, "I want money."
Miller's writing makes it impossible to choose a side to sympathize with, which is what makes this underrated play so profound. Walter's initial antagonism is partially redeemed with the revelation that their father had $4,000 all along and was simply manipulating Victor. Shalhoub radiates the perfect amount of self-involved insecurity to waiver between egomania and practicality, yet certain climactic points could do with less melodramatic wailing.
Once again, Miller makes the audience question the American dream and the effect it has on human lives, calling for a reinterpretation of what it could and should be today — the undying belief that we can do better.
"The Price" is now playing at the American Airlines Theatre at 227 W. 42nd St. through May 7.
A version of this article appeared in the Monday, March 20 print edition. 
Email Kamila Daurenova at [email protected]